April 8, 2015
Michael J. Morris receives Graduate Associate Teaching Award
Image
Image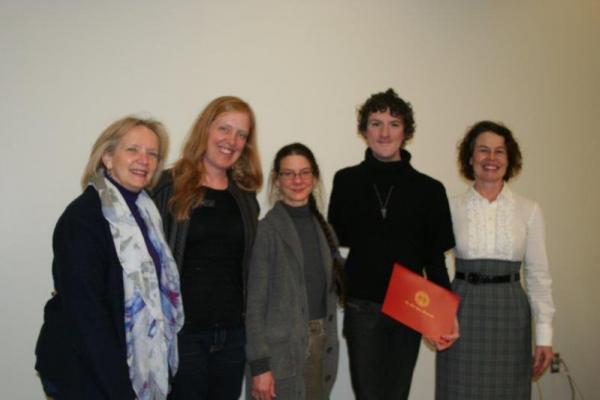 Description
On Monday, April 6, PhD candidate Michael J. Morris was awarded the Graduate Associate Teaching Award, The Ohio State University's highest recognition of the exceptional teaching of its graduate students. Out of the 3,000 graduate teaching associates on campus, only ten are selected (by nomination) to receive this prestigious award. 
In her letter of recommendation for Michael, Professor Candace Feck wrote: "Once every so often a student arrives in our midst who actually inspires and galvanizes the rest of us to step out of our own pedagogical habits and reexamine our original vocations, born of a deep desire to share our enthusiasm for our chosen disciplines through the noble calling to educate. Michael is just such a beacon." 
Michael received the award at the conclusion of the Department of Dance's Graduate Research Forum. They had just finished presenting new research to graduate students and faculty, and their question and answer session was interrupted by a surprise presentation of the award by Kathleen Wallace, Assistant Dean of the Graduate School, who spoke about Michael's teaching accomplishments. 
During their graduate career, Michael taught Writing About Dance, History of Western Concert Dance: Renaissance to Present, Yoga, Modern, and Ballet. In the fall, Michael will join the faculty of the Department of Dance at Denison University as a Three-Year Assistant Visiting Professor. 
Michael receives their award from Assistant Dean Kathleen Wallace: 
Professor Candace Feck, Professor Norah Zuniga-Shaw, Graduate Studies Chair Professor Karen Eliot, Michael, and Assistant Dean Kathleen Wallace: 
---