February 22, 2017
Yoga Teacher Training with Laurel Hodory
Image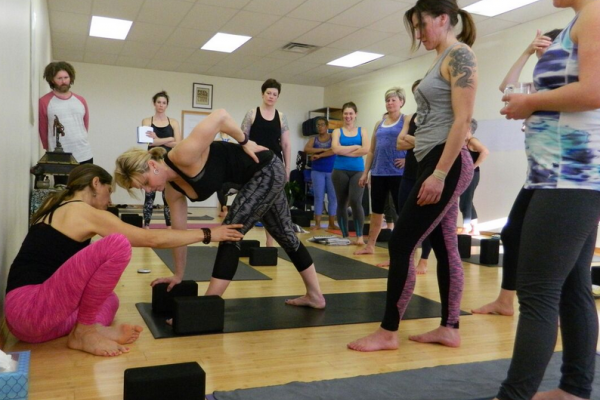 Description
Yoga with Laurel @ The Ohio State University Department of Dance
Go deep into the study of yoga and learn the "why" behind it:
Intelligent sequencing
Authentic voice centering (TM)
Clear cueing
Applied movement anatomy
Study the inner practice of yoga, philosophy, and how to live an inspired life
Join us for this empowering and transformational program!
Laurel is a clear and concise teacher, with much knowledge and experience to share. She teaches with the grace of a true yogini, and made us all feel welcome.
   - Anya Porter, Founder of Breakti Yoga
A former athlete and graduate of The Ohio State University, Laurel was introduced to yoga by one of her dance instructors. From the moment she took her first yoga class. Laurel was hooked and dedicated herself to learning the varied dimensions of yoga. Laurel owned and operated a yoga studio in Columbus for 8 years. She has trained hundreds of yoga teachers many of whom teach in yoga studios around Central Ohio. Through more than 20-years, Laurel has dedicated herself to bringing yoga to Ohio. Laurel has led training programs and retreats internationally. Loved by her students for inspiring and challenging them to rise to their potential, Laurel continues to teach in the Columbus community at YogaSix on Lane Avenue, Yoga Teacher Training with Laurel Hodory & Faculty, and in private lessons. Laurel believes in cultivating a strong teaching faculty so that the program participants will have the opportunity to experience a variety of teaching styles. Laurel has gathered a faculty who will bring their own unique gifts and talents to the training offering trainees an expansive opportunity to find their own teaching voice and style.
ACT NOW and SAVE!
Save $1000 when you register by April 7 - $2247
After April 7th - $2750 for Ohio State students, $3247 regular
Classes in 270 Sullivant Hall
TRAINING DATES
Wednesday, May 3 through Friday, May 26, 2017
20 days of training, 9am-1pm & 2pm-6pm daily
Days off:
Sunday, May 7 (Graduation)
Monday, May 8
Sunday, May 14
Sunday, May 21
Suggestions for funding include any OSU sources where you are able to propose how the Yoga training will enhance your academic research or future academic plans. Pay close attention to deadlines (or repeated deadlines) and requirements for proposals!
~ see https://osudanceweekly.wordpress.com/students/funding-opportunities/
~ see https://ugresearch.osu.edu/Pages/funding.aspx
Also check out community resources, like this Google search and try related online searches
Email dance@osu.edu or call Ohio State Dance at 614-292-7977 for more information.
---