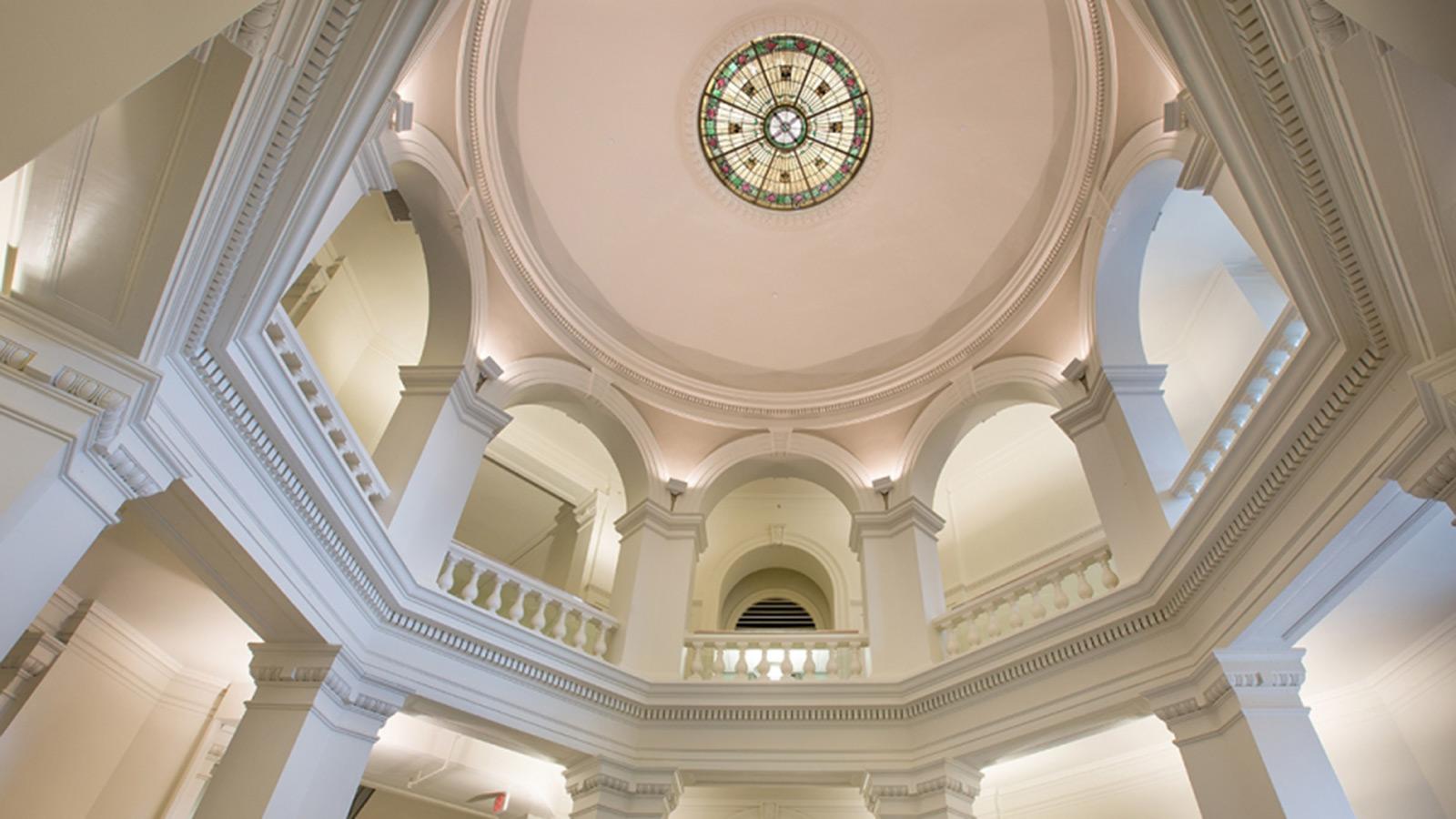 Body
Ohio State Dance's strength has always been, and always will be, people and our potential to solve problems together. Our community is bold in purpose and compassionate in spirit. As Buckeyes, we pull together to care for each other and those around us. The coronavirus (COVID-19) is a challenge unlike anything most of us have experienced in our lifetime. It demands ingenuity, compassion, empathy and spirit. At Ohio State Dance, we know that no one person can solve this problem alone. We must connect across communities, combine expertise and create new ways of thinking —at an unprecedented scale. Now more than ever, we'll act together to develop new solutions that work. Person by person, family by family, community by community, we will find ways to help. Together, we are and always will be champions for people. Please know that a huge amount of thought has gone into our planning so far to provide a fall semester that is true to who we are, ethically responsible given what we know, and maintains rigorous and inspiring creative and scholarly research within the mandates from the university. We in the department have been working hard with many people across campus and the field to imagine the best way forward for the fall given the myriad situations/needs/comfort levels/university guidelines/dance-specific nuances/etc. We are continuing to define what the fall will look like as we monitor the how this state of emergency changes. I hope you trust that we are making decisions putting the interests and needs of the people in our community above all. 
COVID-19 UNIVERSITY UPDATES
The university remains under a state of emergency. Learn more about guidelines and requirements in place for return to our campuses at Safe and Healthy Buckeyes. We encourage everyone to keep checking updates from the university. We recognize that there is a lot to keep track of right now, but we've noticed some questions have come up that have already been addressed and some time reading through communications regularly might provide needed information sooner.
If your received a non-approved COVID vaccine:
Option 1: Schedule an appointment for a WHO-approved COVID vaccine at Jesse Owens North, 2151 Neil Ave.
a. Book your appointment today. Walk-ins are welcome. Patients have a choice of Pfizer or Johnson & Johnson vaccines.
1.  Log in to your MyChart account. Go to the Appointments section and look for the "COVID-19 Vaccine" option. Don't have a MyChart account? Sign up now.
2. Call 614-688-8299 (VAXX), 8 a.m. to 5 p.m., Monday through Friday.
Option 2: Submit a COVID vaccine exemption request.
a. Go to this link to complete the COVID-19 Vaccination Exemption Student form (left side of the page), log in to My BuckMD, select document upload, and choose document type COVID-19 Vaccine Exemption form and then upload your exemption form.
MENTAL HEALTH AND WELLNESS
Here are a few places for mental health and wellness support. Yes, we will find ways to keep teaching, learning and creating but please put your well-being first. 
https://safeandhealthy.osu.edu/mental-health-wellness
The Performing Arts Medicine (PAM) team will be providing services in Sullivant Hall 291 during Autumn and Spring semester. To schedule your appointment, please follow these instructions:
New URL is osupam.setmore.com 
Left hand side click services
Onsite Treatments
PAM Staff
Click on Friday date you want to schedule
Choose time
First time you will have to create a new profile
POST COVID-19:
Go to osupam.setmore.com  
Left hand side click services
Onsite Treatments
PAM Staff
Click on Friday date you want to schedule
Choose time
First time you will have to create a new profile
This service is private and only you will see your appointment time. Once appointment times are taken, they will no longer be available for sign up. If you are having difficulty finding an appointment time that works for you, please stop by 291 Sullivant Hall. We can work with you to get you in.
Please be respectful to each other when making appointments. If you cannot make your appointment, please email us or cancel your appointment (through your confirmation email) so that others can use the time if needed.
HOW ARTS AND SCIENCES IS COUNTERING COVID-19 
Navigating COVID-19 demands ingenuity, compassion, empathy and spirit. The College of Arts and Sciences community exemplifies these traits. From ensuring continuity of education by moving over 4,000 courses online to Arts and Sciences experts addressing the pandemic at the state and national levels, we're striving to develop new solutions and find ways to help. Together, we are and always will be champions for people. And together, we will weather this storm. Read more at https://artsandsciences.osu.edu/covid-19
SOCIAL JUSTICE WORK
Social Justice doesn't take a pause. In fact, recent events have highlighted how much we need to stay focused on making the world a better place no matter what. The university is taking up this work with increased effort and so are we. We are proud of the work of the Anti-Racist Working Group (ARWG) which is a sub-group of Dancers in Graduate School (DiGS) an Ohio State student organization. We have worked with them to organize town halls and workshops to facilitate discussions about racism this summer. The ARWG has also launched a new social media initiative to celebrate Black students, alumni, professors, guest scholars and artists connected to the Ohio State dance community. Every Tuesday, the Anti-Racist Working Group is featuring a Black artist, scholar or practitioner from the Ohio State community using #OSUDancers4BlackLives. The hashtag celebrates the impact and leadership of Black visionaries in the field of dance and beyond. We encourage you to engage with our social media platforms and use the hashtags with us. If you would like to be featured, please fill out this form. For more information, please visit the DIGS website and email digsatosudance@gmail.com.

Download the Anti-Racist Working Group Solidarity Platform >
Look out for emails from the department about these and other social justice efforts. 
DANCE DEPARTMENT FALL PLANS
While Ohio State has been communicating the plan for campus wide changes through the Safe and Healthy Website, the nature of our department and our field necessitates department-specific changes and policies.  Sullivant Hall and the Department of Dance will look very different next year. I recognize there are different interpretations of risk and different comfort levels with safety measures. As we all know, information and what we know about this virus has been changing quickly. We are proceeding with an abundance of caution based on what we know now and will adjust accordingly as we learn more. Now more than ever, please READ your Ohio State emails on a regular basis. University communications will also be published on OSU Dance Weekly and the Toolkit on the website.
Building Reopening Coordinator
Jonathon Hunter has taken on the role of Building Reopening Coordinator for Sullivant Hall and Safety Coordinator for the Department of Dance. Please reach out to him if you have a question or concern about the building or safety protocols that is not addressed here or in the upcoming information sessions: hunter.1007@osu.edu
Building Access
As you know, we have all been working remotely since spring break. At this point, any entry request to the building should be sent to Jonathon Hunter.1007 who will work the appropriate channels to provide approval. Hopefully, our plan for a phased return to access the building will be approved soon. Even when we receive that approval, we will only be able to sustain occupancy that is absolutely necessary. In other words, to protect all of us but especially essential workers we won't be able to hang out socially or meet in spaces or at times that aren't approved. This will also allow us to ensure proper cleaning protocols. Also, as with all campus spaces, masks must be worn at all times (see below for dance class mask protocols). Faculty, staff, and GTAs will hear from Jonathon directly regarding preparation and maintenance of class spaces.
Common Areas
You will notice many differences when you return to the building. New signage will be in place. The Department of Dance is working with other occupants of Sullivant Hall to consider traffic pattern changes. Even once classes are back in session, doors or hallways may remain locked. Expect to carry your BuckID at all times. Overnight access to the building will be prohibited to allow for deep cleaning.
Elevators
Will be reserved for moving materials or ADA needs. One person in an elevator at a time. Utilize the stairs.
Drinking Fountains
Drinking fountains will be closed except for the newly installed bottle filling station on the 3rd Floor West hallway (outside of 370).
Green Room
Furniture in the Green Room will be removed or stored in a manner to prevent socialization and gathering. You will have access to the restrooms, the refrigerator and microwave, but packing food that does not need refrigeration or heating or that utilizes ice packs is encouraged. You will not be able to eat meals in the green room. 
Hallway Furniture
Benches, tables and chairs will be removed to allow maximum distancing.
Office Kitchenette
Shared equipment such as the electric kettle, coffee makers and Brita pitcher will be removed. Shared utensils will be removed. Please bring your own. Likewise, shared cups and mugs will be off limits. You will have access to the refrigerator and microwave but packing food that does not need refrigeration or heating or that utilizes ice packs is encouraged. There will be no shared food. Anything left on the counter will be discarded.
Faculty/Staff Offices & "Living Room" Access
In order to reduce the overall occupancy of the building, some staff members will continue to work from home with limited presence in the building. As such, the main office door to 316 will remain locked. In-person meetings with faculty/staff are discouraged. Unless absolutely necessary please plan for all meetings to happen via Zoom. If an in-person meeting must happen it must be scheduled in advance and you will be admitted by either a front desk student assistant or the person with whom you are meeting. 
Grad Shared Office Space
To manage a reduction in density of population and maintain physical distancing, a reservation system will be utilized.  Extra furniture will be removed. Plan to work remotely as much as possible. More details to come. 
Small-capacity physically-distanced classrooms, which do not have courses scheduled in them, are being made available for students to drop-in on a short-term basis. These should not be used as long-term study spaces, but in the case where a student has back-to-back online and in-person courses, they can drop into the space for the online course session. 

If you use these rooms, leave all furniture in the space marked by the physical-distancing stickers. In addition, there should never be more people in these spaces than the capacities posted. In addition to physical distancing Ohio State requires masks and recommends frequent hand sanitizing, in alignment with public health guidelines.
Once Classes Resume August 25
Classes
As you have been learning through Buckeyelink, most dance classes have been changed to hybrid or online delivery. Also, you will see that class times may have shifted slightly in order to accommodate traffic patterns and sanitization between classes. Studio faculty are still working out the details of what hybrid instruction looks like in individual classes and how classes meeting at the same time will navigate the building. In August we will provide more information about which doors we will use, staggered entry/exit times, cleaning protocols, utilizing cohort class meetings, etc.

Performances
At this time, formal performances are not scheduled for the fall. Please use the typical repertory slot (approximately Tues-Fri 12:30-2:15pm) for other course requirements you may need to complete. 
BUT, we would still like to be able to create performances/showings for both the dance and broader OSU communities. While we will not have formal performances in the Barnett, we are working with campus partners to imagine site-specific performance opportunities. 

On a personal side note, thinking about these creative possibilities is bringing me much-needed joy as an artist as I plan our alternative fall. I know most of this email is a bummer. Please join me in imagining creative possibilities here. I would love to have moments of powerful outdoor creative expression all over campus. How can we make socially-distanced dance in the fall to counter what will surely be physically tense navigations of campus spaces? I also think aestheticizing the campus in this way could be our "gift" to OSU as artists. If you'll allow me to wax mushy, I do believe that is part of the power of art. Okay, more on that another time! Back to the nitty gritty…

We are working with MFA candidates to schedule their projects. We will do the same for BFAs who elect to do an optional senior project. 
Ongoing Department Community Time
Ohio State Dance is such a strong community. We may lose some of this in the upcoming school year. To maintain some of our community connections we are reserving Tuesdays and Thursdays 2:15-3:15pm for Department Zoom Community Time. We hope to have guests, workshops, town halls, etc. While the exact structure of these are still in discussion, please hold this time if you can. 
Barnett Theatre
All seating and risers will be removed to utilize this space as an expanded classroom.
Studios
In studios, occupancy will be based on a 12' radius circle for each person (student, instructor or musician) in the space. Studios will be marked to enable physical distancing. Some spaces will be used for different purposes in order to maintain physical distancing depending on the level of activity of the individuals in the space. There may be the possibility for outdoor tents for some occasional classes. All classes will still have a dedicated Sullivant space. This is still very much a conversation with the university and nothing has been decided yet so no promises. I mention it here to let you know that we are trying to see if we can make this work.
Movement Practice
The movement practice area is in discussion about details for fall. In general, we are aiming to reduce the density of people going and coming from studios and increase time between classes for ventilation. Expect that in-person class time may be shortened in order to stagger arrival and departures. Location may change from usual studios to allow for more distancing. Your class may have some combination of in-person, online synchronous and online asynchronous expectations. Accommodations for different possible scenarios will be built into syllabi. Other safety protocols and policies for studio classes (masks, navigation, shifts in expectations, etc.) are forthcoming.
All Creative, Somatic, and Lecture Courses
Each instructor will be taking enrollment, space, and best mode of delivery into consideration as they plan specifics with safety and physical distancing guidelines in mind. Please check your OSU email closer to the start of classes to learn more details about the courses in which you are enrolled. If you are not sure about something, enroll in order to receive timely updates and/or email the instructor or Amy Schmidt. 
Media Lab
In order to accommodate more people at computers at once, 247 will be utilized as the media lab for the semester. 343 will be utilized as a small seminar room for some classes. After each use, the media lab desks, mice, headphones, and keyboards will be disinfected with disinfecting wipes located at each computer station. Students are not to touch each other's computer stations to assist one another. In addition, masks or face coverings must be worn at all times inside of the media lab. Information about a reservation system to utilize the lab outside of class time will be announced later.
Media Equipment Check-Out
Equipment checkout must be scheduled ahead of time via email. To schedule the checkout of equipment, email the Media Manager Chris Summers at summers.171@osu.edu. Equipment checkout and return procedures will be through no-contact means. Equipment will be sanitized after each use.
MOLA
Changes regarding the MOLA space and equipment are forthcoming. If you have any questions now, please reach out to Jonathon or Oded Huberman at huberman@accad.osu.edu. 
Course Lab Time
In order to maintain reduced building capacity, no dedicated lab time for courses will be scheduled. Please see Reservation of Spaces below.
Conditioning Studio
In order to maintain reduced building capacity, there will be a reservation system to work with the Pilates Reformers. Please see Reservation of Spaces below. 
Cleaning and Sanitization
For ballet barres, each student will clean their area before and after usage with wipes provided in the space. Floors will be cleaned more frequently and time between classes has been increased to allow for this. As communicated with the university, facility services will be cleaning more regularly. We are still working with them to finalize details. Each space will have a log to track cleaning.
Reservation of Spaces
While Ohio State Dance has utilized Outlook calendars and a reservation system in the past, this will be enhanced moving forward under the direction of Jonathon Hunter as Safety Coordinator. 
Any reservation must be made 24 hours in advance. 
Expect that being in the building outside of class will require a reservation. 
Reservation times will be limited to allow for overnight cleaning by facility services. 
Additional spaces, such as the Media Lab in 247, Graduate Open Desk Space, and the Conditioning Studio, will also utilize reservations.
When reserving a studio, you will be required to list others who will be in the studio (e.g. dancers, musicians, or observers).
For all reservations, you will be expected to clean high-touch surfaces and/or equipment before and after use.
Personal Safety Expectations
Face masks for Department of Dance community members will be required in common spaces. Dancers are encouraged to discuss whether face mask use is advisable while dancing with their physician. If a movement within ten feet is required, all dancers will be required to wear a face mask. More details from movement practice area forthcoming
Please come to Sullivant dressed in layers to reduce congestion and use of changing areas. Lockers will be marked to notify spacing while using. Maintain social distancing even when wearing a mask in the building.
Teaching resources and support
As faculty continue to prepare for the autumn semester, we have developed a new resource to address frequently asked questions by instructors. The new Teaching page on the university's Safe and Healthy Buckeyes website includes information about a variety of topics, including:
What to include on syllabi 
Microphones in classrooms
Assigned seating for students
How to handle guests or hardcopy assignments 
What to do if a student doesn't follow safety measures
Attendance
The Office of Undergraduate Education, in collaboration with the University Senate and Undergraduate Student Government, has developed new guidance on excused absences. These guidelines, which you can find on the Undergraduate Education site, are aimed at helping faculty refine their policies to accommodate the greater incidence of absences and the more challenging circumstances of the COVID-19 pandemic. 
Space Reminders for Instructors:
Please tell your students that they may use the studio assigned in Buckeyelink on days you are teaching completely online (you see it in Faculty Center). This is limited to the capacity of the studio (12 students in general) and students will be responsible to sanitize their area before and after use with wipes in the studio. The front desk work-studies will post sign-in sheets each day should contract-tracing be necessary.
Faculty warm-up spaces continue to be 390 for 10:30am teachers (reserved 8:30-10) and 370 for 12:30 pm teachers (reserved 10:30-12).
If your microphone stops working, it is most likely the batteries. Backup batteries will be placed in every studio, as well as a collection bin for used batteries. If you take the last fresh battery, please email Jonathon and Chris.
No-touch thermometers will be attached to the A/V rack in each studio with brief instructions should you choose to want to take temperatures. You are not required to, but it is an option. 
Instructors in the tent: please monitor the weather and communicate with your students if you need to come inside due to lightning. Please also call the front desk 614-292-7977 or Jonathon's office 614-247-4999 in order to put up a sign at the tent as backup. 
Restroom/Housekeeping Reminders for Instructors:
Please remind your students to wear shoes to/from/in the restrooms so that any germs in the restroom are not tracked back into the studio. 
Remind students who are majors to take their BuckID with them to the restroom, or remind them and elective/minor students (who do not have swipe access) to use the restrooms in the Green Room or 3rdfloor North corridor so that they are not locked out of 290, 270, 370, 390, 320 Theatre. Students in 250 and 247 should be fine using the 2nd floor South corridor. Since we are keeping corridors locked 24/7, this is a new habit for us all. 
Remind majors to enter through the NW door with "museum" over the tops to help not cross-pollinate with our building neighbors and their students. Remind elective students to enter the North door (Wexner-side) and then encourage timeliness so that you can let them into the Dance corridor all at once. You may need to allow a little extra time for entry until they are in the habit. 
Reminder that OSU Facilities staff are not coming into offices to empty trash – please take any office trash to the large trashcans in the hallways when needed. Thank you for helping keep our essential workers Enerik and Hicham safe! They also will not vacuum offices unless by special request. Please thank them when you see them! 
General Reminders for Instructors: 
Check mailboxes by front desk in 316 Sullivant for headset microphone and other items. You can also use it as a drop-off for students to deliver papers or journals if desired. 
In accordance with the university's requirements, please make sure your Carmen course is active by August 28 for all classes, regardless of mode-of-delivery. 
Keep in mind that you may also plan a substitute in advance with a campus office such as Student Wellness Center or Arts & Science Career Success Office. Other offices may offer workshops as well (it may be under an "Outreach" tab of their website).
Course Schematic is available on Department COVID page and in BuckeyeBox > Faculty Share > 20-21 Minutes. This is only for the who is teaching, what is being taught, and when it is taught. The spaces of where and modes of delivery are purposefully removed so that you and your students will refer to the details in Buckeyelink (Faculty Center for you, Student Center for them). 
Also, Faculty only can access the lists of graduate students, BFA students, department contact list, and the faculty service documents in BuckeyeBox > Faculty Share > 20-21 Minutes.
The Internal Calendar should be complete in Toolkit now – thanks for your patience! Keep in mind, as for everything, this is how we know it now. Updates will be made online. You can access the calendar in Toolkit, or if you would like to add the Dance Internal Calendar to you Apple Calendar, please see this video from Chris Summers. Within the video, you will notice a web address to copy and paste. This is the address:  https://outlook.office365.com/owa/calendar/b058d988eb3d44b595826d3425b919a9@osu.edu/c9de514483924b83b714d5c5f192ff0111562699635506338312/calendar.ics
Other
We are working with other occupants of Sullivant Hall to plan traffic flow patterns and other policies. Details forthcoming.
We are also working with Facilities to learn more about Sullivant Hall's air handling system and ventilation. 
What to do if you have COVID-19 symptoms or have been exposed – Students:
Contact your local primary care provider (PCP) for a health assessment and direction.
If you do not have a local PCP, please schedule a telehealth appointment with Ohio State Student Health Services (SHS) with via My BuckMD and select COVID Symptoms as appointment reason.
If an Ohio State contact tracer determines that you have been exposed as a close contact to someone who is infected with COVID-19, you will be contacted by the team and advised about quarantine and testing, see guidance below.
What to do if COVID-19 testing is recommended
In all cases if a health care provider or contact tracer recommends that you be tested for COVID-19, you must quarantine yourself; if able to work, you may work from home; and not participate in on-campus activities until your test results are back.
If COVID-19 results are negative and you are informed that you need to quarantine, you must remain fully quarantined from other individuals for 14 days. Quarantine is for those who have been exposed and lasts 14 days AFTER the date of the last exposure to an infected individual.
If COVID-19 results are negative and you are informed that you do not need to quarantine, you may return to campus when you are fever-free without medication for at least 24 hours.
If COVID-19 results are positive, see guidance below. 
If COVID-19 testing is not recommended, you should follow the regular leave policy until you are fever-free without medication for at least 24 hours.

What happens if you have been in close contact with someone who has COVID-19
If you have close contact (as determined by your health care provider or a contact tracer) with an individual with COVID-19, you will quarantine for 14 days from your last exposure to the positive individual regardless of whether you have symptoms.
During this 14-day period, you will be asked to stay home, not participate in on-campus activities, separate yourself from others and monitor your health. You will be excluded from on-site work, school or other on-campus activities.
A negative COVID test during this 14-day quarantine does not "clear you" from the risk of becoming sick with COVID-19 based on the virus's incubation period.  
What if I test positive for COVID-19?
If you have a COVID-19 test showing that you are infected with the virus that causes COVID-19 and the CICTT (Case Investigation and Contact Tracing Team) has not reached you yet, please answer the phone when they call. 
 
Please make note of three important points: 
If you are not feeling well, please reach out to your health care provider or to Student Health Services.
Your period of isolation is 10 days minimum. Isolation is for those who have a confirmed positive test and lasts 10 days AFTER the person went in for testing. It starts the day after the positive test sample was taken and lasts for at least 10 complete days. The CICTT will email you the day before your earliest date of release; you must respond to the CICTT so your actual date of release can be confirmed.
When the CICTT and your local health department call you, you must answer and provide the information requested. 
Who will contact me?
If you have not already heard from Student Life, a team member will be in touch within 24 hours of your positive test result to discuss university support for you, including help connecting with instructors, mental health resources and, for our on-campus residents, information about moving to isolation housing.
If you have not already been contacted by the Ohio State or your local health department, someone will contact you soon to ask about your close contacts. Your identity will not be shared with those who are identified as close contacts. The team only uses information collected during contact tracing to alert others of their exposure and to help them protect others on campus and the broader community.
When your local health department contacts you, you are required to provide the information that they request and follow their instructions about isolation. If Ohio State and your local health department instruct you on different isolation periods, you must stay isolated for the longer of the two to remain compliant with Ohio State's policies. Failure to comply with Ohio State or your local health department's instructions will result in a report of noncompliance to the Ohio State Office of Student Conduct.
Where do I isolate?
If you have an Ohio State housing contract and you do not wish to or cannot return to your permanent residence, Ohio State will provide you with isolation housing to reduce the risk of spreading COVID-19. If you are receiving this letter after hours, Student Life will contact you about moving tomorrow. Please stay in your room as much as possible. We understand that you may have to leave to use a shared bathroom or to get food and water. Please limit the time out of your room and be sure to wash your hands, wear a mask over your nose, mouth and chin, and maintain at least 6 feet of distance from others. Assume that you are infectious, even if you do not have symptoms!
 
What am I required to do during isolation?
Stay in your assigned room to avoid exposing others if you are an on-campus resident in isolation housing. You may only leave, wearing a mask and staying physically distanced, to obtain medical care or as advised by the Office of Student Life.
If you are at your permanent residence or an off-campus residence, you must take precautions to reduce the risk of transmission to family members and others. Isolate yourself in a room with the door closed. Do not share a bathroom with other household members if possible. If you must share a bathroom, clean and disinfect surfaces after each use.
Do not go to school, work or other public places.
Do not use public transportation including trains, buses or planes. Do not use ride-sharing services or taxis.
Do not go out to get food and medicine. Instead, order it online or by phone and ask someone to bring it to you. If you are an on-campus resident in university isolation housing, Student Life will arrange to have meals delivered to you.
Do not invite visitors into on-campus isolation housing.
Do not go out to exercise. You may exercise inside your room and find weekly activities dedicated to supporting and engaging you during your isolation period: (password: q&ihousing).
Remain in isolation housing until you have been cleared to leave by the CICTT. 
What should I do about my classes?
You can attend online classes virtually. For in-person classes, please communicate with the faculty member/instructor as soon as you can to arrange for accommodations and plans for making up work.
If you need additional accommodations, students from any campus may submit a COVID-related accommodation request. This process is distinct from the registration process for Student Life Disability Services. Students who have a disability should proceed to register with Student Life Disability Services as usual. Students already registered with Student Life Disability Services can work directly with their assigned Access Specialist to modify their accommodations or make additional COVID-based accommodation requests.
You are not required to tell any faculty members/instructors that you have COVID-19, unless they are your work supervisor. Of course, you may choose to tell others about your positive test if you want to. 
What should I do about work?
You can work remotely if you are feeling well enough and are able. You must report a positive COVID-19 test result to your supervisor. Supervisors have been instructed not to share any employee health information. Student employees and graduate assistants who need accommodation should follow the Ohio State Office of Human Resources process.
What should I do regarding my symptoms?
Whether you have symptoms or not, you are required to complete the symptom tracker every day.
Call your health care provider or Student Health Services immediately if you develop symptoms or have worsening symptoms.
To reach Student Health Services, you can send a secure message via My BuckMD (select "questions for COVID-19" from the drop-down menu); call 614-292-4321 (option 1 to leave a voicemail); or email sl-covid19.shs@osu.edu. If you are reporting personal health information, you should not email the information, but instead use My BuckMD.
What is the process for leaving isolation?
A member of the CICTT will email you one to two days before your earliest day of release to check in. Please reply promptly to this email.
Please be aware that in some cases a student's isolation period may have to be extended beyond the initial estimated timeline. We will email your notification of release from isolation on the day before you are able to check out and return to your normal on-campus residence.
You will be allowed to leave isolation housing at 7:30 a.m. on your release day.
---
[pdf] - Some links on this page are to Adobe .pdf files requiring the use of Adobe Reader. If you need them in a more accessible format, please contact dance@osu.edu
Please use this form to inform the department staff about any issues, concerns, or suggestions regarding COVID-19 safety measures and procedures.
Advanced