---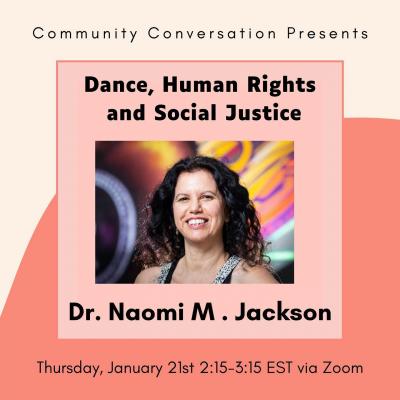 Dr. Naomi M. Jackson: Dance, Human Rights and Social Justice
Thursday, January 21, 2021
2:15PM - 3:15PM
All are welcome to these free discussions, but please register to attend>
Have you ever heard of antidance literature? Did you know that until 2017 it was illegal to social dance in a New York facility serving food and drinks without a special cabaret license? This talk discusses dance in contexts of oppression and its subversion, along with the role of dance in healing from human rights abuses. It demonstrates how dance has consistently been used, at different periods in history and in many parts of the world, to advance strict adherence to certain ideologies, or shame and humiliate, as well as express resistance to repressive regimes, and to heal and empower victims of injustice. Indeed, it reveals that dance, because of its power to unite people, and associations with the body, sensuality and joy, has proven a focal point in attempts to control human behavior, as indicated by attempts to regulate dancing through laws and bans, and to censure, imprison or torture people who dance.
Biography
Naomi M. Jackson, Ph.D. is an Associate Professor in the School of Music, Dance and Theatre at Arizona State University. Her books include: Dance, Human Rights, and Social Justice: Dignity in Motion (co-edited with Toni Shapiro-Phim, Scarecrow Press), Right to Dance: Dancing for Rights(Banff Centre Press), and Converging Movements: Modern Dance and Jewish Culture at the 92nd Street Y (Wesleyan University Press). She has spearheaded two international conferences, including one on dance and human rights, and one on dance and Jewishness. Originally from Halifax, Nova Scotia, she now enjoys the Arizona sun.
---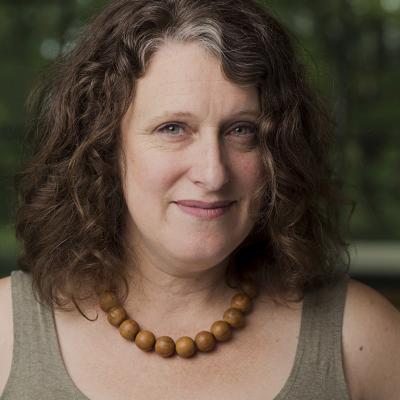 Featured Guest, Professor Selene Carter
Tuesday, January 26, 2021
8:30AM - 9:30AM
All are welcome to these free discussions, but please register to attend>
Indiana University Associate Professor, Theatre, Drama, and Contemporary Dance Selene Carter offers a lecture on decolonizing dance history coursework and how to set up a lecture. 
Professor Carter achieved her M.F.A. from the University of Wisconsin-Milwaukee and received the Ruth Page Award, Chicago's highest honor in dance, as well as funding from city agencies and private foundations for her work. As co-director Links Hall, she created a forum for post-modern and experimental dance, producing workshops and performances in alternative dance and improvisation. She taught improvisation and dance studies at the Dance Center of Columbia College Chicago, the University of Chicago and the Chicago Academy of the Arts. Selene is a certified teacher in Evans Somatic Dance.
Her choreography was recently presented at Links Hall in Chicago, the Aronoff Center by the Contemporary Dance Theatre of Cincinnati, Ohio, at the Milwaukee Repertory Theater by Wild Space Dance Company, in the Regional Alternative Dance Festival (RADfest) in Kalamazoo, Michigan, in the Breaking Ground Contemporary Dance & Film Festival, Tempe, Arizona, and by the Indianapolis Art Museum at the Tobey Theater, Harkness Dance Center/92nd Street Y in New York City by Doug Varone & Dancers.
---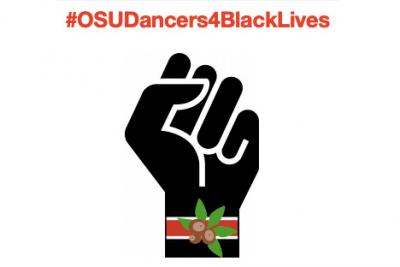 Mapping of the Cycle of Socialization with the Anti-Racist Working Group 
Tuesday, January 26, 2021
2:15PM - 3:15PM
Mapping of the Cycle of Liberation with the Anti-Racist Working Group 
Thursday, January 28, 2021
2:15PM - 3:15PM 
All are welcome to these free discussions, but please register to attend>
This 2 part workshop is an extension of The Cycle of Socialization by Bobbie Harro. In the first workshop, participants will be encouraged to intentionally pause and reflect on several aspects of their own socialization surrounding a social identity they hold. Thought-provoking questions and small group discussions will be offered to help participants continue to excavate their own understanding of themselves. The second workshop is a continuation of the first as participants will follow the same format and reflect on The Cycle of Liberation.  Participants will be prompted to imagine themselves as subjects with the agency to better themselves and the world around them. 
Formed in 2019, the Anti-Racist Working Group is a community of accountability that interrogates how systemic racial oppression is institutionalized and internalized. The group is composed of students from the Department of Dance who seek to: first, examine their own role as institutional gatekeepers within an educational system that has historically subjugated marginalized populations; second, confront how structural racism shapes dance history, curricula, and pedagogy; and, third, cultivate conscious-raising spaces that build resilience through self- and collective-care. We bring embodied practices and lived experience into conversation with anti-racist thought and action to imagine new models for institutional change-making that challenge White patriarchal hegemony. The Anti-Racist Working Group operates through joint governance and programs based on the community's needs.
---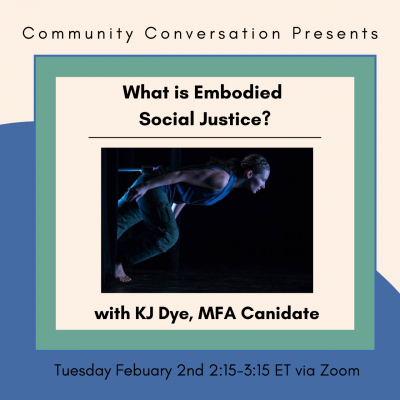 KJ Dye: What Is Embodied Social Justice?
Tuesday, February 2, 2021
2:15PM - 3:15PM
All are welcome to these free discussions, but please register to attend>
This experiential session will introduce the non-linear process of embodied social justice to emphasize the need for deep personal transformation in alignment with liberatory community/collective practices. Embodied social justice work gives attention to the reality that bodies are created and constructed in relation to their social, cultural, and familial conditioning. Participants will be invited into this practice-able theory of change that holistically engages sensations, tissues, muscles, emotions, organs, and thinking. By the end of our time together, we will begin to see that we cannot "think" our ways out of habits that no longer serve us – we must "practice on purpose with intention." No prior knowledge is necessary, all bodies welcome!

KJ Dye (she/they) is an educator, performer, activist, and collaborator that lives by one life rule, momentum. KJ was born and raised in Appalachia on Massawomeck Territory but finds deep internal resonance with the traditional land of the Duwamish People, calling Seattle, WA her home. KJ's earliest memories are filled with muddy toes, bike rides to the sound of crickets, and her grandfather's stories.  KJ continues to listen closely for the hidden and untold stories of this life, as they drive her creative passions and investigations.  KJ's research pairs anti-oppressive learning theory with somatics to develop a communal practice of art-making for healing, liberation, and social change.
---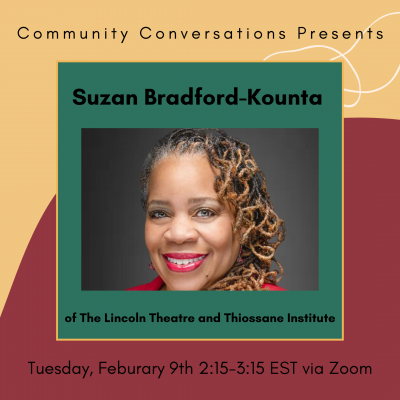 Suzan Bradford: Lincoln Theatre

Tuesday, February 9, 2021
2:15PM - 3:15PM
All are welcome to these free discussions, but please register to attend>
Suzan Bradford is the Executive Director of the Lincoln Theatre. Under her creative vision and direction, the Lincoln Theatre has seven mission-driven programs that reflect the nostalgia of the theatre and the innovative programming that is about the artist and the audience. 

Bradford's passion is driven by her 30 years as a dancer, instructor, and creative director of traditional West African dance music and culture. Suzan is President of the Thiossane Institute and Artistic Director of the Thiossane Institute West African Dance Company (TWADI). 

She co-founded and lead Thiossane since its inception in 2000 with her beloved husband, Abdou Kounta. The company thrives on being Columbus' premier traditional West African Dance Company that provides authentic performances and detailed instruction to all ages and all people. Her extensive study, training and travel aboard, has empowered enhanced and educated varied audiences of the richness of this art form and moving it into a valid artform of collegiate study.  
---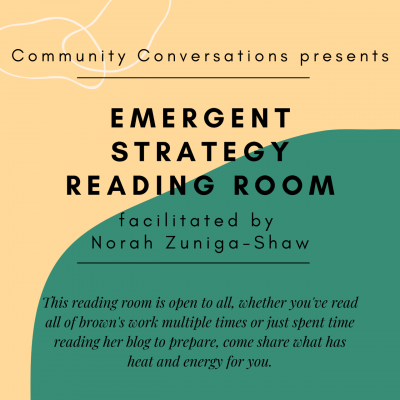 Anti-Racist Reading Room: adrienne maree brown 
Facilitated by Norah Zuniga-Shaw 
Thursday, February 11, 2021
2:15PM - 3:15PM
All are welcome to these free discussions, but please register to attend>
Grab a cup of tea and your favorite adrienne maree brown book (Pleasure Activism, Emergent Strategy, We Will Not Cancel Us) or blog post, and let's spend some time dwelling with her ideas, sharing passages we value, and engaging with her ideas in support of our anti-racist work and commitments. 
More book club than a seminar, this is a communally directed, emergent conversation taking seriously amb's understanding of conversation as "a crucial way to explore what we believe and to make new understandings and ideas possible... this is collaborative ideation--what are the ideas that will liberate all of us?" - Emergent Strategy 
This reading room is open to all, whether you've read all of brown's work multiple times or just spent time reading her blog to prepare, come share what has heat and energy for you.
---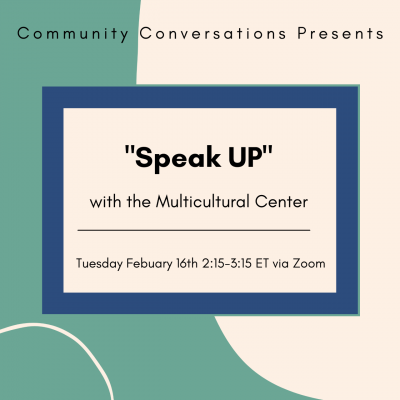 Speak UP
with the Multicultural Center
Thursday, February 16, 2021
2:15PM - 3:15PM
All are welcome to these free discussions, but please register to attend>
This session seeks to provide strategies for students to "speak up" against bias and will give participants quick easy tips for holding each other accountable for their words and actions. The material from this presentation is drawn from the publication "Speak Up at School: How to Respond to Everyday Prejudice, Bias and Stereotypes" by Teaching Tolerance, a project of the Southern Poverty Law Center. 

This is the work that matters to create real change. Change starts within us but also ends when we can safely speak up about bias and systems of oppression. 
---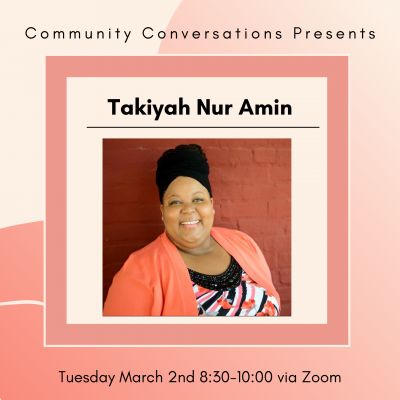 Takiyah Nur Amin 
Tuesday, March 2nd, 2021 8:30-10:00am EST
See email from dance@osu.edu for meeting link.

Takiyah Nur Amin, MFA; PhD is a dance scholar, educator, and consultant. Her research focuses on 20th-century American concert dance, African diaspora dance performance/aesthetics, and pedagogical issues in dance studies. She is a founding executive board member of the Collegium for African Diaspora Dance (CADD) and Vice President for Membership for the Dance Studies Association (DSA). Dr. Amin consults with institutional clients on curricular design, policy reform, and issues pursuant to anti-racism and diversity in dance studies and related disciplines.
---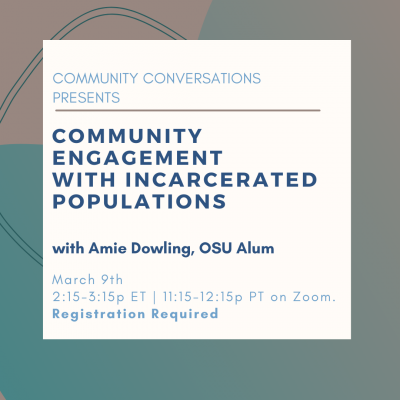 Community Engagement with Incarcerated Populations 
with Ohio State Alumna Amy Dowling 
Tuesday, March 9, 2021
2:15PM - 3:15PM EST, 11:15AM-12:15PM PT
All are welcome to these free discussions, but please register to attend>
The imprisoned body is one of the primary sites of carceral control, an elaborate choreography of containment and segregation. Behind prison walls, regimented rituals of eating, cleaning, labor, and leisure curtail individual freedom of movement in the service of "orderly" systems, notating where and how one moves through space and time, shaping relations between objects, spaces, bodies. 

In our time together, we will discuss and see the work of the Artistic Ensemble in San Quentin prison that is shaped by questions such as - How do incarcerated artists create work? How do inside and outside artists, working in an inhumane system, develop a creative process that supports humanity? How do outside artists use their platform to support creative work inside facilities that critiques mass imprisonment and its conditions of emergence? How can the subversive role as artists ask more radical questions about the uses of locking people away in the first place? How does transmission occur when stage and audience are separated by a system of mass incarceration that disappears certain bodies?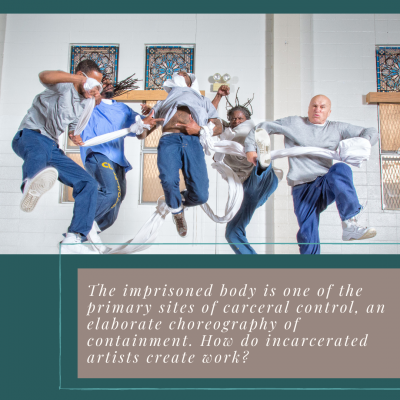 Amie Dowling creates dance and theater for the stage, for film, and in community settings. For the past 20 years, her work has considered the politics and representation of mass incarceration. Well Contested Sites, a collaboration with Bay Area artists, some of who were previously incarcerated, won the 2013 International Screendance film prize. The next film,  Separate Sentence, 2017, explores the generational impact of incarceration.  The films, along with their study guides, are used in classrooms as tools to engage in conversations about mass incarceration.  She has presented work internationally at such venues as Lincoln Center (NYC), Regards Hybrides (Canada), Cinéma Jean-Eustache (France), Passangen Art Gallery (Sweden),  and the Juming Museum (Taiwan).  Amie is a member of the Artistic Ensemble at San Quentin Prison and an Associate Professor in the Performing Arts Department at the University of San Francisco.  
---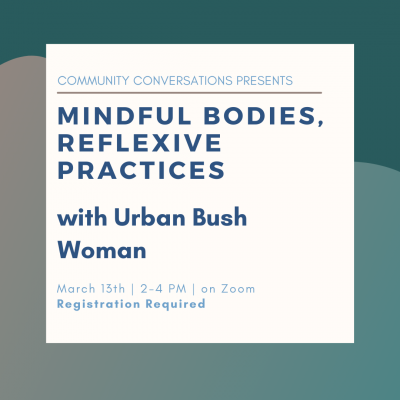 Mindful Bodies and Reflexive Practices
with Urban Bush Woman Co-Facilitators Mikaila Ware, and Benalldra Williams 
Saturday, March 13, 2021
2:00PM - 4:00PM
All are welcome to these free discussions, but please register to attend>
This participatory workshop focuses on self-care, rejuvenation, and (re-) constructing healthful images of ourselves and our communities. As we move, share stories, and discuss holism practices from food choices to daily stress relief, Urban Bush Women BOLD Facilitators (Builders, Organizers, and Leaders through Dance) offer simple tools for reinhabiting our bodies and reinforcing holism from the inside out. We also bring out and affirm the wisdom that is already in the group, fostering resource exchange and building community. The goal is to bring ourselves to balance, thereby bringing our families and communities to balance as well. No dance or fitness experience is necessary...just a body and a willingness to exhale! Space is limited, don't wait to sign-up. Registration is required!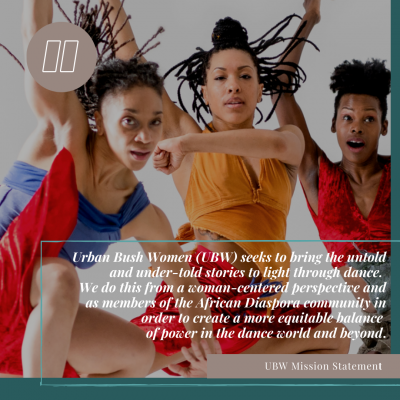 ---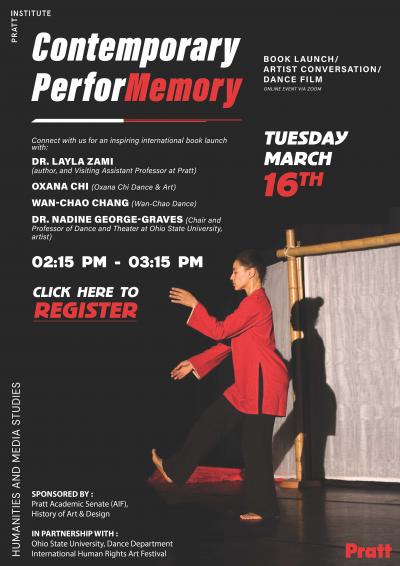 Contemporary PerforMemory Book Release
Tuesday, March 16th, 2021
2:15PM - 3:15PM
Host: Pratt Institute, Department of Humanities and Media Studies
in partnership with:
The Ohio State University Department of Dance and International Human Rights Art Festival
All are welcome to these free discussions, but please register to attend>
Connect with us for an inspiring international book launch with author and interdisciplinary scholar Dr. Layla Zami (Visiting Assistant Professor at Pratt Institute), who will share thoughts on her new publication Contemporary PerforMemory: Dancing Through Spacetime, Historical Trauma, and Diaspora in the 21st Century. She will be joined by two multi-talented dancer-choreographers and educators featured in the book : Oxana Chi (Oxana Chi Dance & Art) and Wan-Chao Chang (Wan-Chao Dance).
Dr. Nadine George-Graves, Chair and Professor of Dance at the Ohio State University (OSU), will moderate the conversation. This event is sponsored by Pratt Institute's Academic Senate (AIF), and organized in partnership with OSU and the International Human Rights Art Festival.
Panel Moderation: Dr. Nadine George-Graves
Panel Participants:
Book title: Contemporary PerforMemory
Dancing through Spacetime, Historical Trauma, and Diaspora in the 21st Century
Author: Dr. Layla Zami, Visiting Assistant Professor at Pratt Institute (www.laylazami.net) 
Publisher: transcript publishing (Germany), in partnership with Columbia University Press (USA)
Print: ISBN 978-3-8376-5525-4
E-Book: ISBN 978-3-8394-5525-8
Book Summary: Contemporary PerforMemory looks at dance works created in the 21st century by choreographers identifying as Afro-European, Jewish, Black, Palestinian, and Taiwanese-Chinese-American. It explores how contemporary dance-makers engage with historical traumas to reimagine how the past is remembered and how the future is anticipated. The new idea of perforMemory arises within a lively blend of interdisciplinary theory,  personal storytelling, performance analysis, and insightful interviews with seven international artists. Scholar and artist Layla Zami traces unexpected pathways, inviting the reader to move gracefully across disciplines, geographies, and histories.
---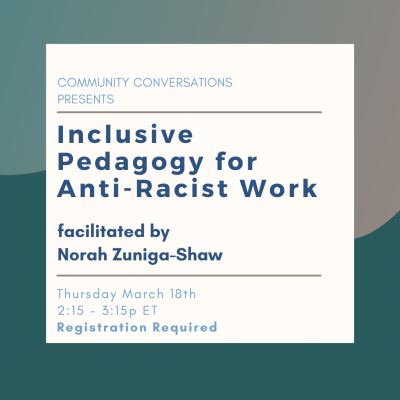 Inclusive Pedagogy for Anti-Racist Work 
with Norah Zuniga-Shaw 
Thursday, March 18th, 2021 
2:15PM-3:15PM
All are welcome to these free discussions, but please register to attend>
Let's spend some time together discussing the five principles of inclusive pedagogy and the role that this approach can have in making social change. Participants will get support determining one action item to apply in their own teaching and come away with multiple references to support future exploration. 
---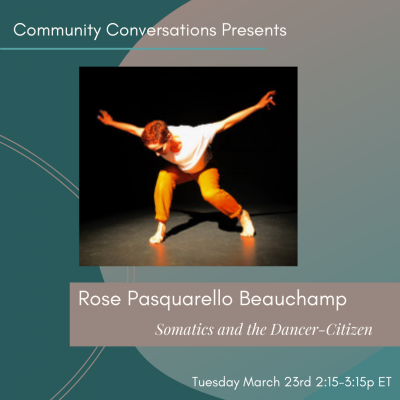 Somatics and the Dancer-Citizen 
with Rose Pasquarello Beauchamp 
Tuesday, March 23rd, 2021
2:15PM-3:15PM 
All are welcome to these free discussions, but please register to attend>
This workshop will explore the role that Somatics plays in influencing social change while encouraging participants to view Somatics as a form of community practice. The habitual patterns that we establish as human movers can often become automatic and remain unquestioned. Using Somatics as a frame, participants will consider new ways to move in the world with intention while being aware of social movement constructs. Through movement investigation and thoughtful discussion, participants will be asked to consider how our physicality can shift divisive trends in the current socio-political environment.  
Rose Pasquarello Beauchamp (MFA, CLMA) is a dance artist, educator, filmmaker, and activist.  A transplant to Rochester, she has carved her space in the community while making work with electricGrit dance.  Rose's creative interests lie in integrating dance, theater, design, and media while her artistic research centers around collaboration across disciplines. Her choreographic work with inFluxdance and SirensProof Films has been featured internationally for the past 14 years and continues to flourish with electricGrit dance. She has been selected for multiple residencies and performance projects across the country. Most recently, she was selected as the recipient of the 2020 Western NY Choreographers' Initiative Award, sponsored by NYS Dance Force. Rose is co-founder of Artists Coalition for Change Together (ACCT), an organization founded in 2016 as a way to engage dancer-citizens in Rochester and beyond.  In 2017, she received a grant from the Rochester Center for Community Leadership to spearhead an initiative using dance to foster collaborative relationships across various communities. Since then, her work as a community-engaged educator and artist has deepened. She teaches with a focus on the dancer-citizen and creates with an emphasis on community engagement. Rose continues to perform and present her creative research internationally with a focus on dance as an agent of change. Currently, she is exploring metaphor as it relates to socio-political art-making and bodies of resistance.  She is an Associate Professor at the University of Rochester in the Program of Dance and Movement.
---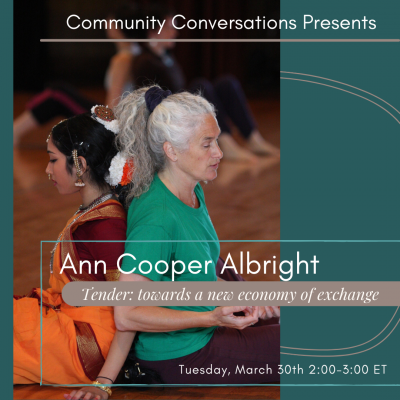 Tender: towards a new economy of exchange, an artist-scholar talk
with Ann Cooper Albright
Tuesday, March 30th, 2021
2:00PM-3:00PM  
All are welcome to these free discussions, but please register to attend>

In this short presentation, I trouble some of the cultural assumptions and social dynamics that the pandemic has brought about in order to reimagine community as an ecosystem that does not separate self-care from tending to others. Lively conversation to follow. 
 
Bio: A dancer and a scholar and a 2019-20 Guggenheim Fellow, Ann Cooper Albright is Professor and Chair of the Department of Dance at Oberlin College. Combining her interests in dancing and cultural theory, Ann Cooper Albright teaches a variety of courses that seek to engage students in both practices and theories of the body. Her latest book, How to Land: finding ground in an unstable world, offers ways of thinking about and dealing with the uncertainty of our contemporary lives. Her other books include Engaging Bodies: The Politics and Poetics of Corporeality (2013); Modern Gestures: Abraham Walkowitz Draws Isadora Duncan Dancing (2010); Traces of Light: Absence and Presence in the Work of Loïe Fuller(2007); Choreographing Difference: the Body and Identity in Contemporary Dance (1997). She is co-editor of Moving History/Dancing Cultures (2001) and of Taken by Surprise: Improvisation in Dance and Mind (2003). Albright is the founder and director of Girls in Motion, an award-winning afterschool program in the Oberlin City Schools. She is also a veteran practitioner of Contact Improvisation and has taught workshops throughout the U.S. and abroad. The book, Encounters with Contact Improvisation (2010), is the product of one of her adventures in writing and dancing, and dancing and writing with others. 
---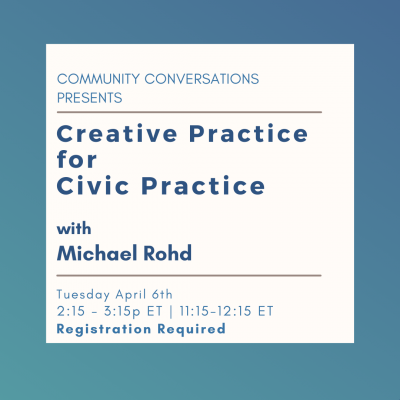 Cultivating a Civic Practice: Artists Collaborating with Community
with Michael Rohd 
Tuesday, April 6th, 2021
2:15PM-3:15PM  
All are welcome to these free discussions, but please register to attend>
Michael Rohd is a co-founder of Center for Performance and Civic Practice, where he holds the position Lead Artist for Civic Imagination. He is also founding artistic director of the 19 year old national ensemble-based Sojourn Theatre. In 2015, he received an Otto Rene Castillo award for Political Theater and The Robert Gard Foundation Award for Excellence. He is an Institute Professor at Arizona State University's Herberger Institute for Design & Art and is is author of the widely translated book Theatre for Community, Conflict, and Dialogue. He was the 2013-2016 Doris Duke Artist-in-Residence at Lookingglass Theater Company in Chicago.
Recent and current projects include collaborations and productions with Goodman Theater, Bush Foundation, Lincoln Center, Singapore Drama Educators Association, Americans for the Arts, Nashville's MetroArts, ArtPlace, Cleveland Public Theater, Catholic Charities USA, Cook Inlet Housing Authority Alaska, ASU/Gammage, and Steppenwolf Theater.
---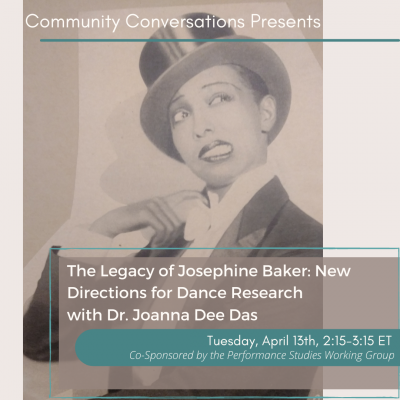 The Legacy of Josephine Baker: New Directions for Dance Research 
with Dr. Joanna Dee Das 
Co-Sponsored by the Performance Studies Working Group 
Tuesday, April 13th, 2021
2:15PM-3:15PM  
All are welcome to these free discussions, but please register to attend>

Joanna Dee Das is an Assistant Professor of Dance at Washington University in St. Louis. Her research interests include dance in the African diaspora, musical theater dance, and the politics of performance in the twentieth century. She is the author of Katherine Dunham: Dance and the African Diaspora (Oxford 2017), which won the 2018 de la Torre Bueno First Book Award from the Dance Studies Association (DSA) and a 2019 honorable mention Errol Hill Award for "Outstanding Scholarship in African American Theatre and Performance" from the American Society for Theatre Research (ASTR). She has also published articles in the Journal of Urban History, Dance Research Journal, Studies in Musical Theatre, and ARTS journal. She has won several fellowships for her research, including an American Council of Learned Societies Fellowship, a Mellon Postdoctoral Fellowship, and a Jacob K. Javits Fellowship in Ethnic and Cultural Studies. In addition to her scholarship, Dr. Das is a Certified Instructor of Dunham Technique and a choreographer. In December 2020, she co-created a dance film with filmmaker Denise Ward-Brown called Seeking Josephine Baker: Dancing on the Land. 
---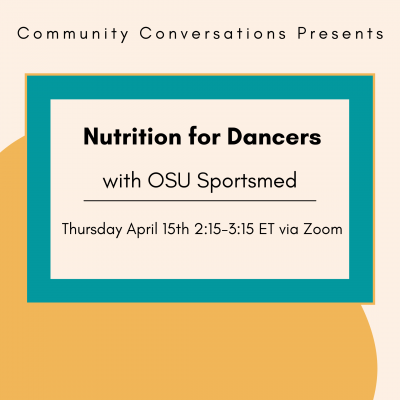 Nutrition for Dancers 
with Jackie Buell with Ohio State Sports Medicine 
Thursday, April 15th, 2021
2:15PM-3:15PM  
All are welcome to these free discussions, but please register to attend>

Dr. Buell is a sports dietitian for Ohio State Sports Medicine and consultant to the Department of Athletics. She is a registered and licensed dietitian and maintains her athletic training licensure. Her dual background is reflected in her research on issues related to athlete weight (female athlete triad and metabolic syndrome), as well as current topics like iron and vitamin D status in the athletic environment. 
---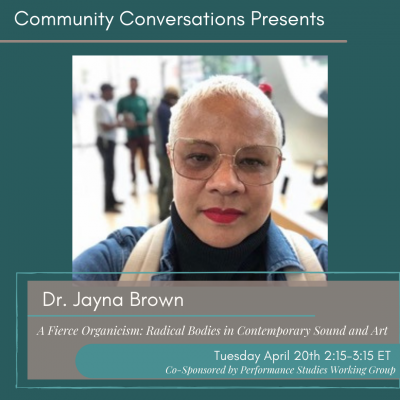 A Fierce Organicism: Radical Bodies in Contemporary Sound and Art
with Dr. Jayna Brown
Tuesday, April 20th, 2021
2:15PM-3:15PM  
All are welcome to these free discussions, but please register to attend>
Jayna Brown is a professor in the Graduate Program in Media Studies at Pratt Institute. As well as numerous essays, Brown is the author of two books, both published by Duke University Press: Babylon Girls: Black Women Performers and the Shaping of the Modern and her most recent,  Black Utopias: Speculative Life and the Music of Other Worlds. Brown is co-editor of the journal Social Text and has also been a contributing journalist for NPR's music programming. Her areas of research and specialization include queer studies, black feminism, black diasporan intellectual history, speculative fiction, music, black expressive cultures, and our changing media landscape. Her current work is located at the intersections of science and magic.
---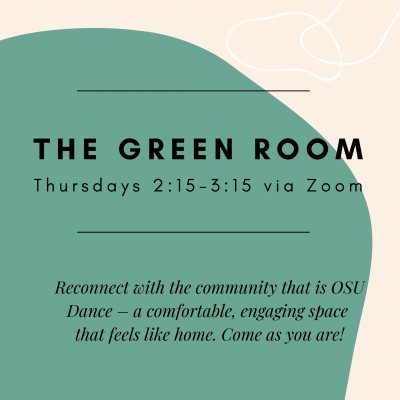 Are you feeling disconnected from the department? Are you reminiscing on the time when we could all be in the Green Room space in between classes to chat, eat, and just be? We didn't need to worry about disturbing someone's online class, or we could finish up last-minute assignments while others chatted. Do you miss it? Well, the Green Room space seeks to fill your cup with that kind of energy! Bring a snack, coffee, afternoon pick-me-up. This is a low-stakes environment to do your homework, connect, and be in a community with those that went don't get to see as often with the COVID restrictions. We will chat, listen to music, and re-connect! Open to current Ohio State Dance students only.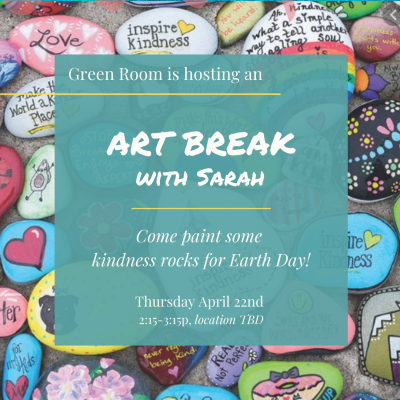 Sugar and Art Break
Thursday, April 22nd from 2:15-3:15 ET 
Join us for the last Green Room Community Space to make art, eat snacks, enjoy, and reflect with your peers before finals and summer break! Location TBD!