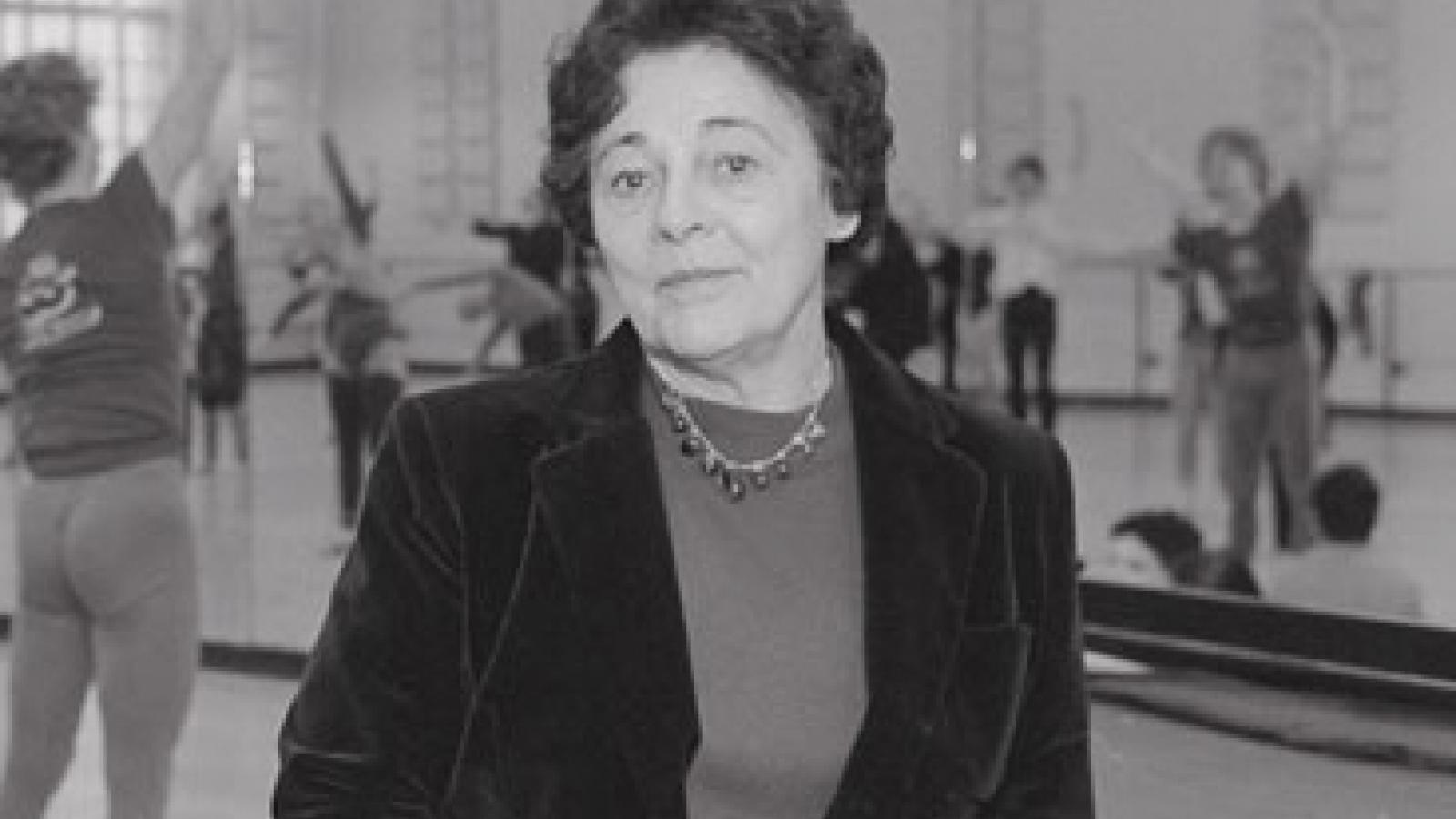 Body
The Helen P. Alkire Scholarship Fund
The Helen P. Alkire Scholarship Fund (600066) was established June 9, 1983 with gifts from friends and alumni in honor of Helen P. Alkire, in recognition of her distinguished leadership and service to students in the Arts, Department of Dance; used to provide merit-based scholarships to talented undergraduates/graduates who are or will be majors in the Department of Dance. Founder of Ohio State's dance program Helen P. Alkire passed away at home in Orient, Ohio in Nov. 2015 at age 100. In autumn 2016, Department Chair Susan Hadley announced of a major gift from Alkire's estate of $980,000 to the Helen P. Alkire Scholarship Fund. This generous gift has grown this endowed fund to over $1.3 million, which will help the department continue to attract and support passionate dance students for many years to come.
Scholarship Amount: $5000 each of four academic years, up to $20,000 total for each selected student
Number of Scholarships Awarded Annually: Two
​Type of Scholarship: Merit, but need is also considered
Application Process: There is no separate application process. All prospective students who have applied to audition to the program by Feb. 1 are automatically considered. 
Students must be both accepted by audition to the BFA program and admitted to the university in order to receive the Alkire award.
Undergraduate Admissions Merit-Based Scholarships
Incoming freshmen to the Columbus campus compete for university-funded merit-based scholarships. Apply for admission by the November 1 early action deadline to receive consideration for most merit scholarships. It is important that ALL application materials and test scores are received by Undergraduate Admissions no later than November 1. 

The Eminence Fellows Program and Scholarship is one of Ohio State's premier merit awards that provides full cost of attendance at Ohio State for four years, plus a $3,000 enrichment grant accessible after the first year of successful study. This award requires an additional application and essay.  
The Land Grant Opportunity Scholarship is a full cost of attendance scholarship awarded to 176 incoming members of the AU18 first-year class who come from across Ohio. This competitive scholarship is awarded to academically achieving students with demonstrated financial need, and is a part of President Drake's Access and Affordability initiatives. Ohio residents who apply to the university and file the FAFSA by February 1 will automatically be considered. 
Ohio State Scholarships
The university offers hundreds of special-eligibility scholarships with a wide variety of eligibility criteria. Students can apply for these scholarships every year they are enrolled by filing the FAFSA and the Special Scholarships Application by the priority date of February 1. Completing the FAFSA by February 1 each year also considers students for a variety of federal and Ohio State grants. If you experience a significant financial change after filing the FAFSA or the change is not reflected in the prior-prior year information used on the FAFSA, please contact the Student Financial Aid office to complete an appeal process.
This is also the application to use to apply for Cooperative Scholarship Housing on the Columbus campus (the Stadium Scholarship Program and Alumnae Scholarship Housing for women), which is based on need and merit.
The Office of Diversity and Inclusion offers scholarships, including the Morrill Scholarship Program, to qualified students.
ScholarshipUniverse is a scholarship-matching tool that that simplifies the process of finding and applying for university and external scholarships. Students and applicants will log in with their Ohio State username and password (created after admission application) to build, update or confirm their profile. Student record data will automatically update to match students with potential scholarship opportunities, which they can track anytime via a secure portal. Scholarships managed by Ohio State and the College of Engineering and some from the Office of Diversity and Inclusion currently are included in ScholarshipUniverse. Other departments and university scholarships may have different application processes, which can be found at sfa.osu.edu. For more information about ScholarshipUniverse, go to: go.osu.edu/scholarshipfaqs.
External Scholarships
Ohio residents are eligible to apply for the Maggie Patton Scholarship through OhioDance if your dance studio or teacher is a member of OhioDance. Check the OhioDance website for the announcement in spring; the application is typically due in March. 
As a chapter of the Dance Masters of America national organization, Ohio Dance Masters (ODM) is a nonprofit corporation that elevates the art and science of dance, focused on educational and scholarship opportunities for our members and students. Every year, ODM awards many cash and tuition scholarships from ages 7-24, based on audition and various other criteria. In addition, members and their students benefit from numerous educational experiences such as seminars, intensives and master classes, as well as performance opportunities (both competitive and non-competitive). We have also initiated a fully-functioning junior membership program for ages 13+, focused on a learning agenda that develops our dancers, teachers, and leaders of the future.
Ohio directory for National Honor Society of Dance Arts
Secondary program student induction to NHSDA
Scholarship info for high schoolers from NHSDA
Many churches, professional, civic or service organizations, private foundations, the military, and others offer scholarships.
Young BIPOC women who are majoring in one of the performing arts: https://www.daphnemlee.com/scholarship
Ohio State does not post individual external scholarship opportunities but suggests these free scholarship search engines:
If you receive an aid award from outside sources, you and your award donor can obtain information about Ohio State's process for disbursing those funds to you in the External Aid Resource Guide.
Scholarships and Financial Aid for International Students
Note: Federal regulations require that external scholarships be considered part of a student's overall financial aid package, which cannot exceed the cost of attendance. Once a payment from an external scholarship is applied, your financial aid package may be revised to include the amount of the scholarship. 
To get the most from your scholarships, b​e sure to review our tips on managing your financial resources while in college.
For more information about financial aid, please go to the Student Financial Aid website.  
A conversation with recipients of student support funds across the arts
October 29, 2020
Graduate student Erin Hoppe (Arts Administration, Education and Policy) visits with Tyla Daniel (Theatre/Communication), Caitlyn Higley (Dance) and Devin Sheller (Music Education) to discuss how donor support is assisting them this year – a year like no other. Hear how the performing arts in particular have found creative ways to support teaching, learning and creative expression.
Our panel today reflects on the future of the arts at Ohio State – celebrating the on-going construction of new state-of-the-art facilities for Music, Theatre and Moving Image Production, which will complete a multi-year plan that creates an arts gateway to the Columbus Campus.