Image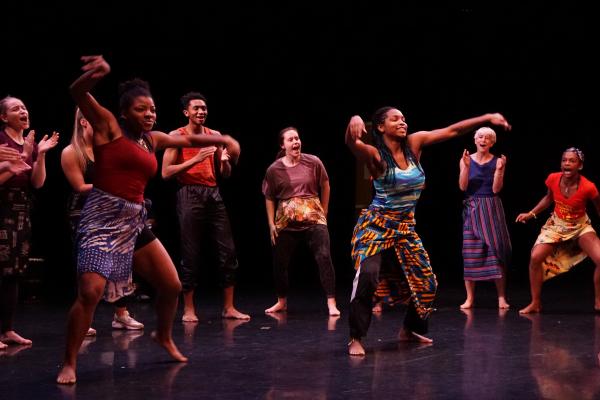 June 8 - June 12, 2020
8:30AM - 5:30PM
Location
Sullivant Hall, 1813 N. High Street
Date Range
Add to Calendar
2020-06-08 07:30:00
2020-06-12 16:30:00
***CANCELED*** Summer Dance Intensive for High School Students
Many Ohio State events scheduled through the remainder of the semester have been canceled, rescheduled or reformatted. The safety of our community is our top priority.  Monday – Friday, June 8-12, 2020, 8:30 a.m. to 5:30 p.m. The Ohio State University Department of Dance is offering a daytime non-residential dance intensive for rising high school students who are entering their freshman, sophomore, junior or senior year in autumn 2020. The intensive will include five days of classes in movement practice, repertory and choreography, with additional sessions about dance in college. More information and application >
Sullivant Hall, 1813 N. High Street
OSU ASC Drupal 8
ascwebservices@osu.edu
America/New_York
public
Date Range
Add to Calendar
2020-06-08 08:30:00
2020-06-12 17:30:00
***CANCELED*** Summer Dance Intensive for High School Students
Many Ohio State events scheduled through the remainder of the semester have been canceled, rescheduled or reformatted. The safety of our community is our top priority.  Monday – Friday, June 8-12, 2020, 8:30 a.m. to 5:30 p.m. The Ohio State University Department of Dance is offering a daytime non-residential dance intensive for rising high school students who are entering their freshman, sophomore, junior or senior year in autumn 2020. The intensive will include five days of classes in movement practice, repertory and choreography, with additional sessions about dance in college. More information and application >
Sullivant Hall, 1813 N. High Street
Department of Dance
dance@osu.edu
America/New_York
public
Description
Many Ohio State events scheduled through the remainder of the semester have been canceled, rescheduled or reformatted. The safety of our community is our top priority. 
Monday – Friday, June 8-12, 2020, 8:30 a.m. to 5:30 p.m.
The Ohio State University Department of Dance is offering a daytime non-residential dance intensive for rising high school students who are entering their freshman, sophomore, junior or senior year in autumn 2020. The intensive will include five days of classes in movement practice, repertory and choreography, with additional sessions about dance in college.
---