Image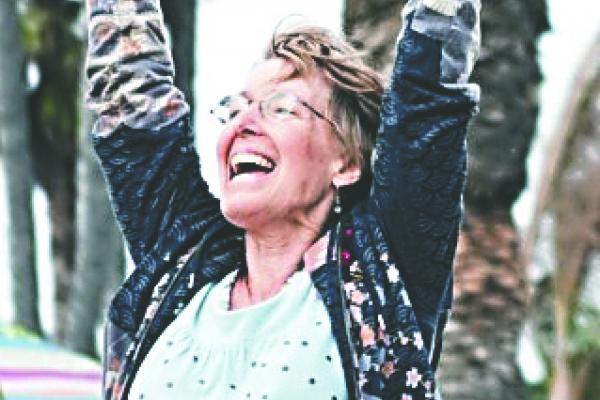 April 11, 2019
12:45PM - 2:00PM
Location
Motion Lab, Sullivant Hall 350
Date Range
Add to Calendar
2019-04-11 12:45:00
2019-04-11 14:00:00
Livable Futures: Master Class
Alana Shaw Turning the Wheel Productions Shaw will give a public talk and workshop on community engaged practices and creating more livable futures now through creative, embodied, socially courageous practices. Turning the Wheel is a national nonprofit that has touched the lives of over 100,000 people in more than 1000 communities, schools and organizations around the country. Using a working model that is based on inclusiveness, community engagement and collaboration, TTW is dedicated to making creative expression and art accessible to people of all ages, experience and cultural and socio­economic backgrounds. Their work includes a range of programs in the schools, summer camps and intergenerational dance/theater performances rooted in and restorative for the communities in which they perform and teach. Turning the Wheel seeks to reconnect youth and elders to their lives and society; to encourage a collective ethic of caring for others and ourselves and to be a contributing force in fostering healthy, creative communities.  https://www.turningthewheel.org/ Follow on Instagram, Twitter and Facebook @turning_the_wheel Alana Shaw, founder and executive director of Turning the Wheel, is an inspiring and empowering speaker, teacher, and guide, Alana has facilitated joyful and healing movement events in cities in the US and Canada for over 30 years. Her dynamic and energetic presentation style is both humorous and transforming, and consistently positive and uplifting for her audiences. She holds an MFA is Dance from the University of Colorado with a thesis on healing and reintegration through creative expression. Alana's books, "Dancing Our Way Home" and "The Body Now" catalyze her mission to inspire a new paradigm for inclusiveness, collaboration, and community engagement. Both books are available on Amazon. She is also a certified Hendricks Body/Mind Vibrance Coach. "Everything we do in Turning the Wheel is an attempt to come back into relationship with our interdependence as human beings, and with the need for love, not power, to form the basis for how we live on the earth. We are passionately committed to building and sustaining transformative communities that are inclusive of all people, and that reach for and model unconditional love and acceptance as the norm." - Alana Shaw
Motion Lab, Sullivant Hall 350
OSU ASC Drupal 8
ascwebservices@osu.edu
America/New_York
public
Date Range
Add to Calendar
2019-04-11 12:45:00
2019-04-11 14:00:00
Livable Futures: Master Class
Alana Shaw Turning the Wheel Productions Shaw will give a public talk and workshop on community engaged practices and creating more livable futures now through creative, embodied, socially courageous practices. Turning the Wheel is a national nonprofit that has touched the lives of over 100,000 people in more than 1000 communities, schools and organizations around the country. Using a working model that is based on inclusiveness, community engagement and collaboration, TTW is dedicated to making creative expression and art accessible to people of all ages, experience and cultural and socio­economic backgrounds. Their work includes a range of programs in the schools, summer camps and intergenerational dance/theater performances rooted in and restorative for the communities in which they perform and teach. Turning the Wheel seeks to reconnect youth and elders to their lives and society; to encourage a collective ethic of caring for others and ourselves and to be a contributing force in fostering healthy, creative communities.  https://www.turningthewheel.org/ Follow on Instagram, Twitter and Facebook @turning_the_wheel Alana Shaw, founder and executive director of Turning the Wheel, is an inspiring and empowering speaker, teacher, and guide, Alana has facilitated joyful and healing movement events in cities in the US and Canada for over 30 years. Her dynamic and energetic presentation style is both humorous and transforming, and consistently positive and uplifting for her audiences. She holds an MFA is Dance from the University of Colorado with a thesis on healing and reintegration through creative expression. Alana's books, "Dancing Our Way Home" and "The Body Now" catalyze her mission to inspire a new paradigm for inclusiveness, collaboration, and community engagement. Both books are available on Amazon. She is also a certified Hendricks Body/Mind Vibrance Coach. "Everything we do in Turning the Wheel is an attempt to come back into relationship with our interdependence as human beings, and with the need for love, not power, to form the basis for how we live on the earth. We are passionately committed to building and sustaining transformative communities that are inclusive of all people, and that reach for and model unconditional love and acceptance as the norm." - Alana Shaw
Motion Lab, Sullivant Hall 350
Department of Dance
dance@osu.edu
America/New_York
public
Description
Alana Shaw
Turning the Wheel Productions
Shaw will give a public talk and workshop on community engaged practices and creating more livable futures now through creative, embodied, socially courageous practices.
Turning the Wheel is a national nonprofit that has touched the lives of over 100,000 people in more than 1000 communities, schools and organizations around the country. Using a working model that is based on inclusiveness, community engagement and collaboration, TTW is dedicated to making creative expression and art accessible to people of all ages, experience and cultural and socio­economic backgrounds. Their work includes a range of programs in the schools, summer camps and intergenerational dance/theater performances rooted in and restorative for the communities in which they perform and teach. Turning the Wheel seeks to reconnect youth and elders to their lives and society; to encourage a collective ethic of caring for others and ourselves and to be a contributing force in fostering healthy, creative communities. 
https://www.turningthewheel.org/
Follow on Instagram, Twitter and Facebook @turning_the_wheel
Alana Shaw, founder and executive director of Turning the Wheel, is an inspiring and empowering speaker, teacher, and guide, Alana has facilitated joyful and healing movement events in cities in the US and Canada for over 30 years. Her dynamic and energetic presentation style is both humorous and transforming, and consistently positive and uplifting for her audiences.
She holds an MFA is Dance from the University of Colorado with a thesis on healing and reintegration through creative expression. Alana's books, "Dancing Our Way Home" and "The Body Now" catalyze her mission to inspire a new paradigm for inclusiveness, collaboration, and community engagement. Both books are available on Amazon. She is also a certified Hendricks Body/Mind Vibrance Coach.
"Everything we do in Turning the Wheel is an attempt to come back into relationship with our interdependence as human beings, and with the need for love, not power, to form the basis for how we live on the earth. We are passionately committed to building and sustaining transformative communities that are inclusive of all people, and that reach for and model unconditional love and acceptance as the norm."
- Alana Shaw
---