Image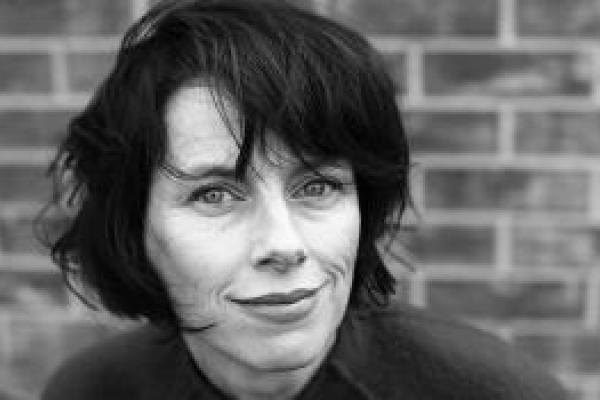 November 8, 2017
3:00PM - 5:00PM
Location
Sullivant Hall 247
Date Range
Add to Calendar
2017-11-08 16:00:00
2017-11-08 18:00:00
Michelle Ellsworth: Workshop
Michelle Ellsworth will be working with the Humane Tech group November 5-9 and giving a workshop for advanced makers. She is a powerful choreographer and solo artist using a mix of technology, dance, theater, and humor to engage themes of contemporary relevance.This is a free event for advanced makers only, but please RSVP>>>Post-Verbal Social Network (PVSN) employs pre-industrial technologies to augment the physical labor of choreography and community. Simple mechanical apparatuses (built into costumes and shoes) will comingle with choreography to: 1) extend dancers' bodies and functions, and 2) illuminate how contemporary digital technology is impacting our bodies and our social interactions. PVSN will remind us what a physically productive, collaborative, non-language based, non-mediated, pre-industrial, human-to-human, 3D encounter looks and feels like. That said...a web app accompanies the piece.Clytemnestra's Guide to Surveillance-Free LivingAcross multiple web platforms, this so-called "work" will demonstrate several "over-the-counter counter-terrorism" protocols for avoiding surveillance and interpersonal drama. "Research" tells us that the most dangerous data collection systems are: 1) The internet (its purpose is to share and save information—even when you don't want it to) and 2) Humans (they are often listening and consistently insecure). With a bit of JavaScript and the remixing of an ancient Homeric text, these two problems can be contained, and exposure to unstable "watching" can be avoided. Based on the latest so-called "important" ideas in neuroscience, linguistics, anthropology, and the Trump-centric geopolitical reality, this work is informed by Claude Levi-Strauss, Giorgio Agamben, Kellyanne Conway, Judith Butler, Vladislav Surkov, and  Vilayanur Ramachandran.The Rehearsal ArtistIn a rehearsal studio-turned-laboratory, a small group of audience members peep through a one-way mirror at a performer responding to choreographic instructions, derived from the canon of social science experiments.  As the audience's perception shifts and extends, this iterative and playful performance amplifies and destabilizes the act of watching.BioAmong Michelle Ellsworth's honors are a Guggenheim Fellowship (2016), Doris Duke Impact Award (2015), a NEFA National Dance Project Grant (2014 and 2017), a Creative Capital Fellowship (2013), and a USA Artists Knight Fellowship in Dance (2012). She has received three National Performance Network Creation Fund Commissions (2004, 2007, and 2016).Though not a licensed scientist, technologist, or carpenter, Ellsworth nevertheless co-mingles these disciplines with dance in an attempt to choreograph coping strategies and wood-based and web-based solutions, and also to demonstrate some peculiar geopolitical (and personal) phenomena. The pharmaceutical and political potential of dance interests her, as well as the value of broken and labor-intensive ideas.Highlights in her performing career include presenting at Bard's Fisher Center (2017), Noorderzon Festival (Netherlands 2016), Made in the U.S.A Festival (Greece 2016), On The Boards (2004, 2005, 2012, 2015), The Chocolate Factory (2015), The Fusebox Festival  (2013 and 2015), Brown University (2011, 2015), Abandon Normal Devices Festival (Liverpool 2013), Danspace in New York City (2012), Diverseworks in Houston (1996, 1997, 2001, 2005, 2009), and Dance Theatre Workshop in New York City (1992, 1993, 1996, 2007).
Sullivant Hall 247
OSU ASC Drupal 8
ascwebservices@osu.edu
America/New_York
public
Date Range
Add to Calendar
2017-11-08 15:00:00
2017-11-08 17:00:00
Michelle Ellsworth: Workshop
Michelle Ellsworth will be working with the Humane Tech group November 5-9 and giving a workshop for advanced makers. She is a powerful choreographer and solo artist using a mix of technology, dance, theater, and humor to engage themes of contemporary relevance.This is a free event for advanced makers only, but please RSVP>>>Post-Verbal Social Network (PVSN) employs pre-industrial technologies to augment the physical labor of choreography and community. Simple mechanical apparatuses (built into costumes and shoes) will comingle with choreography to: 1) extend dancers' bodies and functions, and 2) illuminate how contemporary digital technology is impacting our bodies and our social interactions. PVSN will remind us what a physically productive, collaborative, non-language based, non-mediated, pre-industrial, human-to-human, 3D encounter looks and feels like. That said...a web app accompanies the piece.Clytemnestra's Guide to Surveillance-Free LivingAcross multiple web platforms, this so-called "work" will demonstrate several "over-the-counter counter-terrorism" protocols for avoiding surveillance and interpersonal drama. "Research" tells us that the most dangerous data collection systems are: 1) The internet (its purpose is to share and save information—even when you don't want it to) and 2) Humans (they are often listening and consistently insecure). With a bit of JavaScript and the remixing of an ancient Homeric text, these two problems can be contained, and exposure to unstable "watching" can be avoided. Based on the latest so-called "important" ideas in neuroscience, linguistics, anthropology, and the Trump-centric geopolitical reality, this work is informed by Claude Levi-Strauss, Giorgio Agamben, Kellyanne Conway, Judith Butler, Vladislav Surkov, and  Vilayanur Ramachandran.The Rehearsal ArtistIn a rehearsal studio-turned-laboratory, a small group of audience members peep through a one-way mirror at a performer responding to choreographic instructions, derived from the canon of social science experiments.  As the audience's perception shifts and extends, this iterative and playful performance amplifies and destabilizes the act of watching.BioAmong Michelle Ellsworth's honors are a Guggenheim Fellowship (2016), Doris Duke Impact Award (2015), a NEFA National Dance Project Grant (2014 and 2017), a Creative Capital Fellowship (2013), and a USA Artists Knight Fellowship in Dance (2012). She has received three National Performance Network Creation Fund Commissions (2004, 2007, and 2016).Though not a licensed scientist, technologist, or carpenter, Ellsworth nevertheless co-mingles these disciplines with dance in an attempt to choreograph coping strategies and wood-based and web-based solutions, and also to demonstrate some peculiar geopolitical (and personal) phenomena. The pharmaceutical and political potential of dance interests her, as well as the value of broken and labor-intensive ideas.Highlights in her performing career include presenting at Bard's Fisher Center (2017), Noorderzon Festival (Netherlands 2016), Made in the U.S.A Festival (Greece 2016), On The Boards (2004, 2005, 2012, 2015), The Chocolate Factory (2015), The Fusebox Festival  (2013 and 2015), Brown University (2011, 2015), Abandon Normal Devices Festival (Liverpool 2013), Danspace in New York City (2012), Diverseworks in Houston (1996, 1997, 2001, 2005, 2009), and Dance Theatre Workshop in New York City (1992, 1993, 1996, 2007).
Sullivant Hall 247
Department of Dance
dance@osu.edu
America/New_York
public
Description
Michelle Ellsworth will be working with the Humane Tech group November 5-9 and giving a workshop for advanced makers. She is a powerful choreographer and solo artist using a mix of technology, dance, theater, and humor to engage themes of contemporary relevance.
This is a free event for advanced makers only, but please RSVP>>>
Post-Verbal Social Network (PVSN) employs pre-industrial technologies to augment the physical labor of choreography and community. Simple mechanical apparatuses (built into costumes and shoes) will comingle with choreography to: 1) extend dancers' bodies and functions, and 2) illuminate how contemporary digital technology is impacting our bodies and our social interactions. PVSN will remind us what a physically productive, collaborative, non-language based, non-mediated, pre-industrial, human-to-human, 3D encounter looks and feels like. That said...a web app accompanies the piece.
Clytemnestra's Guide to Surveillance-Free Living
Across multiple web platforms, this so-called "work" will demonstrate several "over-the-counter counter-terrorism" protocols for avoiding surveillance and interpersonal drama. "Research" tells us that the most dangerous data collection systems are: 1) The internet (its purpose is to share and save information—even when you don't want it to) and 2) Humans (they are often listening and consistently insecure). With a bit of JavaScript and the remixing of an ancient Homeric text, these two problems can be contained, and exposure to unstable "watching" can be avoided. Based on the latest so-called "important" ideas in neuroscience, linguistics, anthropology, and the Trump-centric geopolitical reality, this work is informed by Claude Levi-Strauss, Giorgio Agamben, Kellyanne Conway, Judith Butler, Vladislav Surkov, and  Vilayanur Ramachandran.
The Rehearsal Artist
In a rehearsal studio-turned-laboratory, a small group of audience members peep through a one-way mirror at a performer responding to choreographic instructions, derived from the canon of social science experiments.  As the audience's perception shifts and extends, this iterative and playful performance amplifies and destabilizes the act of watching.
Bio
Among Michelle Ellsworth's honors are a Guggenheim Fellowship (2016), Doris Duke Impact Award (2015), a NEFA National Dance Project Grant (2014 and 2017), a Creative Capital Fellowship (2013), and a USA Artists Knight Fellowship in Dance (2012). She has received three National Performance Network Creation Fund Commissions (2004, 2007, and 2016).
Though not a licensed scientist, technologist, or carpenter, Ellsworth nevertheless co-mingles these disciplines with dance in an attempt to choreograph coping strategies and wood-based and web-based solutions, and also to demonstrate some peculiar geopolitical (and personal) phenomena. The pharmaceutical and political potential of dance interests her, as well as the value of broken and labor-intensive ideas.
Highlights in her performing career include presenting at Bard's Fisher Center (2017), Noorderzon Festival (Netherlands 2016), Made in the U.S.A Festival (Greece 2016), On The Boards (2004, 2005, 2012, 2015), The Chocolate Factory (2015), The Fusebox Festival  (2013 and 2015), Brown University (2011, 2015), Abandon Normal Devices Festival (Liverpool 2013), Danspace in New York City (2012), Diverseworks in Houston (1996, 1997, 2001, 2005, 2009), and Dance Theatre Workshop in New York City (1992, 1993, 1996, 2007).
---