Image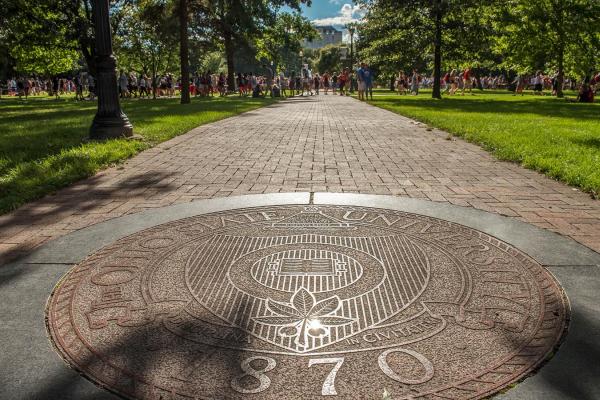 June 4, 2020
1:00PM - 2:30PM
Date Range
Add to Calendar
2020-06-04 13:00:00
2020-06-04 14:30:00
Ohio State Dance Community Zoom Meeting
Dear Ohio State Dance, As a Black woman in America, as a mother who has shopped for bullet-proof jackets for her son, as someone who has been pulled over for driving while Black, the last few days have hit me personally in overwhelming ways that I cannot yet fully process. I need time. Time to breathe, because I can. I have a relatively good life. I love my family, friends and work. But I'm under no delusion that this country and its promises are meant for me and my kids. The casual torturing and murdering of unarmed black people in this country is not surprising to me—a fact that is profoundly tragic, both the everyday killings and the lack of surprise. I live a daily underlying dread every time my children leave the house. I am simultaneously crushed and energized by recent events, including the Brooklyn protests that occurred a block away from where part of my family is sheltering in quarantine. I want to be an inspiring leader for you. But more than anything, I want us to do this together. I cannot be silent but I don't want to write another page to you about our better angels. I don't mean to belittle these efforts: They are important, heartfelt and honest. Others are much better than me at this and our university leaders have graced us with beautiful and inspiring words this morning. (Here are links to remarks by President Drake, ASC Executive Dean Ritter, and ASC Chief Diversity Officer Wendy Smooth.) https://president.osu.edu/story/053020-message https://artsandsciences.osu.edu/news/caring What I can do is charge us to use our emotional responses to (re)commit to the sustained, long-term and difficult work of restorative social justice. This work is about showing up, holding space and recognizing that we are all responsible for this work. Susan Hadley and I have been talking for days about what we should do as a community. We reach out to you in this time of rage, grief, and fear and want to connect live even if we can't meet in person. To that end, the department will convene via Zoom on Thursday, June 4 from 1-2.30 PM to hold space to support each other now and to imagine a path forward, together. I'd like to end the meeting with goals, both realistic and idealistic. This will be an open forum but if you have any thoughts, concerns or ideas now, please feel free to send them to me. Looking back, moving forward… Dr. Nadine Professor Nadine George-Graves, incoming Chair of the Department of Dance Join Zoom Meeting https://osu.zoom.us/j/92435097343 One tap mobile +13126266799,,92435097343# US (Chicago) +16468769923,,92435097343# US (New York) Dial by your location +1 312 626 6799 US (Chicago) +1 646 876 9923 US (New York) +1 651 372 8299 US (St. Paul) +1 301 715 8592 US (Germantown) +1 346 248 7799 US (Houston) +1 408 638 0968 US (San Jose) +1 669 900 6833 US (San Jose) +1 253 215 8782 US (Tacoma) Meeting ID: 924 3509 7343 Find your local number: https://osu.zoom.us/u/acaNkWMKVm
Zoom
OSU ASC Drupal 8
ascwebservices@osu.edu
America/New_York
public
Date Range
Add to Calendar
2020-06-04 13:00:00
2020-06-04 14:30:00
Ohio State Dance Community Zoom Meeting
Dear Ohio State Dance, As a Black woman in America, as a mother who has shopped for bullet-proof jackets for her son, as someone who has been pulled over for driving while Black, the last few days have hit me personally in overwhelming ways that I cannot yet fully process. I need time. Time to breathe, because I can. I have a relatively good life. I love my family, friends and work. But I'm under no delusion that this country and its promises are meant for me and my kids. The casual torturing and murdering of unarmed black people in this country is not surprising to me—a fact that is profoundly tragic, both the everyday killings and the lack of surprise. I live a daily underlying dread every time my children leave the house. I am simultaneously crushed and energized by recent events, including the Brooklyn protests that occurred a block away from where part of my family is sheltering in quarantine. I want to be an inspiring leader for you. But more than anything, I want us to do this together. I cannot be silent but I don't want to write another page to you about our better angels. I don't mean to belittle these efforts: They are important, heartfelt and honest. Others are much better than me at this and our university leaders have graced us with beautiful and inspiring words this morning. (Here are links to remarks by President Drake, ASC Executive Dean Ritter, and ASC Chief Diversity Officer Wendy Smooth.) https://president.osu.edu/story/053020-message https://artsandsciences.osu.edu/news/caring What I can do is charge us to use our emotional responses to (re)commit to the sustained, long-term and difficult work of restorative social justice. This work is about showing up, holding space and recognizing that we are all responsible for this work. Susan Hadley and I have been talking for days about what we should do as a community. We reach out to you in this time of rage, grief, and fear and want to connect live even if we can't meet in person. To that end, the department will convene via Zoom on Thursday, June 4 from 1-2.30 PM to hold space to support each other now and to imagine a path forward, together. I'd like to end the meeting with goals, both realistic and idealistic. This will be an open forum but if you have any thoughts, concerns or ideas now, please feel free to send them to me. Looking back, moving forward… Dr. Nadine Professor Nadine George-Graves, incoming Chair of the Department of Dance Join Zoom Meeting https://osu.zoom.us/j/92435097343 One tap mobile +13126266799,,92435097343# US (Chicago) +16468769923,,92435097343# US (New York) Dial by your location +1 312 626 6799 US (Chicago) +1 646 876 9923 US (New York) +1 651 372 8299 US (St. Paul) +1 301 715 8592 US (Germantown) +1 346 248 7799 US (Houston) +1 408 638 0968 US (San Jose) +1 669 900 6833 US (San Jose) +1 253 215 8782 US (Tacoma) Meeting ID: 924 3509 7343 Find your local number: https://osu.zoom.us/u/acaNkWMKVm
Zoom
Department of Dance
dance@osu.edu
America/New_York
public
Description
Dear Ohio State Dance,
As a Black woman in America, as a mother who has shopped for bullet-proof jackets for her son, as someone who has been pulled over for driving while Black, the last few days have hit me personally in overwhelming ways that I cannot yet fully process.
I need time. Time to breathe, because I can.
I have a relatively good life. I love my family, friends and work. But I'm under no delusion that this country and its promises are meant for me and my kids. The casual torturing and murdering of unarmed black people in this country is not surprising to me—a fact that is profoundly tragic, both the everyday killings and the lack of surprise. I live a daily underlying dread every time my children leave the house.
I am simultaneously crushed and energized by recent events, including the Brooklyn protests that occurred a block away from where part of my family is sheltering in quarantine. I want to be an inspiring leader for you. But more than anything, I want us to do this together. I cannot be silent but I don't want to write another page to you about our better angels. I don't mean to belittle these efforts: They are important, heartfelt and honest. Others are much better than me at this and our university leaders have graced us with beautiful and inspiring words this morning. (Here are links to remarks by President Drake, ASC Executive Dean Ritter, and ASC Chief Diversity Officer Wendy Smooth.)
https://president.osu.edu/story/053020-message
https://artsandsciences.osu.edu/news/caring
What I can do is charge us to use our emotional responses to (re)commit to the sustained, long-term and difficult work of restorative social justice. This work is about showing up, holding space and recognizing that we are all responsible for this work.
Susan Hadley and I have been talking for days about what we should do as a community. We reach out to you in this time of rage, grief, and fear and want to connect live even if we can't meet in person. To that end, the department will convene via Zoom on Thursday, June 4 from 1-2.30 PM to hold space to support each other now and to imagine a path forward, together. I'd like to end the meeting with goals, both realistic and idealistic. This will be an open forum but if you have any thoughts, concerns or ideas now, please feel free to send them to me.
Looking back, moving forward…
Dr. Nadine
Professor Nadine George-Graves, incoming Chair of the Department of Dance
Join Zoom Meeting
https://osu.zoom.us/j/92435097343
One tap mobile
+13126266799,,92435097343# US (Chicago)
+16468769923,,92435097343# US (New York)
Dial by your location
+1 312 626 6799 US (Chicago)
+1 646 876 9923 US (New York)
+1 651 372 8299 US (St. Paul)
+1 301 715 8592 US (Germantown)
+1 346 248 7799 US (Houston)
+1 408 638 0968 US (San Jose)
+1 669 900 6833 US (San Jose)
+1 253 215 8782 US (Tacoma)
Meeting ID: 924 3509 7343
Find your local number: https://osu.zoom.us/u/acaNkWMKVm
---