Image
Image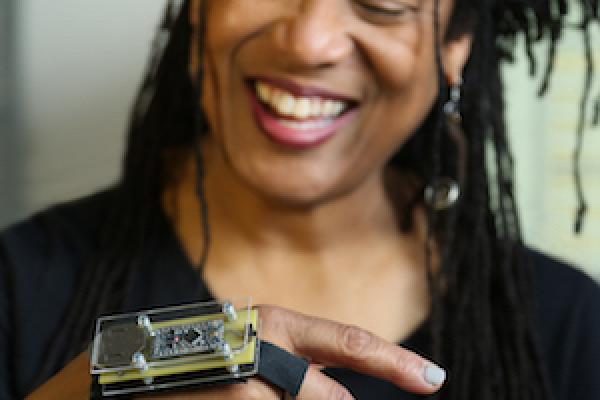 March 4, 2018
All Day
Location
The Motion Lab at ACCAD, Sullivant Hall Room 350
Description
The Collaboration for Humane Technologies presents techno-diva PamelaZ, a pioneer in electronic sound performance renowned for her awe-inspiring voice as well as her innovations in live processing and wearable controllers.

PamelaZ's performance will kick-off POP-UP 2018: WELLBEING, a week of focused collaboration and creative research conceived and facilitated by Department of Dance Professor, Norah Zuniga Shaw and colleagues at the Advanced Computing Center for the Arts and Design (ACCAD). Her residency will also include a workshop for advanced intermedia artists.
Performance  - SOLD OUT
Sunday March 4, 2018 at 5 p.m.
The Motion Lab at ACCAD, Sullivant Hall Room 350

SoundWORK Workshop for Advanced Intermedia Artists  - THIS WORKSHOP IS FULL
Sunday March 4, 2018, 12 - 3 p.m.
The Motion Lab at ACCAD, Sullivant Hall Room 350

PamelaZ is a pioneer in live electronic sound performance using gestural interface and real-time processing to create densely layered and compelling intermedia artworks. A composer/performer and media artist who works primarily with voice, live electronic processing, sampled sound, and video, she creates solos shows and larger scale multi-media performance works as well as installations for museums and galleries. She tours extensively throughout the United States, Europe, and Asia and has been presented at such venues as the Yerba Buena Center for the Arts, The Kitchen and The Whitney Museum of American Art; has had chamber music commissions from Kronos Quartet and Bang On A Can All Stars among others; and is a recipient of many awards including the Guggenheim Fellowship, the Doris Duke Artist Impact Award, the Creative Capital Fund; and the NEA Japan/US Friendship Commission Fellowship. PamelaZ is a groundbreaking independent artist who has forged a successful career as a woman of color in a majority white and male field. San Francisco Classical Voice describes her as a feminist cyborg with "a liquid persona, at moments indivisible from the sound and light she creates. Her performances, using real-time digital processing techniques, feature signatures of the genre, such as repetition and muttering, and comes out of what you might think of as highly polished improvisation. Roles vary. She's a conjurer…a pagan diva…a street performer…wired up with all her custom-made, gesture-controllers and foot switches, she becomes androidal..yet jet-powered with an odd humanity." This intermedia mix, overt humanity and commitment to excellence in artistic research makes PamelaZ a perfect guest for the Collaboration for Humane Technologies and we are grateful to have here here to kick-off our 2018 Pop-Up on Wellbeing as our keynote event.
The Collaboration for Humane Technologies is an interdisciplinary network of artists, scholars, and researchers seeking to create better futures via technology that is responsive to how humans learn, think, create and thrive. It is funded in part by a grant from the Discovery Themes at The Ohio State University.
The Omnivorous Mind of Pamela Z - San Francisco Classical Voice
---