Image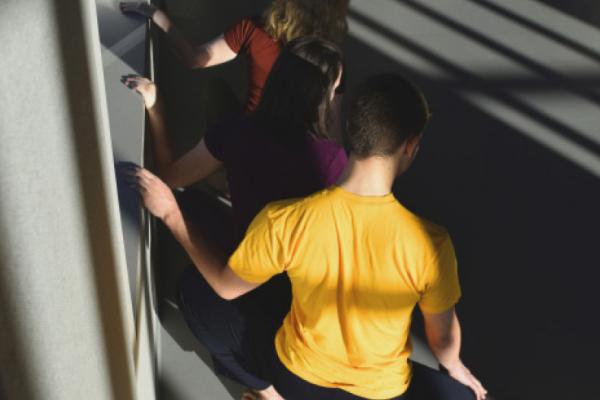 February 22, 2018
All Day
Location
Barnett Theatre, Sullivant Hall, 1813 N. High Street
February 23, 2018
All Day
Location
Barnett Theatre, Sullivant Hall, 1813 N. High Street
February 24, 2018
All Day
Location
Barnett Theatre, Sullivant Hall, 1813 N. High Street
February 24, 2018
All Day
Location
Barnett Theatre, Sullivant Hall, 1813 N. High Street
Description
Senior BFA in Dance students present their capstone projects, alongside an MFA in Dance Final Project. These works paint an engaging and captivating picture of these students' experiences and time at Ohio State.
Works include the following:
Unbound, we howl an MFA project by Alexandra Stilianos, investigates the spectacle of femininity in an immersive, and occasionally interactive, dance theatre environment. The enormous cast of dancers interrogate and physicalize the way the female/queer body is policed and made visible in pop culture, arts and politics. This intermedia work asks where the labor lies in navigating (and upending) normative systems and how they can be mobilized. In turn, the audience is invited to question their own subjectivity as the dancers pivot between artists and artifacts for social change. 

Blackened Tradition, by Cyrah Ward consists of three solos in total. These solos were inspired by a desire to explore new ways in which black bodies can approach the complexity of classical music. The performers and titles of the solos are as follows: Shakin' Up Right (Cyrah Ward), Still Pushin' (Brianna Rhodes), In the Gutta (Maxi Riley).
A World of Our Own, by Anthony Milian focuses on finding movement specificity. Found through the use of strong physicality, Anthony and his seven dancers have created a highly engaging and captivating work. This exploration delves into the integration of a highly kinetic mobile spine, while also challenging performers to create an unidentifiable, ephemeral and euphoric world of their own, in which the audience views from an outsider's lens within a world of their own.
Colorfully Uncolored, by Mikaela Hayes in collaboration with dancers, explores dance and movement from a more elementary perspective. In collaboration with her dancers, they work to continually rediscover the wonder of what a body is capable of and how we can illuminate both our present and our childhood all at one moment in time.
Out of Shadow Into Light, by Baylie MacRae in collaboration with dancers, is a trio using language to manifest movement with emphasis on exploring the concepts of negative and positive thoughts within our own experiences. Challenging how body language can help alter our state of mind and garner more positivity. The dance includes fabric, which acts as a metaphor for the weight of the past and how it shapes our future.
Excerpts of Carrugi, by Doug Varone, which will be performed by Madeline Mazzola. Created in 2012, this piece is set to music from Wolfgang Amadeus Mozart's oratorio, La Betulia Liberate. Staging of the work has been conducted by Eddie Taketa.
I, Object, by Amy Allen in collaboration with Alexandra Stilianos, music by Elijah Palnik, explores the relationship between power and vulnerability in the female body. The work questions objectification and seeks to create a performance space where all bodies are a part of the work. 
In Riders on the Storm, originally created by Danish dancer and choreographer Ida Frost, Alyssa Jessloski has created a solo which displays a combination of Frost's work and her own movement. The piece studies time and its relevancy in our lives. How do we fill or not fill time?