Image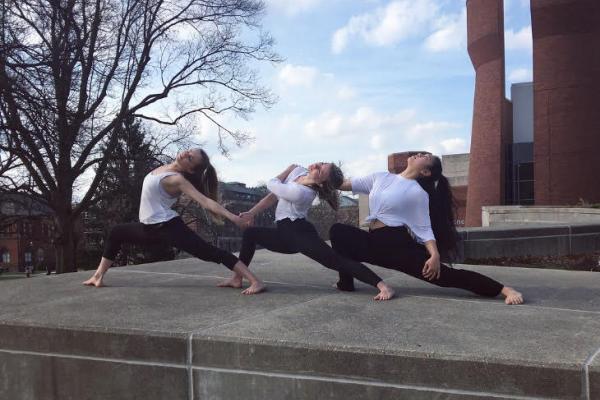 April 5, 2018
All Day
Location
Barnett Theatre, Sullivant Hall, 1813 N. High Street
April 6, 2018
All Day
Location
Barnett Theatre, Sullivant Hall, 1813 N. High Street
April 7, 2018
All Day
Location
Barnett Theatre, Sullivant Hall, 1813 N. High Street
April 7, 2018
All Day
Location
Barnett Theatre, Sullivant Hall, 1813 N. High Street
Description
BFA and MFA student works include the following:
come on come on come on come on now touch me baby (adherence/coherence) by Claire Melbourne: a collaborative movement exploration, explores surface tension created by layers of contact within a "performing" group. Through intimate and rascally state based improvisation and shared gestural movement, we rub, seep and sound out across bodies--human, performing group, architectural space and guests/audience-- allowing the excess created by intersection and overlap to disrupt and stretch fixed lines and boundaries. This preshow site adapted performance begins at 7:15 each evening and 2:15 for the matinee. 
 
Jazelynn Goudy's work deals and processes the "it" of her life. With voice, dance, and radical self-love, she shares the intimate parts of herself in her home on stage. You're in for a hoot. 
 
Rupture Front, by Brianna Johnson, explores slipping and locked boundaries of identity, and wonders what erupts through the cracks in our crust. According to the United States Geological Survey, a Rupture Front is "the instantaneous boundary between the slipping and locked parts of a fault during an earthquake." 
 

Rust, by Lindsay Schleich, started as a class project and turned into something bigger.

tremolo, by Jacqueleen Bordjadze, thinks about spontaneity, joy, urban living and the compositional impact of an audience.

Push Through, by Alexandra Cassidy - With pain, comes resilience….  
 
The Thick In-between, by Gina Hoch-Stall, delves into the meaning of embodied movement. The dance attempts to solve the puzzle of itself through careful observation, stop-motion and high velocity physicality. 
 
Widgets, by Emily Jones - Start with a beat and make a little ditty.
 
Sink into Sync, by Natalie Newman, demonstrates the beneficial existence of individuality within a coalesced community. The dancers take part in a uniform game, finding a collective rhythm while embracing the distinctive characteristics between one another.
 
One and Six, by Dian Jing, starts from weight switching to explore the energy produced by one person and six people.
Seating is limited. Patrons are encouraged to purchase tickets in advance. 

Tickets: General admission tickets are $15 and may be purchased by calling the Ohio State Theatre Ticket Office at (614) 292-2295 or by completing a ticket request online. Ohio State faculty, staff and Alumni Association members may purchase tickets for $10. Senior citizens, military veterans, students and children may also purchase tickets for $10.
Photo: Maddie Mazzola
---