Image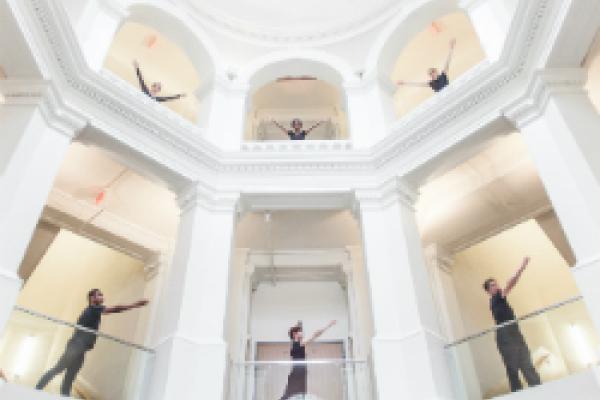 September 20, 2014
All Day
Description
A journey into the mind of a building
Created and Directed by Stephan Koplowitz
Performances at 1:00 pm and 4:00 pm
Commissioned by the College of Arts and Sciences, choreographer Stephan Koplowitz has created a promenade, site-specific and site-inspired performance event that allows each audience member to select a unique path through the building and to experience various performance events. Some are durational and others time specific.  Like immersive theater, everyone will have a slightly different experience and view as they journey through Sullivant Hall, and each audience member will see some but likely not all elements in one performance.
Each of the 11 performance works is a world premiere and is inspired by the history of the building, the architecture, and/or the current use of specific spaces. The cumulative effect of these works serves as a metaphor for learning, collaboration, creative play and dreaming. Koplowitz's goal in collaboration with the Department of Dance, faculty from the Advanced Computing Center for Art and Design (ACCAD), and School of Music chorale groups, is that audience members will gain a new perspective on the life of and the intention of both the building and its mission.
Entry into performance is through Sullivant Hall High Street Rotunda.
Admission is free of charge.
Artist Bios and Program Information
---
Concept, Choreography and Direction:
Stephan Koplowitz
Assistant Director & Rehearsal Director:
Ann Sofie Clemmensen
Project Coordination:
Mara Penrose
Technical Direction:
Oded Huberman
Core Company and Creative Collaborating Performers:
Rachel Barker, Noelle Bohaty, Jessica Cavender, Jada Green, Josh Hines, Sara Levitt, Sabrina Lumbert, Chloe Napoletano, Charlotte Stickles, Katelyn Sheffield, Chelsea Shott with Extended Core and Creative Company Performers:
Victoria Alesi, Brandon Adams, Tommy Batchelor, Madison Girardi, Savannah Weatherington, Gabriella Wiltz, Colin Umeki
Faculty Collaborators:
Choreography: Bebe Miller, WatchingWatching, Episode 3; Susan Petry, Re: Phrase
Film: Mitchell Rose, Renovating Sullivant Hall
Interactive Software Design: Matthew Lewis, One Way: A Telematic Trio ; Alan Price, Learn, Capture, Repeat
Original Music: Marc Ainger, Horizon Time; Kevin Estes, The Past Is Up
Musical Direction: Kristina MacMullen and Robert Ward, Rotunda Site and Sound
Lighting Design: David Covey, Horizon Time
Costume Design: Lindsay Simon
Performance: Carrie Cox, Green: Room
Extended Company Performers:
Julia Ayau, Gabby Bailey, Timothy Bendernagel, Matt Bowman, Abby Carlozzo, Taylor Craver, Kristina D'onfrio, Shannon Drake, Dani Fishman, Robin Ediger-Seto, Rachel Freeburg, Lily Friedman, Christine Ghinder, Tess Gilbert, Ca'la Henderson, Kelly Hurlburt, Kimberly Isaacs, Erica Jackson, Lilianna Kane, Ruth Keysor, Julie Kogan, Callie Lasinski, Madeleine Leonard-Rose, Cailin Manning, Melissa Mark, Lauren Merle, Rachel Merry, Heidi Murr, Hana Newfeld, Mary C. Pierson, Dana Schafer, Kylee Smith, Elissa Snouffer, Kelly Widerschein, Sheila Zeng
Musical Performance by:
The Ohio State University Chorale, Conducted by Robert Ward
The Ohio State University Symphonic Choir, Conducted by Kristina MacMullen
---
Photos by Nick Fancher.
---