Image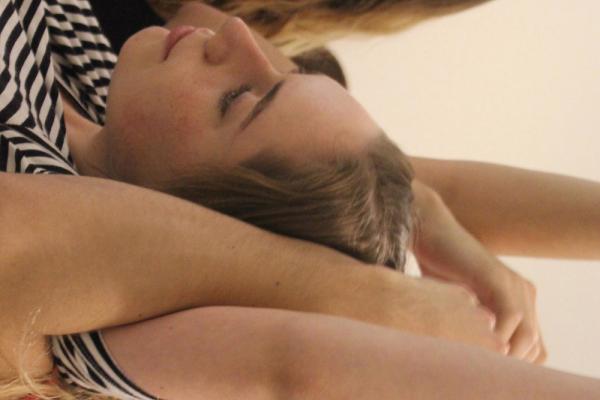 January 29 - January 31, 2015
12:00AM - 12:00AM
Location
Barnett Theatre, Sullivant Hall
Date Range
Add to Calendar
2015-01-29 00:00:00
2015-01-31 00:00:00
Winter Concert: Inflecting Space
Inflecting SpaceThursday-Saturday, January 29-31 at 8:00pm
plus Saturday matinee at 3:00pmOhio State's Department of Dance presents Inflecting Space, featuring the work of nine student choreographers in the undergraduate and graduate dance programs, Thursday, Jan. 29-Saturday, Jan. 31 in the Barnett Theatre in Sullivant Hall, 1813 N. High St. It is the first fully produced concert in the new theatre since Sullivant Hall's grand reopening last September.The concert features solos, duets and group works choreographed on 28 undergraduate and graduate students, with lighting by dance majors and minors, and a freshman crew. Works include the following:Liliana Kane (BFA '17) presents third, a trio that investigates how the strength of the whole emerges from individual parts.Wayward Shadows, choreographed by Cailin Manning (BFA '15), explores shadow, mimicry and the relationship between two people utilizing the same visual reference. Serena Chang's (BFA '15) work for nine dancers highlights the progression of movement through time and space as the dancers interact as a unified force.Christine Ghinder (BFA '15) presents a piece for six women on the structure and content of dreams, examining what is remembered and what can be translated.In Means Establish Ties, Shannon Drake (BFA '15) sets two solos in the same space at different times, each echoing and reflecting the world created in the moments before and after it.Anna Brown Massey (MFA '17) performs reconstruction, her solo offering to the bewildered, the hopeful and the bored. In this tribute, she exposes the fraught layers of meaning between artist and audience.Sarah Levitt (MFA '16) presents Virginia, a solo performed to Steve Reich's Four Organs in which repetition builds and breaks the links between appearance, faith, comfort and doubt.Sonata in A Minor, choreographed by Brandon Whited (MFA '16) is a duet for two men exploring proximity, sensitivity, sensuality and delicacy, suggesting a fresh view of the potential for male interaction.Quilan Arnold (MFA '16) presents From Within. And Back Again, a reflection on the hardships and progress of race relations in the U.S. and the restlessness that comes from living inside conventions.Tickets are available through the Ohio State Theatre Box Office, 614-292-2295. Photo Credit:  Cailin ManningDancer:  Charlotte Stickles (BFA 2017)
Barnett Theatre, Sullivant Hall
OSU ASC Drupal 8
ascwebservices@osu.edu
America/New_York
public
Date Range
Add to Calendar
2015-01-29 00:00:00
2015-01-31 00:00:00
Winter Concert: Inflecting Space
Inflecting SpaceThursday-Saturday, January 29-31 at 8:00pm
plus Saturday matinee at 3:00pmOhio State's Department of Dance presents Inflecting Space, featuring the work of nine student choreographers in the undergraduate and graduate dance programs, Thursday, Jan. 29-Saturday, Jan. 31 in the Barnett Theatre in Sullivant Hall, 1813 N. High St. It is the first fully produced concert in the new theatre since Sullivant Hall's grand reopening last September.The concert features solos, duets and group works choreographed on 28 undergraduate and graduate students, with lighting by dance majors and minors, and a freshman crew. Works include the following:Liliana Kane (BFA '17) presents third, a trio that investigates how the strength of the whole emerges from individual parts.Wayward Shadows, choreographed by Cailin Manning (BFA '15), explores shadow, mimicry and the relationship between two people utilizing the same visual reference. Serena Chang's (BFA '15) work for nine dancers highlights the progression of movement through time and space as the dancers interact as a unified force.Christine Ghinder (BFA '15) presents a piece for six women on the structure and content of dreams, examining what is remembered and what can be translated.In Means Establish Ties, Shannon Drake (BFA '15) sets two solos in the same space at different times, each echoing and reflecting the world created in the moments before and after it.Anna Brown Massey (MFA '17) performs reconstruction, her solo offering to the bewildered, the hopeful and the bored. In this tribute, she exposes the fraught layers of meaning between artist and audience.Sarah Levitt (MFA '16) presents Virginia, a solo performed to Steve Reich's Four Organs in which repetition builds and breaks the links between appearance, faith, comfort and doubt.Sonata in A Minor, choreographed by Brandon Whited (MFA '16) is a duet for two men exploring proximity, sensitivity, sensuality and delicacy, suggesting a fresh view of the potential for male interaction.Quilan Arnold (MFA '16) presents From Within. And Back Again, a reflection on the hardships and progress of race relations in the U.S. and the restlessness that comes from living inside conventions.Tickets are available through the Ohio State Theatre Box Office, 614-292-2295. Photo Credit:  Cailin ManningDancer:  Charlotte Stickles (BFA 2017)
Barnett Theatre, Sullivant Hall
Department of Dance
dance@osu.edu
America/New_York
public
Description
Inflecting Space
Thursday-Saturday, January 29-31 at 8:00pm

plus Saturday matinee at 3:00pm
Ohio State's Department of Dance presents Inflecting Space, featuring the work of nine student choreographers in the undergraduate and graduate dance programs, Thursday, Jan. 29-Saturday, Jan. 31 in the Barnett Theatre in Sullivant Hall, 1813 N. High St. It is the first fully produced concert in the new theatre since Sullivant Hall's grand reopening last September.
The concert features solos, duets and group works choreographed on 28 undergraduate and graduate students, with lighting by dance majors and minors, and a freshman crew. Works include the following:
Liliana Kane (BFA '17) presents third, a trio that investigates how the strength of the whole emerges from individual parts.
Wayward Shadows, choreographed by Cailin Manning (BFA '15), explores shadow, mimicry and the relationship between two people utilizing the same visual reference.
 
Serena Chang's (BFA '15) work for nine dancers highlights the progression of movement through time and space as the dancers interact as a unified force.
Christine Ghinder (BFA '15) presents a piece for six women on the structure and content of dreams, examining what is remembered and what can be translated.
In Means Establish Ties, Shannon Drake (BFA '15) sets two solos in the same space at different times, each echoing and reflecting the world created in the moments before and after it.
Anna Brown Massey (MFA '17) performs reconstruction, her solo offering to the bewildered, the hopeful and the bored. In this tribute, she exposes the fraught layers of meaning between artist and audience.
Sarah Levitt (MFA '16) presents Virginia, a solo performed to Steve Reich's Four Organs in which repetition builds and breaks the links between appearance, faith, comfort and doubt.
Sonata in A Minor, choreographed by Brandon Whited (MFA '16) is a duet for two men exploring proximity, sensitivity, sensuality and delicacy, suggesting a fresh view of the potential for male interaction.
Quilan Arnold (MFA '16) presents From Within. And Back Again, a reflection on the hardships and progress of race relations in the U.S. and the restlessness that comes from living inside conventions.
Tickets are available through the Ohio State Theatre Box Office, 614-292-2295.
Photo Credit:  Cailin Manning
Dancer:  Charlotte Stickles (BFA 2017)
---