Image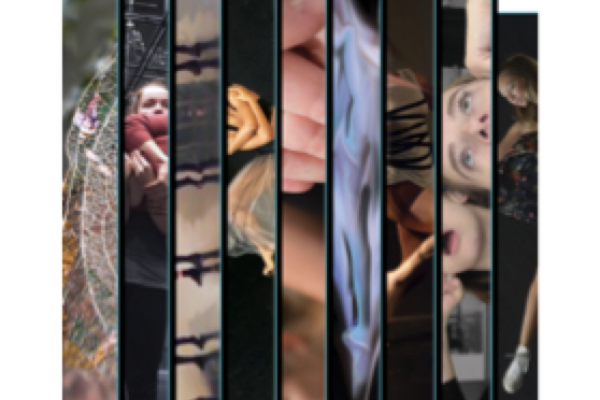 February 4 - February 6, 2016
8:00PM - 8:00PM
Location
Barnett Theatre Sullivant Hall
Date Range
Add to Calendar
2016-02-04 21:00:00
2016-02-06 21:00:00
WINTER CONCERT 2016
Winter Concert 2016Thursday, Friday, Saturday, February 4 - 6 at 8:00pm
Saturday matinee at 3:00pmby Anna Brown MasseyOSU Dance presents Winter Concert 2016, featuring work by master choreographer Chien-Ying Wang, the MFA project of graduate student Kristina D'Onofrio, and seven works by graduate and undergraduate choreographers. Over thirty dancers will perform over the course of four performances Thursday, February 4th through Saturday, February 6th in the Barnett Theatre in Sullivant Hall, 1813 N. High St. Columbus, OH.Works include the following:Guest choreographer and MFA alum Chien-Ying Wang sets a work on nine OSU dancers titled Benevolence, examining the power and strength of communal bonding in times of upheaval and conflict. A professor of dance at Rutgers University, Wang's choreography has been performed internationally.Kristina D'Onofrio's ('16) final MFA project studies Hebraic poetry, examining the parallelism found within three Biblical Psalms to inspire rhythm, pattern and organization of movement. Five dancers from OSU and five dancers from the BalletMet Trainee Program together investigate kaleidoscopic interlacing between contemporary ballet and contemporary modern dance, and translate language as choreography on a page. Her work features original music by Jacob Reed and original costume design by Ron Altman (MFA '16).In Wounds Erica Jackson (BFA '17) explores the nuclear family's varying, multiple, and interconnected relationships, and how one event can alter the cohesion once present and now in question.Callie Lacinski's work (BFA '17) researches the merging of commercial and concert dance and its choreographic manifestations in the dancers' bodies.Anna Brown Massey (MFA '17) offers a percussive and driving quartet in which her dancers encounter discordant alignments and new allegiances.Claire Moore (BFA '17) offers a work that investigates the balance of solidarity and unity within a group of four women.Madeleine Naylor (BFA '16) presents a solo work centered on the nature of performance both in dance and daily life, in which she uncovers dramatic stereotypes and heartbreaking realities, and questions whether what it means to succeed.Alyssa M. Parnell (BFA '17) presents her solo Your steps are ordered. Know yourself and love yourz, for this is your eternal sunshine, which she has both choreographed and will be performing.Alexandra Stilianos (MFA '18) investigates the boundaries and visibilities among lust and fear in the female body. With an eye for geography and movement of bodies, she seeks to integrate experiential projection into the work. Tickets are available through the Ohio State Theatre Box Office, 614-292-2295.Photo Collage by Alexandra Stilianos 
Barnett Theatre Sullivant Hall
OSU ASC Drupal 8
ascwebservices@osu.edu
America/New_York
public
Add to Calendar
2016-02-06 16:00:00
2016-02-06 16:00:00
WINTER CONCERT 2016
Winter Concert 2016Thursday, Friday, Saturday, February 4 - 6 at 8:00pm
Saturday matinee at 3:00pmby Anna Brown MasseyOSU Dance presents Winter Concert 2016, featuring work by master choreographer Chien-Ying Wang, the MFA project of graduate student Kristina D'Onofrio, and seven works by graduate and undergraduate choreographers. Over thirty dancers will perform over the course of four performances Thursday, February 4th through Saturday, February 6th in the Barnett Theatre in Sullivant Hall, 1813 N. High St. Columbus, OH.Works include the following:Guest choreographer and MFA alum Chien-Ying Wang sets a work on nine OSU dancers titled Benevolence, examining the power and strength of communal bonding in times of upheaval and conflict. A professor of dance at Rutgers University, Wang's choreography has been performed internationally.Kristina D'Onofrio's ('16) final MFA project studies Hebraic poetry, examining the parallelism found within three Biblical Psalms to inspire rhythm, pattern and organization of movement. Five dancers from OSU and five dancers from the BalletMet Trainee Program together investigate kaleidoscopic interlacing between contemporary ballet and contemporary modern dance, and translate language as choreography on a page. Her work features original music by Jacob Reed and original costume design by Ron Altman (MFA '16).In Wounds Erica Jackson (BFA '17) explores the nuclear family's varying, multiple, and interconnected relationships, and how one event can alter the cohesion once present and now in question.Callie Lacinski's work (BFA '17) researches the merging of commercial and concert dance and its choreographic manifestations in the dancers' bodies.Anna Brown Massey (MFA '17) offers a percussive and driving quartet in which her dancers encounter discordant alignments and new allegiances.Claire Moore (BFA '17) offers a work that investigates the balance of solidarity and unity within a group of four women.Madeleine Naylor (BFA '16) presents a solo work centered on the nature of performance both in dance and daily life, in which she uncovers dramatic stereotypes and heartbreaking realities, and questions whether what it means to succeed.Alyssa M. Parnell (BFA '17) presents her solo Your steps are ordered. Know yourself and love yourz, for this is your eternal sunshine, which she has both choreographed and will be performing.Alexandra Stilianos (MFA '18) investigates the boundaries and visibilities among lust and fear in the female body. With an eye for geography and movement of bodies, she seeks to integrate experiential projection into the work. Tickets are available through the Ohio State Theatre Box Office, 614-292-2295.Photo Collage by Alexandra Stilianos 
Barnett Theatre Sullivant Hall
OSU ASC Drupal 8
ascwebservices@osu.edu
America/New_York
public
Date Range
Add to Calendar
2016-02-04 20:00:00
2016-02-06 20:00:00
WINTER CONCERT 2016
Winter Concert 2016Thursday, Friday, Saturday, February 4 - 6 at 8:00pm
Saturday matinee at 3:00pmby Anna Brown MasseyOSU Dance presents Winter Concert 2016, featuring work by master choreographer Chien-Ying Wang, the MFA project of graduate student Kristina D'Onofrio, and seven works by graduate and undergraduate choreographers. Over thirty dancers will perform over the course of four performances Thursday, February 4th through Saturday, February 6th in the Barnett Theatre in Sullivant Hall, 1813 N. High St. Columbus, OH.Works include the following:Guest choreographer and MFA alum Chien-Ying Wang sets a work on nine OSU dancers titled Benevolence, examining the power and strength of communal bonding in times of upheaval and conflict. A professor of dance at Rutgers University, Wang's choreography has been performed internationally.Kristina D'Onofrio's ('16) final MFA project studies Hebraic poetry, examining the parallelism found within three Biblical Psalms to inspire rhythm, pattern and organization of movement. Five dancers from OSU and five dancers from the BalletMet Trainee Program together investigate kaleidoscopic interlacing between contemporary ballet and contemporary modern dance, and translate language as choreography on a page. Her work features original music by Jacob Reed and original costume design by Ron Altman (MFA '16).In Wounds Erica Jackson (BFA '17) explores the nuclear family's varying, multiple, and interconnected relationships, and how one event can alter the cohesion once present and now in question.Callie Lacinski's work (BFA '17) researches the merging of commercial and concert dance and its choreographic manifestations in the dancers' bodies.Anna Brown Massey (MFA '17) offers a percussive and driving quartet in which her dancers encounter discordant alignments and new allegiances.Claire Moore (BFA '17) offers a work that investigates the balance of solidarity and unity within a group of four women.Madeleine Naylor (BFA '16) presents a solo work centered on the nature of performance both in dance and daily life, in which she uncovers dramatic stereotypes and heartbreaking realities, and questions whether what it means to succeed.Alyssa M. Parnell (BFA '17) presents her solo Your steps are ordered. Know yourself and love yourz, for this is your eternal sunshine, which she has both choreographed and will be performing.Alexandra Stilianos (MFA '18) investigates the boundaries and visibilities among lust and fear in the female body. With an eye for geography and movement of bodies, she seeks to integrate experiential projection into the work. Tickets are available through the Ohio State Theatre Box Office, 614-292-2295.Photo Collage by Alexandra Stilianos 
Barnett Theatre Sullivant Hall
Department of Dance
dance@osu.edu
America/New_York
public
February 6, 2016
All Day
Location
Barnett Theatre Sullivant Hall
Description
Winter Concert 2016
Thursday, Friday, Saturday, February 4 - 6 at 8:00pm

Saturday matinee at 3:00pm
by Anna Brown Massey
OSU Dance presents Winter Concert 2016, featuring work by master choreographer Chien-Ying Wang, the MFA project of graduate student Kristina D'Onofrio, and seven works by graduate and undergraduate choreographers. Over thirty dancers will perform over the course of four performances Thursday, February 4th through Saturday, February 6th in the Barnett Theatre in Sullivant Hall, 1813 N. High St. Columbus, OH.
Works include the following:
Guest choreographer and MFA alum Chien-Ying Wang sets a work on nine OSU dancers titled Benevolence, examining the power and strength of communal bonding in times of upheaval and conflict. A professor of dance at Rutgers University, Wang's choreography has been performed internationally.
Kristina D'Onofrio's ('16) final MFA project studies Hebraic poetry, examining the parallelism found within three Biblical Psalms to inspire rhythm, pattern and organization of movement. Five dancers from OSU and five dancers from the BalletMet Trainee Program together investigate kaleidoscopic interlacing between contemporary ballet and contemporary modern dance, and translate language as choreography on a page. Her work features original music by Jacob Reed and original costume design by Ron Altman (MFA '16).
In Wounds Erica Jackson (BFA '17) explores the nuclear family's varying, multiple, and interconnected relationships, and how one event can alter the cohesion once present and now in question.
Callie Lacinski's work (BFA '17) researches the merging of commercial and concert dance and its choreographic manifestations in the dancers' bodies.
Anna Brown Massey (MFA '17) offers a percussive and driving quartet in which her dancers encounter discordant alignments and new allegiances.
Claire Moore (BFA '17) offers a work that investigates the balance of solidarity and unity within a group of four women.
Madeleine Naylor (BFA '16) presents a solo work centered on the nature of performance both in dance and daily life, in which she uncovers dramatic stereotypes and heartbreaking realities, and questions whether what it means to succeed.
Alyssa M. Parnell (BFA '17) presents her solo Your steps are ordered. Know yourself and love yourz, for this is your eternal sunshine, which she has both choreographed and will be performing.
Alexandra Stilianos (MFA '18) investigates the boundaries and visibilities among lust and fear in the female body. With an eye for geography and movement of bodies, she seeks to integrate experiential projection into the work.
Tickets are available through the Ohio State Theatre Box Office, 614-292-2295.
Photo Collage by Alexandra Stilianos
---