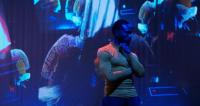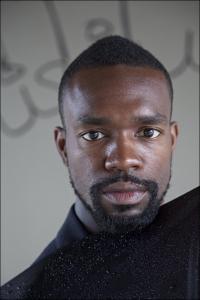 Ohio State Dance welcomed Renegade Performance Group Artistic Director and Choreographer André M. Zachery as a guest artist and lecturer for autumn 2018. Eager Big 5-OH audiences accepted Zachery's invitation to "continually change perspectives as dancers revealed unseen depths and illuminated shared moments of humanity" in his new work, Well of Pearls, which premiered in The Advanced Computing Center for the Arts and Design (ACCAD) Motion Lab (MOLA) as part of dance's 50th anniversary celebration. Zachery described the work as "an immersive intermedia performance considering dimensionality." Before jumping into rehearsals for Well of Pearls, Zachery and his Renegade Performance Group performed at the Wexner Center for the Arts in Untamed Space, a work that considers 21st-century African American identity within the framework of maroon colonies.
While in residence, Zachery taught movement practice and was a guest in several classes, including Foundations of Dance Research, Introductory Seminar, Senior Seminar, Community Art-Making, Dance Education and Dance Film. "Working with students in my technique classes while building the choreography gave me the opportunity to see and feel a program that instills rigorous process at the core of the learning environment," says Zachery. In addition to interfacing with all dance students, Zachery made time to connect with the Columbus arts community by offering workshops for the King Arts Complex and Transit Arts.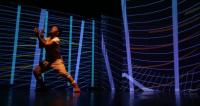 Zachery is an interdisciplinary artist, scholar, curator, writer and the founding artistic director of Brooklyn-based Renegade Performance Group. His body of work includes choreography, film, video/media/sound design and interactive performance technology. He is a Jerome Foundation supported 2015-17 Movement Research A-I-R and a recipient of the 2016 New York Foundation for the Arts (NYFA) Fellowship/Gregory Millard Fellow in Choreography.
Well of Pearls was presented by The Ohio State University Department of Dance and the Advanced Computing Center for the Arts and Design (ACCAD) with support from Global Arts and Humanities Discovery Theme: Livable Futures. 
Music by Deadmau5
Video by Mason Chapello, BFA '19
Media Design by André M. Zachery
Interactivity Design by Alex Oliszewski
Lighting Design by Claire Melbourne
Technical Direction by Oded Huberman
Technical Rehearsal Director and Project Manager Jazelynn Goudy
Production by Norah Zuniga Shaw
Photos by Jazelynn Goudy
---