September 16, 2014
Alumnae Honored at 1st Annual Civic Engagement Banquet
Image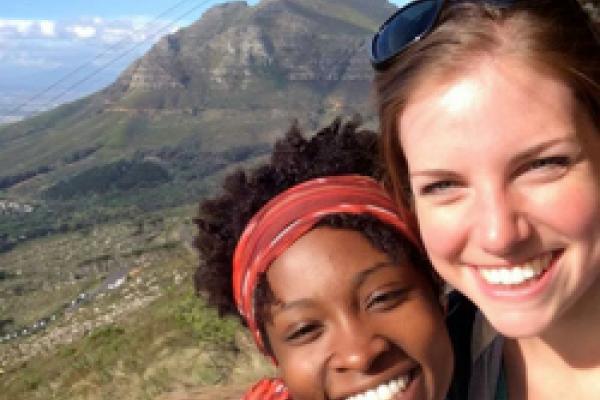 Description
Department of Dance Alumnae Tyisha Nedd (BFA '14) and Theresa Niermeyer (BFA '14) will be honored at The Ohio State University's First Annual Civic Engagement Banquet on Tuesday, September 16 for their commitment to OSU's mission "Education for Citizenship." Michael Kelly Bruce, Department of Dance Undergraduate Studies Chairperson nominated both awardees in tandem with Dori Jenks, External Relations Coordinator.
Nedd will receive the Maya Angelou Award for her yearlong dance residency in the Franklin County Community Based Correctional Facility. Her project was designed to bring creative expression to women in the facility. It exemplifies the ideals of the Maya Angelou Award to combine words, art, and actions to stir souls, energize bodies, liberate minds, and heal hearts. Of Nedd, Bruce states, "Tyisha is talented, articulate, passionate, charismatic and driven, a true reflection of the woman for whom this award is named."
Niermeyer will receive the Marian Wright Edelman Award for her work at Fort Hayes Metropolitan Education Center where she used a range of culturally diverse dance forms to teach high school students about global citizenship, truly an embodiment of the values of the Marian Wright Edelman Award regarding the promotion, advancement and equitable access to education. Jenks states, "Theresa's senior project is a stellar example of the significant impact the study of dance has in public education settings, and the vital force dance plays in educational reform." Niermeyer's project, "Dance in Global Contexts: Integrating Ethnographic Dance Research in Public Education," used music and dance as the vehicle to teach students about diverse forms of human expression, beliefs and values among the world. Her students' feedback on their experience was reaffirming. They wrote that dance offered a new way to understand themselves and their own habits. They expressed appreciation for learning about places they might never have known about on their own.  They enjoyed learning about different cultural values and social cues. Most importantly, they felt more open-minded and able to adapt to change.
As a result of her diligent efforts, Niermeyer has created a curricular template for a course of study that is culturally relevant, academically significant and ripe for duplication and dissemination to other dance educators in the field.Nedd, who won third place in the Art and Architecture category of the prestigious Denman Undergraduate Research Forum in 2014, began her yearlong dance residency with incarcerated women in September 2013. Modeled after Seattle based choreographer Pat Graney's program entitled "Keeping the Faith," Tyisha designed and led a dance program for incarcerated women that provided them the opportunity to see themselves in a new way, and take ownership of the dance styles to which they were introduced. Nedd's students developed a new sense of self, aptly described in one participant's journal as "this is my body and it's valuable."  In an environment where, by definition, ones liberties are severely limited, this sentiment speaks loudly to the power of transcendence found in creative experiences and expression. Studies culminated in May of 2014 with a dance performance of the students' creative endeavors, all under Nedd's encouraging direction. Even women who were not in the class, wanted to help with the show and be backstage. For Nedd this was a visible sign that a shift in values had occurred.
Of the awards they have received, these women are humble and honored to be recognized for what is their natural calling. Both Nedd and Niermeyer continue to expand upon their missions to bring people together and generate new understandings of themselves and others through the medium of dance. They spent their summer after graduation in Cape Town, South Africa volunteering their time to the community-based non-profit called Happy Feet Youth Project. The program, located in the Langa Township just outside the city, provides a safe space for neighborhood kids to come together and practice South African music and dance. Niermeyer states "Dance can be an educational tool used to enlighten students, teachers, or anyone with a body, about the diverse forms of expression, beliefs and values among the world's nations."
---