April 12, 2017
Class Cards for May Session 2017
Image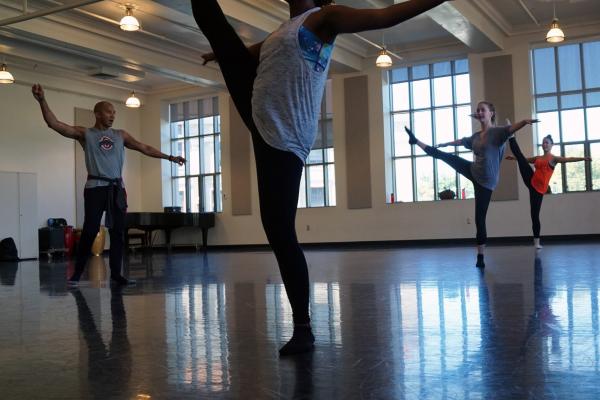 Description
Class Cards are now on sale for May Session 2017
May Session is four weeks:
 
Weeks 1 & 2 = May 8-May 19
in 290 during Week 1
in 390 during Week 2
MWF (4:00pm-5:30pm) Contemporary Movement Practice:  Gina Hoch-Stall
TTh (11:30am-1:00pm)   Vinyasa Yoga:  Katherine Moore
TTh  (4:00pm-5:30pm)    Int/Adv Ballet:  Angelica Bell
Weeks 3 & 4 = May 22-June 2 (no class on Memorial Day May 29)
in 390 both weeks
MWF (4:00pm-5:30pm) African/African Pop:  Jazelynn Goudy
TTh (11:30am-1:00pm)   Vinyasa Yoga:  Katherine Moore
TTh  (4:00pm-5:30pm)    Int/Adv Ballet:  Steven Ha

A single Class Card is $10
A 5-class Class Card is $40 (which is $8/class)
Classes are open to Dance Department majors, minors, graduate students, alumni, and local dance community professionals.
You cannot take a class without presenting a valid Class Card to the instructor. Class Cards can be purchased at the studio prior to class, but advance purchase is preferred.
Purchase a Class Card from Deb Singer in 316 Sullivant Hall in advance or at the studio on the day of the class.
Methods of payment accepted: Cash in exact amount or Check. Make checks payable to The Ohio State University.
There are no refunds for Class Card purchases.
To use your Class Card:
1. Give your card to the instructor prior to class. Make sure to arrive at least 15 minutes early!
2. The instructor will sign and date the card.
a) If the card is a single Class Card, the instructor will keep the card and give it to the Administrative Manager after class.
b) If the card is a 5-class Class Card, the instructor will return the card to the student until all five classes have been redeemed. After the card is used up, the instructor will keep the card and give it to the Administrative Manager.
CLASS DESCRIPTIONS AND TEACHER BIOGRAPHIES
Gina Hoch-Stall
Teaching Contemporary May 8, 10, 12, 15, 17, 19
CLASS DESCRIPTION: This class is for intelligent bodies who want to play, sweat, experiment and fly with and away from gravity. Together we will skill-build, strength-train and move, move, move. I will share feedback, thoughts and suggestions about alignment, clarity of movement, presence and focus with an emphasis on floorwork and inversions. It will not be serious but it will be challenging.
INSTRUCTOR BIOGRAPHY: Described by Thinkingdance.net as "One of [Philadelphia]'s strongest dancers," Gina Hoch-Stall is the Artistic Director of RealLivePeople, a Philadelphia-based dance company that creates dances based on real-life stories and experiences. Her choreography has been performed across the United States and in Europe and continues to be supported by the Philadelphia Cultural Fund, Samuel S Fels Fund, and Pennsylvania Partners in the Arts. Gina graduated summa cum laude from Temple University in 2010 with a BFA in Dance and a second major in Psychology and also holds a Diploma in Dance Studies from the Laban Centre in London. She is currently based in Columbus, Ohio where she is pursuing an MFA in dance at The Ohio State University as a Dean's Distinguished Fellow. More at http://ginahochstall.com
Katherine Moore
Teaching Vinyasa Yoga May 9, 11, 16, 18, 23, 25, 30, June 1
CLASS DESCRIPTION: Through anatomical cueing, imagery, and breath focus, Katherine teaches a mindful, alignment-based Vinyasa yoga practice that encourages students to deepen their mind/body connection.  Students will come away with knowledge to establish an anatomically-safe practice within the energetic and philosophical context of the yoga tradition.
INSTRUCTOR BIOGRAPHY: Katherine is currently a University Fellow at Ohio State University pursuing her MFA in Dance. Before moving to Columbus, Katherine worked professionally in New York City as a freelance dancer, teacher, choreographer, arts administrator, and writer.  Katherine holds a BA in Dance from Hope College with minor concentrations in French and Communication. She is also a 200hr registered Vinyasa yoga teacher through the Perri Institute for Mind and Body.
Angelica Bell
Teaching Int./Adv. Ballet May 9, 11, 16, 18
CLASS DESCRIPTION: Angelica will teach an Intermediate/Advanced level of Ballet that incorporates elements of somatic practices to enhance articulation of technical skills and artistry. The class will cover barre, center, and across-the-floor exercises. The class will be taught responsively to the needs of students present in the room. Ballet shoes are encouraged but not required. 
INSTRUCTOR BIOGRAPHY: Angelica Bell is currently earning her M.F.A. in Dance from The Ohio State University. She received her B.F.A. in Dance from San Diego State University in 2011 and has since been performing and collaborating with San Diego based artists. Angelica has dedicated the past four years to a career working with children with disabilities and teaching dance. Before starting graduate school, she served as the Dance Director/Choreographer and Dance PE instructor at R. Roger Rowe Elementary & Middle School in Rancho Santa Fe, California. Angelica currently teaches various studio-based courses as a Graduate Teaching Assistant for OSU's Dance Department including various levels of ballet, contemporary, and jazz techniques. 
Jazelynn Goudy
Teaching African/African Pop May 22, 24, 26, 31, June 2
CLASS DESCRIPTION:
In this course, we will warm up our bodies with a movement that are similar to the aesthetic/technique of the class. We will learn a Traditional West African Dance movement from the dance Kou Kou and choreography in the style of Afro-Beat dance. This class will be full of love, joy, peace, and sweat! All ages and levels are welcomed.
INSTRUCTOR BIOGRAPHY: Jazelynn Goudy is a dancer, educator, veteran, activist, and homie (DEVAH!) from Milwaukee, WI. Shortly after graduating high school she enlisted in the United States Air Force. From there she became a very active student on campus at the University of Wisconsin- Whitewater where she graduated with a BS in Liberal Studies with a minor in Dance Fall 15'.
Currently, Jazelynn is obtaining MFA in Dance at The Ohio State University. She's interested in Afro-Diaspora, education pedagogy, and technology integration. With this degree, she acquires to work choreographing, higher education professor, and continuing being a DEVAH!
Steven Ha
Teaching Int./Adv. Ballet May 23, 25, 30, June 1
CLASS DESCRIPTION: This ballet class emphasizes alignment as the foundation for efficiency in movement, whether the goals are stability in adagio or quickness in allegro work. Center combinations are structured to sustain momentum and build stamina, in tandem with developing musical expressivity.
INSTRUCTOR BIOGRAPHY: Steven is a PhD student at The Ohio State University whose primary research interests revolve around examining 19th and 20th century ballet through an art historical lens, utilizing visual art theories such as notions of line and color as potential tools of choreographic analysis. Other sites of inquiry include the works of Sir Frederick Ashton, Romanticism, and identity in performance. He has presented papers on race and masculinity of male ballet dancers at the CORD+SDHS 2016 Joint Conference in Pomona, California and the 2017 Hayes Graduate Research Forum at Ohio State, where he placed second in the arts category. His approach to ballet technique is largely informed by his studies with Karen Eliot (Ohio State), Jessica Zeller (now on faculty at Texas Christian University), as well as Timothy Lynch, Alex Dickson, and Dane Holman as a part of the open program at Pacific Northwest Ballet, in Seattle, Washington.
---