January 13, 2015
Dori Jenks Receives the Arts and Sciences Above and Beyond Buckeye Award
Image
Image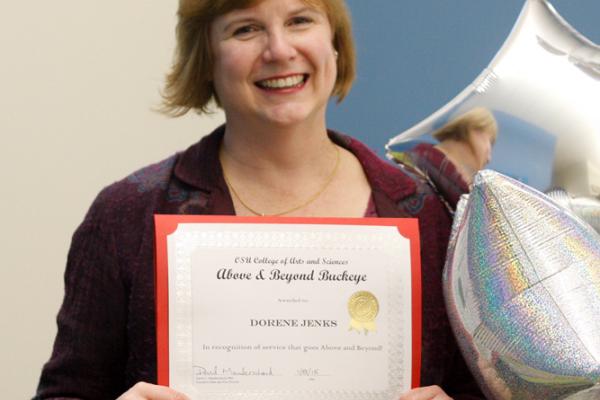 Description
Presented by Arts and Sciences Executive Dean David C. Manderscheid and the Arts and Sciences Staff Advisory Council (SAC), the new Arts and Sciences Above & Beyond Buckeye initiative "recognizes arts and sciences staff members who go above and beyond and who are doing great work each and every day."
Department of Dance External Relations Coordinator Dori Jenks has been selected for the Arts and Sciences Above and Beyond Buckeye Award.  She has helped to move the department through a challenging transitional time, with staff turnover, moving back into the newly renovated Sullivant Hall, the building opening celebration and alumni reunion, all over and above the usual department schedule.  
She has taken on duties that were not in her job description, energetically inspired students to volunteer, and jumped in to assist other staff whenever needed.  The end of this tumultuous era was the building opening coupled with an alumni reunion and celebration, which she managed with attention to detail and quality above and beyond the call of duty.
Photos by Janell Strouse
---