January 27, 2015
Dr. Melanye White Dixon Receives The 2015 International Association of Blacks in Dance Educator/Scholar Award
Image
Image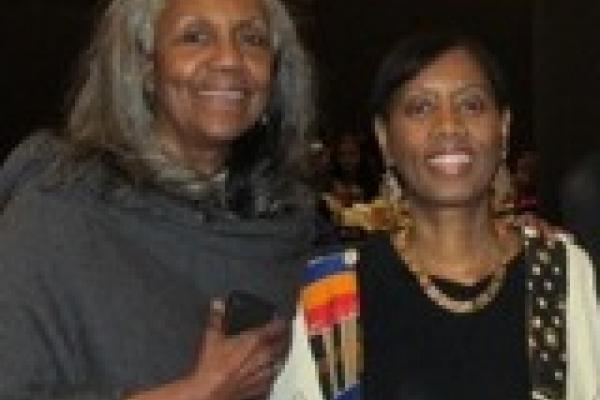 Description
Melanye White Dixon, associate professor, Department of Dance, received the 2015 International Association of Blacks in Dance (IABD) Educator/Scholar Award at the 27th annual IABD conference and festival in Cleveland on Saturday Jan. 24. She was honored for her contributions to dance through her teaching and mentoring in higher education. The award was presented by Dixon's mentor, dance scholar Brenda Dixon Gottschild.
Dixon began her professional dance preparation at the Dance Theatre of Harlem and as a merit scholarship recipient at the Alvin Ailey American Dance Center. She is an accomplished performer and served as a choreographer, performer and master teacher for the International Festival of Dance Academies at the Hong Kong Academy for the Performing Arts in Wan Chai, China. Dixon has served on the boards of directors for American Dance Guild, OhioDance and as a cultural competence consultant for the Ohio State Board of Education. 
She was the first African-American to earn her doctoral degree in dance at Temple University, and the first African-American female faculty member to be hired by the Ohio State College of the Arts in 1986. She also was the first black faculty member in the Department of Dance. 
Dixon is author of Marion Cuyjet and Her Judimar School of Dance: Training Ballerinas in Black Philadelphia (2011). She is coordinator of dance education at Ohio State and teaches courses in dance pedagogy and dance history.
Dr. Dixon with Dr. Gottschild and OSU dance majors Ca'la Henderson and Kimberly Issacs. 
Dr. Dixon with choreographer and OSU Dance Alum Dianne McIntyre and members of Cleveland's Dance Community
Dr. Dixon with fellow Honoree Tony Award winner and choreographer George Falson
Dr. Dixon with Dr. Joan Myers Brown, founder of IABD and Artistic Director of Phildanco Dance Company
Dr. Dixon with IABD Conference Chair Dora Rae Vactor and OSU dance majors Ca'la Henderson and Kimberly Issacs.
---