May 5, 2015
DR. SUSAN CHESS RECEIVES DISTINGUISHED STAFF AWARD
Image
Image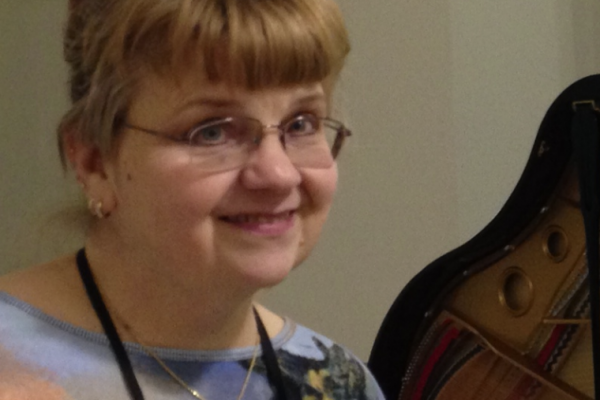 Description
Dr. Susan Chess, Music Supervisor for the Department of Dance was one of twelve honorees that received Distinguished Staff awards for the 2014-15 academic year at an award luncheon on Monday May 4th.  OSU President Michael Drake and Provost Joseph Steinmetz presided over the ceremony in which each recipient received a crystal trophy.  Additional honors of $1,500 cash award and a $700 base salary increase are forth coming.
Professor Karen Eliot describes Susan Chess as "a sturdy backbone of the Department of Dance since she first took the piano bench as a dance accompanist in 1978. In the intervening years, she has been a committed and dedicated staff member who, during her long tenure in the dance department, has interacted with generations of students, faculty and staff."
Eliot goes on to say "Over the years, she [Chess] has worn many hats: she has accompanied dance classes; overseen the musical staff and trained all new dance accompanists; taught music skills to undergraduate students; rehearsed with and accompanied innumerable graduate projects; and, recently, has also assumed the task of scheduling classes and coordinating spaces for the department. Susan's work thus affects almost every aspect of the department and her cheerful, warm and compassionate presence can be felt everywhere."
Professor Melanie Bales elaborated on Chess's talents, "Susan has taught music for dance to all levels of students, and also teaches Dalcroze Eurythmics--her doctoral work was centered on that area--and we are lucky she can bring that to the Department."
MFA Alum and Academic Coordinator Amy Schmidt states, "Research tells us over and over how music affects our souls and the musician is a channel for that soul – Susan is one of the best."
Perhaps stated most succinctly by Rachel Riggs Leyva, PhD candidate and Assistant Director Dance Notation Bureau Extension, "Susan's playful and witty personality, combined with her dedicated work ethic, make her a treasured teacher, colleague, and friend."
Susan Chess's indelible imprint is on far more than the piano keyboards, she is the physical and philosophical embodiment of the university values of excellence, collaboration, integrity, accountability, openness and trust, diversity in people and ideas, change and innovation, simplicity in work, empathy, compassion and leadership. 
Congratulations Susan Chess, PhD! 
Susan Chess with some of her award nominators, Vicki Uris, John Giffin, Amy Schmidt, Dori Jenks and Susan Van Pelt Petry.  Not pictured are Melanie Bales, Karen Eliot and Rachael Riggs-Leyva
---