April 3, 2016
Eddie Taketa: An Inside View
Image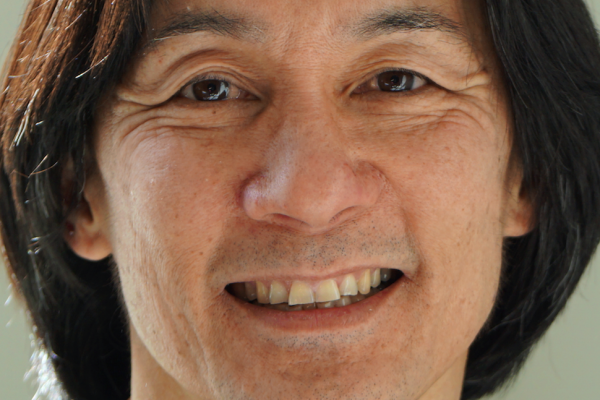 Description
By Paige St. John
This year, the Department of Dance has welcomed Bessie award winner Eddie Taketa onto the Faculty as a visiting artist. Taketa has spent this past semester and a half teaching technique classes and rehearsing repertory pieces. After restaging a Doug Varone work for Dance Downtown earlier in the year, Taketa is now setting his own work for the Spring Concert.
Teaching modern technique, Taketa encourages students to think expansively about movement. He introduces new perspectives that prompt thinking both inside and outside of the studio. Emphasizing the importance of making connections, he views his place in this department as a way to contribute to the orchestration of techniques and ideas that is already present in the curriculum. In collaborating with the students, he sees these thoughts and ideas manifesting, leading to new, artistic discoveries. Additionally, students voice their appreciation for his deeper level of thinking which has led them to making these incredible strides.
In finding his place in this Department, he is certainly making his mark with the creation of an original work for Spring Concert. Starting from zero, the piece began taking shape after improvisational games and the rich contributions of the cast. From these experiences, Taketa found sparks to expand upon. The rehearsal process has been slow, but spontaneous, focusing on maintaining the integrity of the work rather than forcing movement upon the cast. Though still mid-stream, Taketa believes that the structure is present and that with the realization of this complete sketch, both he and the cast will be confident in the final product. Such confidence, he continues, is largely a result of the patience and trust that the group has shown throughout the semester.
Described as "an unbelievable whirlwind," Taketa has found life in making this transition into the Department. Similarly, his students have found enlightenment in terms of both thinking and moving due to his influence. His thoughts, perspectives, and artistry have been welcomed with open arms and have contributed to both the growth of the Department and the wealth of artistic knowledge that it holds. 
---