March 9, 2016
Kaustavi Sarkar Places First at Hayes Forum
Image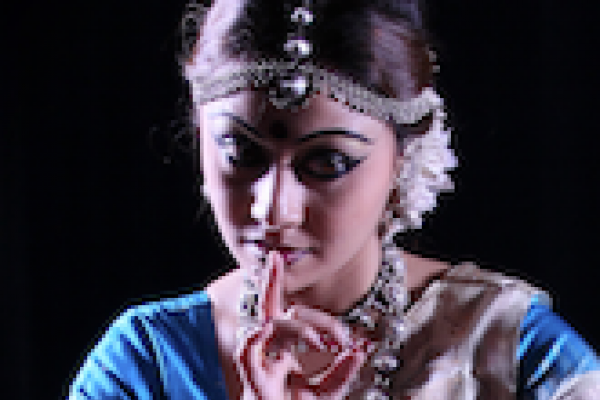 Description
Story by Paige St. John  
On February 26th, 2016, fourth-year doctorate candidate Kaustavi Sarkar received first place at the Edward F. Hayes Graduate Research Forum for her project examining "Mediation as a Lens as Well as A Metaphor." Extensively trained in Odissi, a classical Indian dance form, Kaustavi Sarkar is both a technician and a scholar. Her presentation at Hayes centered around her work with motion capture technology. With this three-dimensional perspective, she dissected movement in order to develop more specific connections to its historical background. Through such a multifaceted lens, she was able to blend the history and artistry of Odissi in an organic, academic, and technological way.
Sarkar has been a dancer all her life, but has specifically shifted focus to research in the past five years. Her interest in the intellectual push of research motivates her to pursue her doctorate. However, she remains an active member of the Department of Dance community, as well as the Columbus Dance Community as a whole. From teaching Department classes to teaching intergenerational community classes, Sarkar enjoys spreading the style of Odissi while also learning from her students in the process. She thinks of herself as a sculptor, chiseling away and carving out bodies into the ever-growing timeline of Odissi dance. Her teachings can be seen in the students who are so inspired by her ways and continue to pass down both her attitude and art form.
Humbled by this recognition, Kaustavi Sarkar would first of all like ot thank her husband Vineet Jitendra Bailur and the following people as she continues on in her research and pursues her candidacy: teachers Amala Shankar, Pausali Mukherjee, Ratikanti Mohapatra, and Sujata Mohapatra; advisor Norah Zuniga Shaw; Karen Eliot; Mytheli Shreenivas; Hugh Urban; Janet Schroeder and Kelly Klein; and the OSU Department of Dance Faculty. She looks forward to continuing her research into the infinite depth that is Odissi history, combining Odissi with westernized art forms, and exploring the never-ending creative ideas and experiments that will be presented to her in the future.
photos by Jess Cavendar
---