November 15, 2015
In Memorium: Helen P. Alkire
Image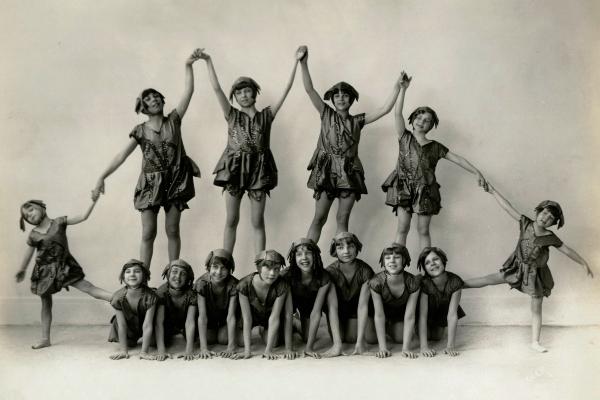 Description
With heavy hearts, we share the news that Helen Alkire passed away early Saturday morning, November 14, 2015, in her home on the Alkire farm in Orient, Ohio.
Helen Alkire got Ohio State dancing. "The only thing I ever remember as a child was wanting to dance, and seeing dancers, and talking about dance, and doing something with it, making it the most important thing in your life," she said during a recent visit to the department she founded.
Helen P. Alkire circa 1951
Alkire joined the OSU Physical Education faculty in the mid-1940s, and convinced university officials to add a dance program in the 1950s. When the College of the Arts was formed in 1968, Alkire became chair of the OSU Department of Dance and continued in that role until 1983, instituting several degree programs. Today, our widely acclaimed department has 100 undergraduate students, 35 graduate students, 200 dance minors and 1500 general university students who take both studio and dance studies courses. "I loved dancing," she said, "and thought it should be the center of the whole university."
Alkire began her training with Stella J. Becker, a renowned modern dance teacher in central Ohio. She studied with Martha Graham, Doris Humphrey, Hanya Holm, Louis Horst, Berta Ochsner, José Limón, and Merce Cunningham. She attended the University of Wisconsin, The Ohio State University (BS in Ed, MA), and pursued doctoral studies at Columbia Teachers College.
Alkire's directing and choreographing credits include national and international tours of the University Dance Group, and the University Musical Productions. She performed with Hanya Holm's company and the University Dance Group, presented solo concert tours, and directed several dance films.
Alkire was one of the founding members of the National Association of Schools of Dance (NASD) and an original member of the NASD Commission on Accreditation. She participated in planning the first American College Dance Festival Association (ACDFA) National Festival at the Kennedy Center, sat on the National Educational Testing Service panel for Scholars in the Arts, and served as the Vice President of the ACDFA (1980) and Treasurer of Council of Dance Administrators (CODA) (1979-80).
She received the Plaudit Award from the National Dance Association (1980), and the Educator's Award from the Greater Columbus Arts Council and the Association of Ohio Dance Companies. In 1990, Alkire received an Honorary Doctor of Education degree from OSU, in recognition of her outstanding contributions to the field of dance in higher education.
Many of us had the opportunity to salute Helen at the celebration of her 100th birthday this past May.
The legacy of her visionary leadership will continue to be our guiding light.
Arrangements by Schoedinger Midtown Chapel.
To share a memory or condolence, visit www.schoedinger.com
---