September 20, 2022
News from Ohio State Dance: Autumn 2022 InForm 🍁
Image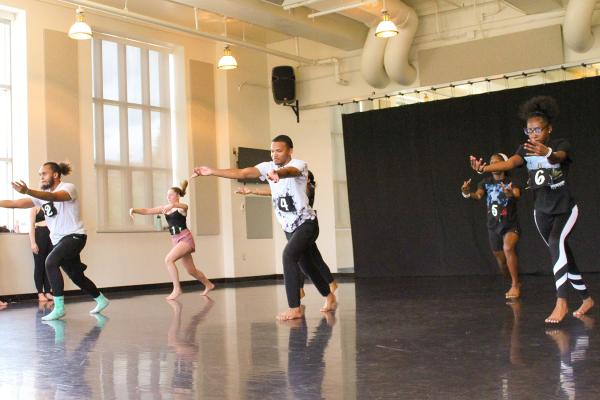 Description
I wanted to take this opportunity to formally (re)introduce myself to our readers. I am excited for this opportunity to share my vision, background and experience with this amazing university and department. I am deeply humbled and delighted to be the new chair of the Department of Dance at The Ohio State University. I was drawn to this opportunity because of the great potential and momentum I see at The Ohio State University in general and within the Department of Dance specifically. As a long-time admirer of the innovative work and contributions to the field of dance that have originated from The Ohio State University, I'm honored to have been selected to help shepherd the department into the future. And it is not lost on me that I will be the first African American male to hold the rank of full professor and the position of chair in the Department's illustrious history. I feel as if I have arrived at a truly exciting moment of growth and positive change.
I begin my time already deeply impressed by the dedication of the faculty and staff in supporting our students. I am particularly inspired by the commitments and urgencies expressed by students, graduate and undergraduate alike, in support of art practices of consequence to our communities and their well-being. I am excited to continue these conversations as I embark upon a listening tour across the department in the fall. 
I believe it is crucial that I recognize the power inherent in my role as an educator and administrator and am self-reflective about my actions. I come into this role actively working to be mindful of my position as a model of the kind of learning I strive to foster in my students. For education to be transformative, it must be a reciprocal—informative and uplifting for teachers and students alike. As bell hooks states, it is about "opening hearts and minds", promoting radical openness and changing lives for all involved. Successful teaching and administration (and I would argue successful art) does not always lead the community to the answer, but rather to deeper questions, sometimes asking us all to pass through complex places and processes in order to learn, to talk, to listen, to hear in a new way. In community with this remarkable faculty and student body, I strive to create artistic communities where all stakeholders engage in something they understand to be a sacred, shared struggle. I embrace dance and the teaching of dance as opportunities to inspire, empower and create community. Successful administration, like successful teaching means igniting transformative learning; it is empowering academic communities to take responsibility for their learning, inspiring the courage to grow artistically and intellectually, cultivating curiosity, providing opportunities for developing relationships, clarifying values, uplifting the spirit and igniting action. In both educational and administrative contexts, I work to promote individual accountability and responsibility by asking each individual what they will contribute to the community and how each person can participate in creating an environment that is stimulating and respectful of diverse views, abilities and experiences. It is a social compact.

Charles O. Anderson 
Professor, Chair
Advanced
---