February 2, 2023
Ohio State Dance Seeks Post MFA Scholar
Image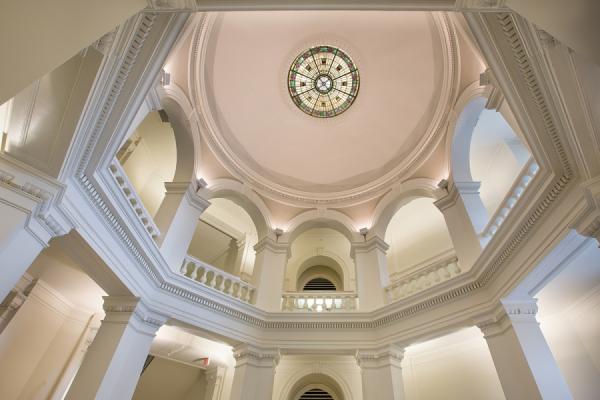 Advanced
Text
Screen reader users may encounter difficulty with this site. For assistance with applying, please contact hr-accessibleapplication@osu.edu. If you have questions while submitting an application, please review these frequently asked questions.
Current Employees and Students:
If you are currently employed or enrolled as a student at The Ohio State University, please log in to Workday to use the internal application process.
The Ohio State University Department of Dance invites applications for a Post MFA Scholar working in and with African American/African Diasporic percussive dance forms to conduct research on emergent and established practices in movement, digital media, choreography, and/or performance. We are interested in an artist-educator whose cross-disciplinary research pursues intercultural dialogues relating to circulations of forms, styles, and practices. We are particularly excited to hear from candidates working in one or more of the following: creative processes that synthesize African Diasporic Percussive Dance historically and temporally; sensory-driven immersive performances through; meaningful engagement with tap dance, Stepping, Body Percussion, Sand Dance, and/or Gumboot or; a firm orientation toward artistic methodologies and creative practices that educate communities on Black contributions to American vernacular and percussive dance forms in multiple performative contexts. The Department is committed to investigations of dance through embodied practices, historical inquiries, and technological explorations to deepen our engagement with underrepresented archives and repertoires.
The ideal candidate is rooted in artistic practice and is a master teacher who brings expertise in African American/African Diasporic Percussive Dance forms with an ability to work within in a contemporary dance program. The ideal candidate has established relationships with the people, practices, and networks related to their research.
The term of the position is one academic year, with the possibility of renewal. The Post MFA Scholar will teach two courses during the academic year, optimally one course in autumn and one in spring, in dance practice, creative practice and/or repertory reflecting their area(s) of expertise and will also have some collaborative engagement with faculty and/or grad students in connection to their research agendas.
Qualifications:
Required: MFA in Dance.
Desired: Experience teaching movement and creative practice courses related to area of research.
Appointment is contingent on the university's verification of credentials and other information required by law and/or university policies.
Additional Information:
About the Department of Dance at The Ohio State University:
Through a focus on praxis, or the symbiotic relationship between theory and practice, the mission of The Ohio State University Department of Dance is: to educate students through a breadth of study in contemporary dance, integrating areas of movement practice, creative investigation, and theoretical inquiry; to make significant contributions to research and creative activity in the field of dance; and to provide leadership in service to the field of dance.
The Department offers three degree programs: BFA, MFA, and PhD. All programs seek to provide the best possible preparation for dance professionals including challenging dance experiences in and out of the studio and classroom that influence and reflect the changing contemporary dance scene and its relationship(s) to culture. Diverse course offerings occur in the following areas: contemporary and traditional dance techniques, somatic practices, performance, choreography, creative technologies for dance, dance film, dance lighting and production, dance history, theory and criticism, movement analysis, anti-racism and social justice, dance education, directing from score and Labanotation and Laban movement studies. Faculty and graduates of The Ohio State University Department of Dance demonstrate excellence in the field of dance through national and international recognition as leaders in many professional arenas.
Furthermore, the Department of Dance recognizes a responsibility to build public understanding and appreciation of dance as a diverse creative, cultural, and educational expression. In pursuit of this goal, the department provides a minor in dance, non-major dance classes and public performances, emphasizing pluralistic manifestations of contemporary work, for both the university community and the central Ohio region. A commitment to cultural, racial, and ethnic diversity is central to and reflected throughout the curriculum and in recruitment of faculty, students, and staff.
About Columbus:
The Ohio State University campus is located in Columbus, the capital city of Ohio. Columbus is the Midwest's fastest-growing city and the nation's 14th largest city. Columbus offers a diverse array of welcoming neighborhoods and a vibrant arts and culture scene. Additional information about all that the Columbus area has to offer is available at https://visit.osu.edu/experience.
Application Instructions:
A complete application consists of the following:
A cover letter
Curriculum vitae
One work sample representing your scholarly research (examples may include but are not limited to: a peer-reviewed journal article or dissertation chapter).
A values statement that articulates your demonstrated commitments and capacities to contribute to diversity, equity, and inclusion through research, teaching, mentoring, and/or outreach and engagement (to see Ohio State's commitment in its statement of Shared Values, visit https://www.osu.edu/shared-values).
List of three professional references with name, phone number, and email.
Review of applications will begin on February 20, 2023 and will continue until the position is filled. Inquiries may be directed to Department Chair, Charles O. Anderson at anderson.4357@osu.edu.
The Ohio State University is committed to enhancing academic excellence. Recruiting, supporting, and retaining faculty of the highest caliber is a core component of this commitment. In support of this, The Office of Academic Affairs (OAA) has created the Office of Dual Careers and Faculty Relocation (DCFR) to focus on supporting new and prospective faculty. This support includes dual careers services, consultation and resources related to relocation, as well as identifying opportunities to engage on campus and the surrounding community. While employment opportunities are not guaranteed, resources and consultation are available to support the partners of new and prospective faculty as they are considering The Ohio State University and throughout their transition.
The Ohio State University is committed to establishing a culturally and intellectually diverse environment, encouraging all members of our learning community to reach their full potential. Over the next few years, The Ohio State University is committed to welcoming 350 new faculty hires, many of which will contribute to growing our role as a premier research university equipped to answer and interrogate the critical domestic and global societal challenges that deter equality and inclusion. We are responsive to dual-career families and strongly promote work-life balance to support our community members through a suite of institutionalized policies.
Ohio State is focused on enhancing the health and safety of our community. Therefore, the university is requiring every student, faculty and staff member to be compliant with Ohio State's COVID-19 vaccine requirement.
By the start of employment, all newly hired employees must receive at least the first dose of a two-dose series or a single dose of a one-dose series COVID-19 vaccination. Individuals who choose a two-dose series vaccination must receive the second dose within 45 days of their start date. Proof of vaccination will be required at time of hire.
Candidates may request a medical or religious exemption from the vaccination requirement. Campus employees may also request an exemption for personal reasons. Ohio State Wexner Medical Center, College of Medicine or OSUP Employees are not eligible for personal exemptions. All exemptions are subject to Ohio State's approval and subject to change, including revocation, due to legal and regulatory requirements.
Location:
Sullivant Hall (0106)
Position Type:
Term (Fixed Term)
Scheduled Hours:
40
Shift:
First Shift
Final candidates are subject to successful completion of a background check.  A drug screen or physical may be required during the post offer process.
Thank you for your interest in positions at The Ohio State University and Wexner Medical Center. Once you have applied, the most updated information on the status of your application can be found by visiting the Candidate Home section of this site. Please view your submitted applications by logging in and reviewing your status. For answers to additional questions please review the frequently asked questions.
The Ohio State University is an equal opportunity employer.
All qualified applicants will receive consideration for employment without regard to age, ancestry, color, disability, ethnicity, gender identity or expression, genetic information, HIV/AIDS status, military status, national origin, race, religion, sex, gender, sexual orientation, pregnancy, protected veteran status, or any other basis under the law.
Applicants are encouraged to complete and submit the Equal Employment Identification form.
---