April 26, 2022
Ohio State Dance Showers Susan Van Pelt Petry With Flowers, Love and Praise
Image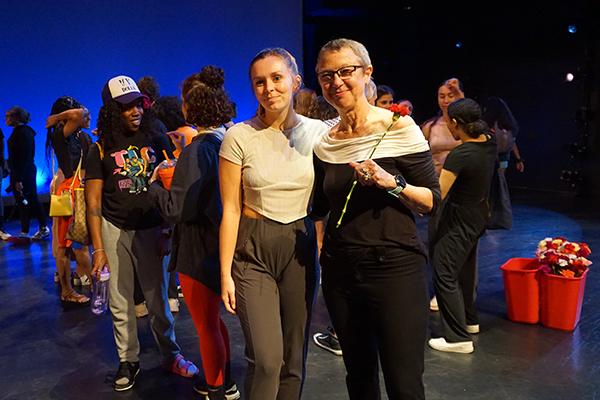 Description
Ohio State Dance faculty, staff and students celebrated the career of Interim Chair and Professor Susan Van Pelt Petry at the Spring Informance on Monday, April 25, 2022. Petry announced her retirement effective July 1, 2022 after 20+ years of service to the university. Professor Crystal Michelle Perkins, BFA Student Laurel Gardner, MFA Student John Cartwright and Academic Program Coordinator Amy Schmidt shared heartfelt tributes, anecdotes and gratitude while students, staff and faculty prepared their surprise floral finale. After the sincere speeches, everyone stood and cheered with carnations in hand to give Petry with hugs, well-wishes and tears as they departed the Barnett Theatre. 
Before taking on the role of Interim Chair for the 2021-2022 academic year, Professor Petry chaired the department from 2006–2015. Prior to that appointment, she was Assistant Dean in the College of the Arts at Ohio State. Other positions held were Associate Professor at Ohio University, Assistant Professor at Ohio State, and visiting artist at numerous colleges and universities. 
Petry has received eight Ohio Arts Council Individual Excellence Awards for her choreography and served on the Board of The National Association of Schools of Dance for six years as well as the board for the Strategic National Arts Alumni Project. The Greater Columbus Arts Council awarded Petry the Raymond J. Hanley Fellowship in 2013, and in 2016 the statewide service organization, OhioDance, awarded her with their annual award for Contributions to Dance Education. In her work, she explores meaning-making through motion, pattern, breath and design, and she is an expert on contemporary movement practice, improvisation, composition and pedagogy.    
Following a performing and touring career based in New York City with Sara Rudner, Risa Jaroslow, Gloria McLean, and Tony Stafford, Professor Petry spent a decade running her own company, Van Pelt Dance Ensemble. During that time, she operated as a freelance choreographer, teacher, and performer, and received grants, fellowships, and residencies from the Ohio Arts Council, the Astral Foundation, and the Headlands Center for the Arts. In addition to U.S. tours, she taught at the Western Australian Academy of Performing Arts and the Taiwan National University of the Arts, where she also served as company teacher and rehearsal director for the Cloud Gate Dance Company (Taiwan). She co-founded the Alliance for Dance and Movement Arts in Columbus, Ohio in the 1980s, served as President of OhioDance, and has been Treasurer of the Council of Dance Administrators. 
Professor Petry earned a Master of Arts degree in Dance from The Ohio State University and a Bachelor of Arts degree in Dance from Oberlin College.
---