February 6, 2017
Senior Concert Features Projects of 11 Graduating BFA Students
Image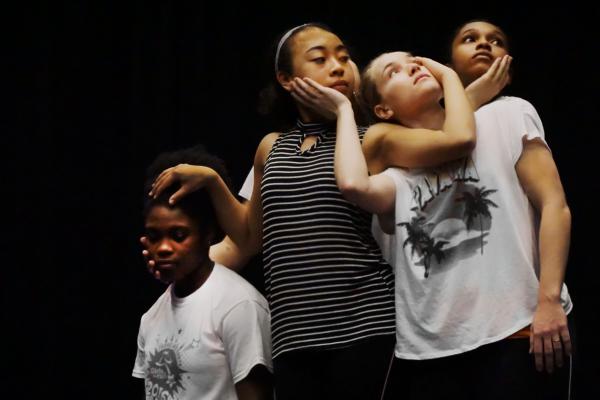 Description
Senior Concert 
Thursday, March 2 – Saturday, March 4, 2017
Barnett Theatre, Sullivant Hall, 1813 N. High St.
Performan­ce Times:
Thursday, March 2 at 8 p.m.
Friday, March 3 at 8 p.m.
Saturday, March 4 at 3 p.m.
Saturday, March 4 at 8 p.m.
Presented by the Department of Dance, the concert will be performed by first to fourth year BFA Dance students and will feature the completion projects of eleven graduating BFA students, including:
Julia Ayau, whose piece Beneath the Shimmering Plane is loosely based on a story by Kurt Ayau and speaks to the reality that there is always more to life than what meets the eye.
Erica Jackson, whose choreography shows a journey of freedom from barriers that hold one back in life.
Callie Lacinski, whose solo combines the many disciplines that define her dance world and thrives within collaboration alongside Artistic Director and MFA in Dance Candidate Alexandra Stilianos and MA in Music Theory Lissa Reed on cello.
Claire Moore, whose project uses primarily structured improvisation and reflects on the weight of the past and its influence on our present actions.
Heidi Murr, whose work researches the physical, emotional, and cognitive experiences of mental disorders through her choreographic process.
Alyssa M. Parnell, who presents a piece that expresses the intense emotions many Americans felt throughout and after the revolutionary moment of the 2016 presidential election.
Kylee C. Smith, who presents her senior distinction thesis, which explores the history of Black female bodies in American culture and performance, and ultimately discovers herself in that continuum.
Olivia Tschantz, whose piece Rapid Heartbeat explores her interpretation and experience of working with children on the autism spectrum and relating this to trauma and post-traumatic stress disorder through movement.
Colin Umeki, whose solo work, which is set by choreographer Joshua Manculich, focuses on the diversity of the individual dancer and is an expression of classical and contemporary dance styles coming together.
Anna Vomacka, whose performance of Glacial Decoy (1979) [Excerpt] serves as a segue from dances performed on city streets to the proscenium stage for post-modern dance pioneer Trisha Brown.
Madeline Wallace, whose premiere piece Featuring John Mellencamp introduces the excitement of bringing the tap dance community to the concert stage.
Tickets:
General admission tickets are $15 and may be purchased by calling the Ohio State theatre ticket office at (614) 292-2295. Ohio State faculty, staff, students, and Alumni Association members; senior citizens; non-Ohio State students; children; and military veterans may purchase tickets for $10.
---