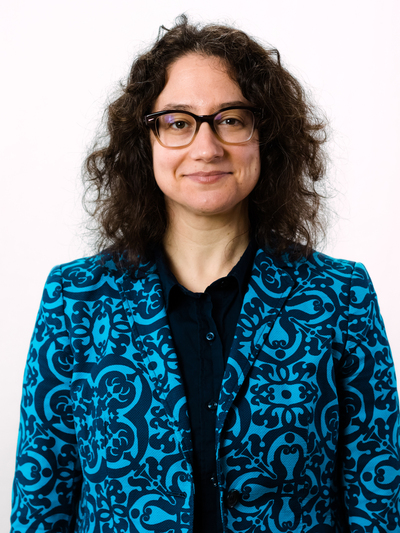 Hannah Kosstrin
Associate Professor
she/her/hers
310 Sullivant Hall
1813 N. High Street
Columbus, OH
43210

Office Hours
On sabbatical 2021–2022.
Areas of Expertise
Dance History
Critical Theory
Laban Studies
Jewish Studies
Gender Studies
Education
PhD in Dance Studies, The Ohio State University
MA in Dance, The Ohio State University
BA in Dance, Goucher College (Phi Beta Kappa)
Hannah Kosstrin is a dance historian whose work engages dance, Jewish, and gender studies, and movement analysis. Her research and teaching interests include dance histories of the United States, Israel and the Jewish diaspora, Latin America, Europe, South Asia, and the African diaspora; gender and queer theory; nationalism and diaspora studies; Laban movement notation and analysis; and digital humanities. Her monograph, Honest Bodies: Revolutionary Modernism in the Dances of Anna Sokolow (Oxford University Press, 2017; Finalist for the Jordan Schnitzer Book Award), examines the transnational circulation of American modernism through Anna Sokolow's choreography among communist and Jewish currents of the international Left from the 1930s to the 1960s in the United States, Mexico, and Israel. Kosstrin's work appears in Dance Research Journal, American Jewish History, Dance Chronicle, The International Journal of Screendance, Dance on Its Own Terms: Histories and Methodologies (eds. Bales and Eliot, Oxford UP, 2013), Queer Dance: Meanings and Makings (ed. Croft, Oxford UP, 2017), and The Futures of Dance Studies (eds. Manning, Ross, and Schneider, Wisconsin). She is project director for KineScribe, a Labanotation iPad app supported by the National Endowment for the Humanities, Reed College, and Ohio State, and Faculty Lead for LabanLens, a Laban-based HoloLens application supported by Ohio State. Kosstrin has served on the boards of the Dance Studies Association, the Congress on Research in Dance, and the Society of Dance History Scholars, as well as the Studies in Dance History Editorial Board and the Dance Notation Bureau Professional Advisory Committee. From 2004 to 2007 she worked with Columbus Movement Movement which was named one of Dance Magazine's "25 to Watch" in 2007. She holds BA and MA degrees in dance from Goucher College and Ohio State, a PhD in Dance Studies with a minor field in women's history from Ohio State, and Labanotation Teacher Certification from the Dance Notation Bureau. She joined the Ohio State faculty in 2014, and previously taught at Reed College, Wittenberg University, and Ohio University Pickerington Center.
Affiliated faculty with the Melton Center for Jewish Studies and the Center for Slavic and East European Studies.