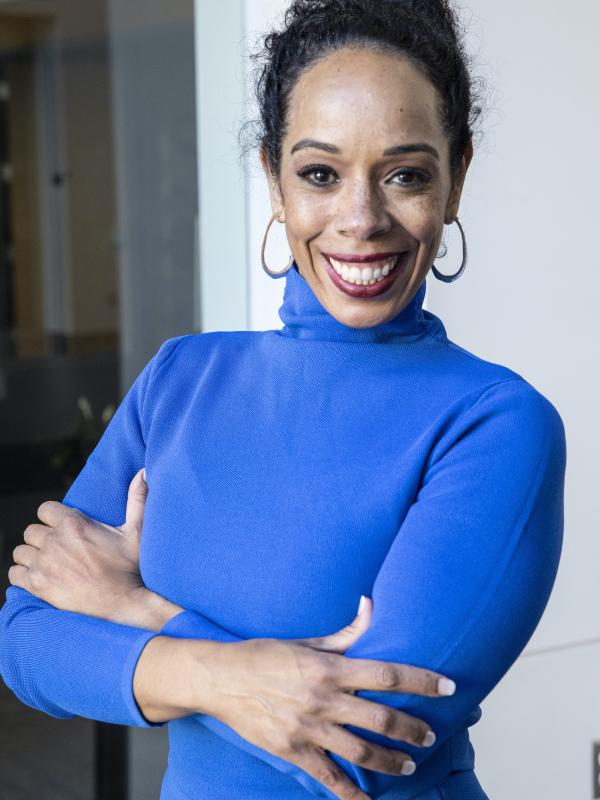 Nyama McCarthy-Brown
Associate Professor
312 Sullivant Hall
1813 North High Street
Columbus OH
43210
Areas of Expertise
Community Engagement
Contemporary Movement Practice
Pedagogy
Composition
Education
BA in Political Science, Spelman College
MFA in Dance, University of Michigan
PhD in Dance Studies, Temple University
Dr. Nyama McCarthy-Brown is an Assistant Professor of Community Engagement through Dance Pedagogy, at The Ohio State University. Nyama has been an active performer, choreographer, and educator for the past fifteen years. Originally from San Francisco, her love for dance developed at her community recreation center, and later at the School of the Arts High School. She earned her bachelor's degree in Political Science from Spelman College; followed by an MFA in Performance and Choreography from the University of Michigan; and a doctoral degree in Dance Studies from Temple University. 
Her first book, Dance Pedagogy for a Diverse World: Culturally Relevant Teaching in Research, Theory, and Practice, was released in 2017. The book was greatly informed by her teaching dance in the public schools, private studios, universities, and in the community. Dr. McCarthy-Brown's scholarship is interdisciplinary and always relates to heightened understanding of cultural diversity. She has published research in The Journal of African American Studies, the Journal of Dance Education, Arts Education Policy Review, Research in Dance Education, Whiteness in Education, and The International Journal of Education and the Arts.  
Dr. McCarthy-Brown regularly presents her research in the area of dance education and equity at national and international conferences.  In 2021, she was awarded an Outstanding Educator Award from the National Dance Education Organization and a Distinguished Dance Educator award from Dance Teacher Magazine. She is an active consultant and workshop facilitator for diversifying curriculum for organizations such as: San Francisco Ballet, Joffrey Ballet, BalletMet, Enrich Chicago, San Francisco Unified School District, Hunter College, Rutgers Dance Department, The University of Buffalo Dance Department, and Dance Education Laboratory.  Currently, Dr. McCarthy-Brown is working on her second book about women of the global majority in ballet.