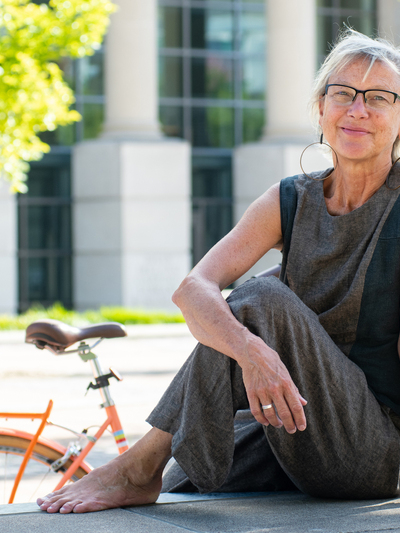 Susan Van Pelt Petry
Professor
306 Sullivant Hall
1813 North High Street
Columbus, OH
43210
Areas of Expertise
Contemporary Movement Practice
Composition/Repertory
Pedagogy and Professional Practices
Education
MA in Dance, The Ohio State University
BA in Dance, Oberlin College
Following a performing and touring career based in New York City with Sara Rudner, Risa Jaroslow, Gloria McLean, and Tony Stafford, Susan spent a decade running her own company, Van Pelt Dance Ensemble, based in Columbus, Ohio presenting several premieres a year, conducting school residencies, tours through the Midwest and to New York City, and commissioning composers and visual artists for collaborative works.  She was also a freelance choreographer, teacher, and performer, receiving grants, fellowships, and residencies from the Ohio Arts Council, Greater Columbus Arts Council, the Astral Foundation, and the Headlands Center for the Arts.  In addition to US tours with her company and her solo program "Just Susan", in the mid-90's she taught at the Western Australian Academy of Performing Arts and the Taiwan National University of the Arts, as well as serving as company teacher and rehearsal director for the Cloud Gate Dance Company based in Taiwan.
Susan Van Pelt Petry is currently a Professor in the Department of Dance at The Ohio State University (OSU), teaching contemporary technique, composition, pedagogy, professional practices, and improvisation, bringing her background in Erik Hawkins technique, Iyengar Yoga, Contact Improv, Bartenieff Fundamentals and Alexander Technique.  From 2006-2015 she was Chair of the Department.  Prior to that appointment, she was Assistant Dean in the College of the Arts at OSU.  Other positions held were Associate Professor at Ohio University, Assistant Professor at OSU, and visiting artist at numerous colleges and universities.
She co-founded the Alliance for Dance and Movement Arts in Columbus, Ohio in the 80's and helped to develop the Third Avenue Performance Space in Columbus' Short North.  She has served as President of OhioDance, Ohio's statewide service organization, and has been treasurer of the national Council of Dance Administrators.  She is currently serving as secretary on the Board of Directors of the National Association of Schools of Dance.  Susan serves as a consultant and panelist for local, state, and national schools and organizations, and was on the advisory board of the Strategic National Arts Alumni Project (SNAAP).