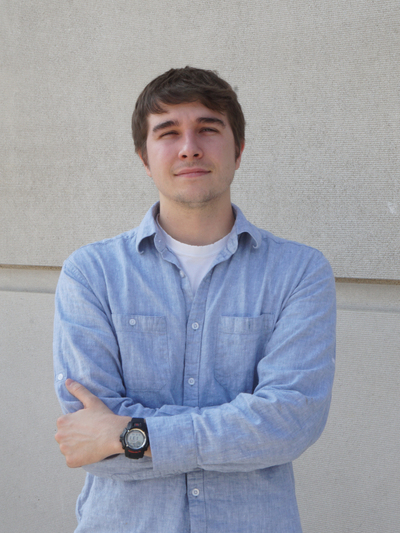 Chris Summers
Media Manager
316 Sullivant Hall
1813 North High Street
Columbus, OH 43210
Areas of Expertise
Instructional Technology
Creative Technologies
Media Archiving
Documentation
Education
BFA Art & Technology, The Ohio State University
MA Candidate, Contemporary Art & Curatorial Practice, The Ohio State University
Chris Summers is the Media Manager & Instructional Technologist within The Ohio State University College of Arts & Sciences and is stationed within Ohio State's Department of Dance. In his current role, Chris functions as a technology liaison for faculty, staff, and students. Amongst his duties of implementing technology into an academic framework and curriculum, Chris also partners with students, faculty, and staff in spearheading research efforts that involve technology. Chris also teaches Creative Technologies, a course for freshman Dance majors to learn how to use technology as a creative tool, as well as complementary facet to their movement-based practice.
Chris holds a Bachelor of Fine Arts degree, with an emphasis in Art & Technology, from The Ohio State University. In his practice, he often incorporates technology as an artistic medium, finding new and innovative ways to use already-existing devices and methods to achieve his artistic intentions. He also has strong training in painting, sculpture, prototyping, video production, and computer animation. Because of these skillsets and interests, he is very effective in identifying, producing, managing, and consulting on arts-focused technology projects.
Chris has co-presented on, along with Dr. Hannah Kosstrin the LabanLens™ augmented-reality application for the Microsoft HoloLens, at:
Innovate Conference, The Ohio State University, May 2018
National Dance Education Organization Conference in La Jolla, California, October 2018
The STEAM Factory at The Ohio State University, October 2018
In conjunction with his current position at The Ohio State University, Chris is a Master of Learning Technologies candidate in The Ohio State University Department Educational Studies, College of Education and Human Ecology. Through his research and practice, Chris intends to discover and maintian best practices in using technology to support arts pedagogy.