October 22, 2016
OSU Dance Presents Dance Downtown 2016
Image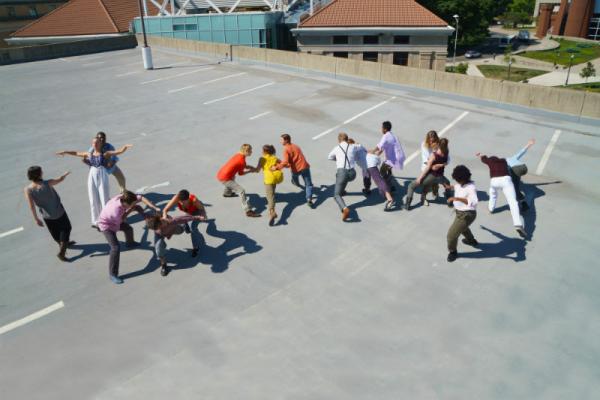 Description
The Ohio State University presents Dance Downtown 2016 on Friday, Nov. 11 and Saturday, Nov. 12, from 8 p.m. to 10 p.m. at the Davidson Theatre, Riffe Center, 77 South High St., Columbus, OH 43215.
This year's show is presented in memory of the late Helen Alkire, founder of the university's dance program, and will include the announcement of a major gift to the department from her estate.
Alkire, a central Ohio native, received her BS and MA in education from Ohio State in 1938 and 1939. She later joined the university's physical education faculty in the mid-1940s and convinced university officials to add a dance program in the 1950s, where she served as the department's chair for many years. A major visionary for dance in higher education both at Ohio State and in dance departments across the nation, Alkire passed away at home on her family farm in Orient, Ohio, last November at age 100.
This year's production also marks Distinguished Professor Bebe Miller's final year choreographing for the event, as she retires after 16 years with the department in December. Miller is an alumna of the dance program, earning her MA in dance in 1975. 
"Helen Alkire mentored generations of dance artists who moved on to become performers, choreographers, educators, scholars, production designers and more—including our very own Bebe Miller," said Susan Hadley, chair. "As we honor Helen's legacy, we also celebrate Bebe's retirement and rich contributions to Ohio State and our department."
In addition to Miller's work, Dance Downtown will feature performances choreographed by Ann Sofie Clemmensen, visiting assistant professor, and Eddie Taketa, lecturer and Bessie Award winner. Clemmensen's piece, "Fjorten," is set to an electronic soundscape and examines the strength and beauty of the female form through movement by reimagining the lines of the body, its relationship with gravity and structural pathways. Her dancers, outfitted in dark, uniform-like dresses that reference layers of culturally constructed perceptions and assumptions about women, abstractly navigate ideas around possibility and constraint.
Taketa's work, "Onion Skins, Opaques, Oxbloods and Pearls," is a high-energy performance that requires his dancers to move seamlessly while taking risks nearing recklessness as they fall to the floor and leap through the air. Their movement to symphonic melodies by Phillip Glass sculpts the stage into a dynamic landscape, and invites the audience along on a journey through a myriad of visceral sensations.
Miller's piece, "Sel Fou!" closes the program and examines the happenstance of memory. Crafted out of separate events from independent repertory works, Miller's choreography borrows movement, music and the concept of relationships to set disparate activities into motion.
General admission tickets are $21.50 and may be purchased by calling the Ohio State theatre ticket office at (614) 292-2295 or CAPA at (614) 469-0939. Ohio State faculty, staff, Alumni Association members and students; senior citizens; non-Ohio State students and children; and military veterans may purchase tickets for $16.50.
---