October 5, 2016
OSU Dance Students to Perform in "Black Mountain MinEvent"
Image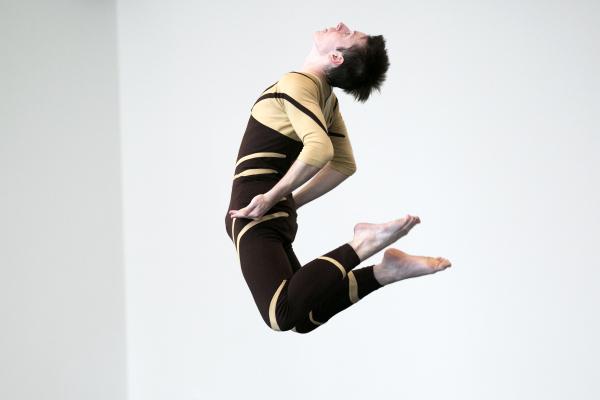 Description
OSU Dance students will perform October 6 and 27 in Black Mountain MinEvent, a presentation from the Wexner Center for the Arts' latest exhibition, Leap Before You Look: Black Mountain College 1933-1957. The performances, which are free to attend and take place at 4:30 p.m. and 6 p.m. on both days, are a continued exploration of Black Mountain College's impact on contemporary art through the works of some of its most iconic guest artists, choreographer Merce Cunningham and composer John Cage.
In anticipation of the performances, we sat down with OSU Dance professors Karen Elliot and Daniel Roberts, both former dancers with the Merce Cunningham Dance Company, to learn more about their experience staging sections from three Cunningham works for the event: Septet (1953), Dime a Dance (1953), and Suite for Five (1956).
For people unfamiliar with Merce Cunningham's work, how would you describe his artistry? What can audiences expect to see at the MinEvent performances?
Daniel Roberts: Merce is known for his collaboration with John Cage, and in particular, how they explored the relationship between music and dance and the idea that each discipline could function independently of the other at a time when people were using them together to tell stories of myths, romance, tragedy. Merce and John were moving away from that narrative structure to something more abstract, so it's like going to see a Jackson Pollack or a Kandinsky painting. We're not being told what to see, but we each have a unique reaction to the colors and composition. What you experience is how the story takes shape. 
Karen Eliot: People who know something about Merce's work may be very surprised by these performances. It's an early exploration of his choreographic ideas as he was just beginning to think about his style. People who saw the contemporary period of his repertoire will recognize it as Cunningham, but there's a sparseness and clarity about it that might surprise some who only encountered him late in his career.
You were both former dancers with the Merce Cunningham Dance Company. What lessons did you try to bring to your work with students on this production?
Daniel Roberts: Even though we worked with Merce 20 years apart, there are still core truisms that are present in both of our teaching. One is that you have to have confidence to physically do the work, but also enough humility to look deeper within yourself and grow from rehearsing the material. Another idea we try to pass on to students is that learning and performing this work is not easy and there will be challenges. But you don't just focus on the best parts of your work – every moment is important and an opportunity to learn something about your physicality.
Can you describe one of your favorite moments throughout the performance?
Daniel Roberts: There's a simple but beautiful quartet in the Septet section, and every time I watch it I see something new about the relationship between music and movement. It's like a reminder to not overthink things and go with your instincts.
What do you hope people take away from these performances and the Black Mountain exhibit?
Karen Eliot: This exhibit has been infused with dance as it's gone around the country, and we're excited to have our students help tell the story of Merce's impact at Black Mountain and throughout the world. They've been training in the Cunningham technique and vocabulary and I think their skills will shine back on the department and Daniel's coaching.
As an artist, it draws you in to see the early beginnings of someone's work like we are with Merce's—he had perseverance and it's inspiring. We owe so much to the fabulous art making that happened at Black Mountain, so it's also historically important to feature an exhibit like this.
Photo: Merce Cunningham's Totem Ancestor (1942). Used courtesy of the Merce Cunningham Trust.
---