Image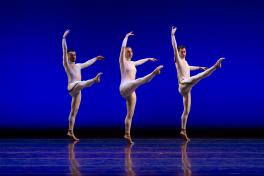 As part of Parallel Connections, Ohio State Dance students performed Wexner Center MinEvent, with selections drawn from the vast repertoire of dance icon Merce Cunningham and accompaniment by the Sympatico Percussion Group and the Ohio State Percussion Ensemble, co-directed by Professor Susan Powell and Joseph Krygier, playing the music of John Cage. The work was restaged by former Merce Cunningham company members Professor Karen Eliot and Assistant Professor Daniel Roberts. Professor David Covey and Costume Designer/Shop Manager Lindsay Simon designed the costumes, with lighting design by Covey, who won a Bessie Award for his lighting of Cunningham's work.
"Even though [Karen and I] worked with Merce 20 years apart, there are still core truisms that are present in both of our
Image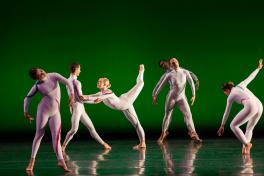 teaching", said Roberts. "One is that you have to have confidence to physically do the work, but also enough humility to look deeper within yourself and grow from rehearsing the material. Another idea we try to pass on to students is that learning and performing this work is not easy and there will be challenges. But you don't just focus on the best parts of your work – every moment is important and an opportunity to learn something about your physicality."
Image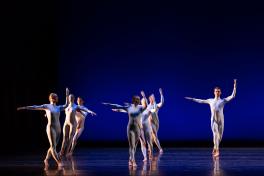 "People who know something about Merce's work may be very surprised by these performances," said Eliot. "It's an early exploration of his choreographic ideas as he was just beginning to think about his style. People who saw the contemporary period of his repertoire will recognize it as Cunningham, but there's a sparseness and clarity about it that might surprise some who only encountered him late in his career."
Cunningham's structured Events, which he first created in 1964, were meant to be performed in site-specific venues, like Event #1 in a museum gallery in Vienna, Austria with no theatrical lighting or scenery and the audience circling the dancers on three sides. The Event, which is a 60-minute continuous performance with no intermission, was made with excerpts of repertory works and became a malleable performance medium perfect for unusual venues. Ohio State Dance's MinEvent was just under 30 minutes and consisted of excerpts of repertory works from 1973 through 2003.
---