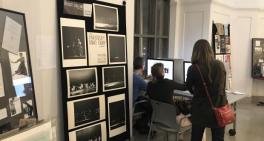 Department of Dance Media Manager and Instructional Technologist Chris Summers often found himself getting "lost in the rabbit hole" working on the Ohio State Dance Digital Archive Project, which he began when he was hired by the department in August 2016. One can only imagine the daunting task he faced when he first opened the department's "archive closet" and began pouring over materials that were strewn about in 25 boxes. Summers and Production Manager Carrie Cox carefully catalogued everything they found so they could prioritize what to digitize first. As word of the project spread, alums and retired faculty pitched in with other donated materials. "I have always been fascinated by historical art-focused archives, artifacts and obsolete media formats in general," says Summers. "So, the blending of these elements has created something that's more than just a job duty to me." After sorting the collection with Cox, Summers began the onerous task of manually digitizing mountains of VHS tapes, MiniDV tapes and image scans with the help of the College of Arts and Sciences Studio and University Libraries. Other formats such as films, reel-to-reel video tapes and slides were outsourced thanks to two Dance Preservation Fund grants that he secured.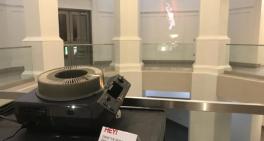 The Digital Archive Project is an ongoing effort, but this two-year stint culminated with the department's 50th anniversary celebration in November 2018 when Summers published osudancearchive.com and curated an amazing interactive exhibit of photos, slides, posters, programs and films, which were available for audiences to enjoy before and after The Big 5-OH concert and at the alumni reunion brunch. Summers set-up several computer stations for guests to interact with the archives on the website, posted images and print media on display boards and tables and projected slides and films on the walls of the rotunda in Sullivant Hall. The response from alumni and friends was palpably positive. "The Ohio State Dance Digital Archive Project has been really enlightening and a highlight of my time thus far with the Department of Dance," says Summers. "During The Big 5-OH, it was really rewarding to see and hear how appreciative all of our alums and faculty were of the work I was doing."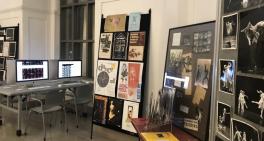 Chris Summers is the Media Manager and Instructional Technologist within The Ohio State University College of Arts & Sciences and is stationed within the Department of Dance. In his current role, Chris functions as a technology liaison for faculty, staff and students. Amongst his duties of implementing technology into an academic framework and curriculum, Chris also partners with students, faculty and staff in spearheading research efforts that involve technology. Chris also teaches Creative Technologies, a course for freshman dance majors to learn how to use technology as a creative tool, as well as complementary facet to their movement-based practice. 
---